Netflix Queues Up Video Downloads
Netflix Queues Up Video Downloads
Downloading may be the one killer feature Netflix doesn't have yet.

Following similar moves by Amazon, Comcast and others, Netflix is now working on a feature that will allow subscribers to download certain programs for offline viewing, according to industry insider and Penthera COO Dan Taitz. And Taitz thinks there will be a landscape shift when the new Netflix feature arrives.
"We know from our sources within the industry that Netflix is going to launch this product," says Taitz. "My expectation is that by the end of the year Netflix will be launching download-to-go as an option for their customers."
Industry gossip from a technology vendor is one thing, but Frost & Sullivan Principal Analyst Dan Rayburn confirms that Netflix Inc. (Nasdaq: NFLX) is developing a downloading solution and says that it's something of an open secret in the streaming video community.
"It's a natural progression for Netflix to want to have some of their content available for consumers to watch offline, and we've been hearing for months now that they are in fact going to roll something out soon," says Rayburn.
For Netflix's part, CEO Reed Hastings said earlier this year that he was open to the idea of offering video downloads, but the company is still being coy about its actual product roadmap, unwilling to offer either official confirmation or denial.
"While our focus remains on delivering a great streaming experience, we are always exploring ways to make the service better," says Netflix spokesperson Anne Marie Squeo. But she adds, "We don't have anything to add at this time."
Want to know more about video and TV market trends? Check out our dedicated video services content channel here on Light Reading. Taitz at least has reason to hope that Netflix will launch its downloading option soon and create a wave of new demand for the feature. His company Penthera Partners Inc. develops video downloading technology with customers that include Comcast Corp. (Nasdaq: CMCSA, CMCSK), Charter Communications Inc. and Starz Entertainment LLC . While the company has been successful at attracting marquee clients, however, actual usage of the technology is still limited. Taitz says that Charter, for example, only offers a handful of shows for download each month, and many of those are from Starz, which requires a premium subscription. Comcast's deployment is broader, but the company isn't sharing any consumer adoption numbers, suggesting that pick-up isn't high. (See Comcast Cloud DVR Storms Down East Coast.) "The majority of our customers use streaming to watch content on-the-go, which is why we've been so focused on growing our catalog of live streaming networks and building out more WiFi hot spots," says Vito Forlenza, Comcast Cable's senior director for TV Everywhere content and product strategy. "That said, it's less about evaluating the volume or frequency of downloads, and more about the convenience it offers customers at the moments when they need it." Figure 1: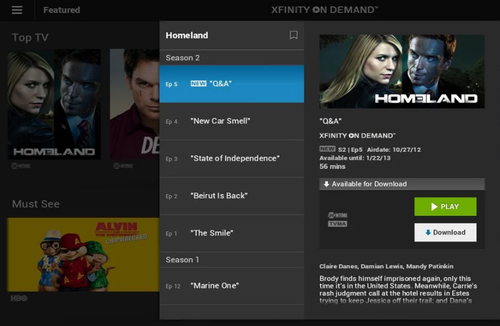 Despite what appears to be slow adoption, Taitz believes there's still a big future ahead for video downloading. "I still view download as something that's emerging into the consciousness of consumers," says Taitz. "They know about downloads because before there were streaming services people downloaded movies and videos from iTunes, but they're not necessarily looking for download as a feature of their streaming service they're already paying for." In other words, as consumer awareness grows, demand for content downloading should rise. Taitz also thinks expansion into international markets -- regions where internet connectivity can be lacking -- will be good for Penthera's business. And Taitz sees a big opportunity with programmers like Starz because many of them are now launching their own direct-to-consumer subscription services. These networks represent a brand new set of potential customers for Penthera. With regard to challenges, one of the biggest barriers to greater adoption of video downloading is still the issue of content rights. Referring to Netflix's plans, Rayburn says, "Netflix will be limited by the studios in terms of which titles are available for download so we'll have to see just how much of Netflix's inventory is offered and which devices will be supported." He adds, "One would also imagine that all of Netflix's originally produced content would be available as a download, since Netflix owns that content." Rayburn also brings up another downside to downloading, however. "It would make sense to focus on mobile device support over streaming media boxes connected to the TV as that's the real benefit of a downloading service," notes Rayburn, "but the service will be limited in use to a degree, since mobile devices can't store too many movies." Consumers have generally applauded the introduction of downloading features, like the expansion of Amazon.com Inc. (Nasdaq: AMZN)'s downloading option to Android and iOS devices last year. However, they don't necessarily follow through with adoption. Whether that behavior changes when Netflix launches its downloading solution remains to be seen. — Mari Silbey, Senior Editor, Cable/Video, Light Reading
Subscribe and receive the latest news from the industry.
Join 62,000+ members. Yes it's completely free.
You May Also Like
---