Netflix is in crisis as streaming hits the buffers
Netflix is in crisis as streaming hits the buffers
As prices rise and TV loses some of its lockdown appeal, households are reassessing how many streaming platforms they can afford. Struck by COVID-19, the Morris family retreated indoors at Christmas and set new records for binge-watching TV. The streaming services provided by Amazon, Disney and Netflix were in constant rotation. A formerly pristine armchair, its upholstery as taut and springy as a new trampoline, soon bore the permanent imprint of Morris senior's backside.
Since then, it has been given a few weeks to recover (partially) as pandemic restrictions have eased, the sun has emerged from its winter recess and the household finances have been plundered by energy providers reliant on a dwindling supply of fossil fuels. As the streaming platforms up their own fees, and the pub garden beckons, a recurring conversation is about which one to sacrifice. Right now, Netflix heads the list.
Figure 1: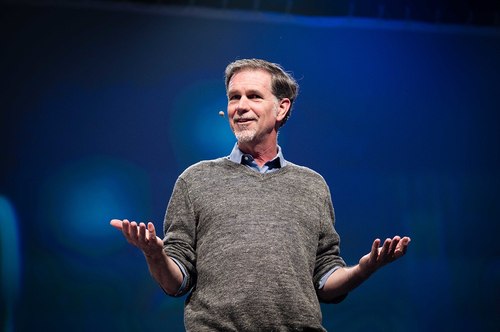 Netflix CEO Reed Hastings is under pressure as the share price nosedives on customer losses.
(Source: re:publica via Creative Commons)
Played out across millions of first-world households, this story had prompted a 28% drop (at the time of writing) in Netflix's share price before markets opened on April 20. Yesterday, the company reported its first drop in customer numbers in years with a net loss of 200,000 subscribers during the recently ended first quarter. Thousands were shut out by Netflix's withdrawal from Russia in protest at the invasion of Ukraine. Thousands of others clicked cancel in protest at higher prices. Losses would have been even steeper were it not for sterling growth in Asia, where Netflix added nearly 1.1 million subscribers.
The shocker is that Netflix got its forecasts so badly wrong. After customer numbers rose 4 million in the year-earlier quarter, it had expected to add 2.5 million this time around. To be off by 2.7 million, effectively, calls into question the judgment of CEO Reed Hastings and his lieutenants. Investors must be fuming. And there is more pain ahead. This quarter, Netflix now anticipates the net loss of another 2 million subscribers, after gaining 1.5 million in the second quarter of 2021.
The performance has triggered a sell-off throughout the sector. Shares in Disney were down 4% in pre-market trading. Roku, another platform, had fallen about 7% and Warner Bros Discovery (which owns HBO Max) by 6%. Paramount had also dropped around 5% before markets opened on Wednesday. The streaming companies have run into a very nasty case of buffering.
Figure 2: Ouch: Netflix's share price in the last year ($)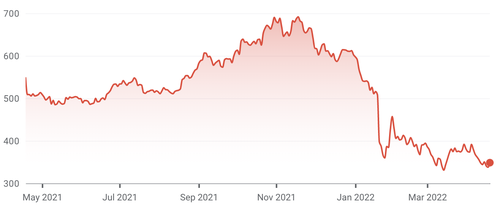 (Source: Google Finance)
Data reported this week by the UK's Guardian newspaper will not lighten the mood. In the UK, the number of homes with at least one paid-for subscription service fell by 215,000 in the first quarter, according to that report, which cites research carried out by Kantar Worldpanel. There was always going to be a finite number of platforms to which the average household would subscribe. As living costs rise, families are reassessing how many they can afford.
In the huge US market, Netflix appears to be in a weak position, according to Nielsen data that Hastings referenced in his long, explanatory letter to shareholders this week. Its share of total US TV time did rise by 0.4 percentage points between May 2021 and February this year, to 6.4%. But other platforms managed larger gains, with Disney up 0.7 percentage points, to 1.7%.
Kantar data from last year is an even bigger concern. In its ranking of streaming platforms by share of new subscriptions, Netflix came in fourth place for the final quarter of 2021 with 7.5%, trailing Amazon, Disney and Apple. The gap between Netflix and Amazon – which took a fifth of all new fourth-quarter subscriptions – is a real worry for Hastings now that consumers are cutting back.
Battle of Hastings
Unlike Amazon, Netflix unfortunately lacks anything bar video content that it can bundle into a household service. An Amazon customer gets streaming included with the Prime subscription paid to receive free deliveries of books, food and just about any other item one can imagine. The appeal of that offer is likely to grow as household budgets are squeezed by various rising costs.
Netflix is not just a one-trick pony but a rather small one, at that. Last year, it clocked revenues of less than $30 billion and a net profit of about $5.1 billion, while its market capitalization yesterday was about $155 billion. Contrast that with Amazon, worth $1.6 trillion and with $470 billion in sales and $33 billion in net profit last year, or Apple, which made $366 billion in revenues and a $95 billion profit in 2021 and is currently valued at about $2.7 trillion. As movies and TV shows grow more lavish and expensive to produce, Netflix could struggle to keep pace.
There is evidently concern within the analyst community. "You've talked about cash content spending of around $18 billion this year," said Douglas Anmuth of JPMorgan on yesterday's earnings call. "In a period of slower sub growth, are you more likely to pull back to manage costs or to lean in to further differentiate the offering?"
While the answer was non-committal, Netflix is guiding for a sharp drop in its operating margin this quarter, down from 25.2% a year earlier to just 21.5%. With revenues expected to grow 9.7% year-on-year, to about $8.1 billion, that implies costs above the operating income line will rise 15%, to roughly $6.3 billion.
Other analysts have drawn attention to the content cost issue, as well. In a research note sent today, Tammy Parker of GlobalData wrote that "the multiple Academy Awards won last month by Apple TV+ film CODA highlight the fact that rival streaming services are also investing in quality programming and are positioned to outbid Netflix on the next hit shows."
Such heavy investment in content has forced Netflix to be as parsimonious as possible elsewhere. But it looks unhealthily reliant on Amazon for the infrastructure it needs, by its own admission. In last year's filing with the Securities and Exchange Commission, Netflix had to point out that it now runs "the vast majority" of its computing on AWS. It cannot easily switch cloud-computing providers, it said, and would feel an impact if there were any disruption to the AWS service. A precedent for that was set when AWS suffered outages last year.
Perhaps the biggest slip-up by management is to have allowed customers to get away with password-sharing for so long. The latest estimate is that around 100 million households use Netflix without paying, a figure that equals almost half of the entire customer base. That is tantamount to a supermarket allowing every third customer to scoot off with a trolley of free goods. Clamping down on the practice may be difficult if Netflix is to avoid upsetting customers. But without improvements later this year, Hastings may be under pressure to quit.
Related posts:
— Iain Morris, International Editor, Light Reading
Subscribe and receive the latest news from the industry.
Join 62,000+ members. Yes it's completely free.
You May Also Like
---