Looking Back: Comcast's Breakthrough X1 Video Service Turns 10
Looking Back: Comcast's Breakthrough X1 Video Service Turns 10
Whispers about Comcast's next-video platform began to spread a decade ago at Cable-Tec Expo in Denver. Here's a look back at its journey from a secretive project originally called 'Excalibur' to a widely deployed product under the X1 banner. The celebration of the Society of Cable Telecommunications Engineers's 50th year will be in full force next week at Cable Tec-Expo in New Orleans, with discussions to focus on a bunch of new technologies and initiatives, including 10G, DOCSIS 4.0, distributed access architectures, a new node standard and cable's tightening engagement with mobile and wireless.
Here's another milestone of sorts this year that won't get much fanfare at SCTE's tech-fest in The Big Easy -- it's been 10 years since whispers began to spread about a major next-gen video product under way at Comcast that, at the time, was code-named "Excalibur." That product eventually became X1.
I got my first whiff of Comcast's then-secret project just as the 2009 Cable-Tec Expo in Denver was getting started. Initial details fed to me that week left a lot of holes unfilled. One person referred to the effort as something to do with "managed over-the-top" video. Others talked about the potential to integrate interactive apps, reach multiple types of screens and cloud support. Lots and lots of cloud chatter!
While not everyone had the same characterization of what Comcast was up to with Excalibur, there was a common theme at the time. Once I was on the trail and started asking people what they knew about it, you could count on many of them to peek over their shoulders and break out into a cold sweat, understandably fearful of Comcast reprisals about word of the project becoming public. To say the topic was sensitive at the time would be a massive understatement.
But I still came out of that week armed with enough details to distill some solid hints about what was in store.
What followed, almost three years later, was the initial launch of X1, a cloud-powered platform that supported both QAM and IP video services and later led to integrated OTT apps and interactive services on the set-top box, plus apps for mobile devices and a cloud DVR. Today X1 is rolled out to about two-thirds of Comcast's footprint and has played a major role in helping the MSO keep pay-TV losses in check even as broadband becomes its center of gravity.
X1 also became an out-of-footprint play of sorts for Comcast through the MSO's X1 syndication deals with other cable operators. Under that syndication program, a group of tier 1 cable operators, including Cox Communications and Shaw Communications, have licensed Comcast's X1 platform and products (including X1's cloud-based service delivery infrastructure and the use of X1-compatible set-tops and gateways) for their respective next-gen video products. And X1 has also been adapted to deliver services to college campuses, business locations and as the underpinnings of a new streaming service, called Xfinity Flex, tailored for broadband-only customers.
Now that the project is (at least) 10 years old, here's a look back at X1's journey:
Next page: October 2009: Comcast Forges 'Excalibur' for IPTV
October 2009: Comcast Forges 'Excalibur' for IPTV
Comcast's underground project began to surface at a snow-blown Cable-Tec Expo in the Mile High City. Though details were still sketchy, many operators and vendors had a sense of what it was about or had at least caught wind of it. At the time, Comcast referred to the project as a "services overlay" that would include IP services. Meanwhile, job postings about Excalibur hiding out in the open touted the project as the operator's "next big thing" and declared: "Comcast is going to change the way America looks at television."
December 2010: Comcast Tests Broadband-Fed Xcalibur Service
More than a year after word first leaked out, the Wall Street Journal learned that Comcast was conducting a trial in Augusta, Ga., of the cable op's recently renamed Xcalibur platform and a streaming service on top of it that was initially called Xfinity Spectrum (this of course happened several years before Charter Communications adopted the Spectrum brand). The report also referred to a hybrid QAM/IP box code-named "Parker," that, in an apparent homage to Peter Parker and his alter ego, Spider-Man, would be capable of slinging content from the web.
December 2010: Is This Comcast's 'Parker' Box?
Images began to circulate of Comcast's new device, used to power its technical field trials. Little was known by the outside world about what was inside.
Figure 1: Comcast's 'Parker' Box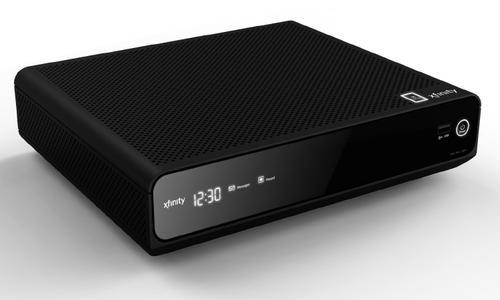 An early glimpse at Comcast's web-slinging set-top box.
December 2010: Comcast's Internet + TV Set-Top Surfaces
The box, made by then UK-based set-top maker Pace plc, showed up for testing at the FCC. Light Reading later learned that the initial test devices used Intel silicon, a user interface made by Vividlogic (sold to SeaChange International earlier that year) and Nokia's Qt cross-platform application framework.
May 2011: Comcast Tees Up IP Video Tests
The Massachusetts Institute of Technology reportedly became the site of Comcast's new test bed for its next-gen video project. The project spanned the streaming of linear TV feeds over managed IP connections to set-tops and other types of connected displays linked to a cloud-based interface that could be updated and tweaked at a much faster rate than clunky legacy guides.
June 2011: Xcalibur's Debutante Ball
The Cable Show in Chicago served as the big reveal for Comcast's new platform, with Chairman and CEO Brian Roberts taking the stage to present a first glimpse at the company's next-gen video product. It featured a fancy cloud-powered interface with recommended shows and movies and advanced search capabilities. Comcast also announced some initial partners for the project, including thePlatform (the Comcast-owned content management company), Pace for the boxes and Intel for the chips.
Here's was my view (or my Flip camera's view) of Roberts' demo at the show:
October 2011: Comcast Prepares to Swing Xcalibur Wide
Following a trial with about 1,000 homes in Augusta, Comcast announced that it would begin to deploy its new platform widely in 2012. It also hinted at plans to integrate a wide range of OTT apps into Xcalibur alongside traditional live and on-demand pay-TV services.
February 2012: Comcast IDs Cloud TV Product as 'X1'
On its earnings call, Comcast shed the Xcalibur moniker for the commercial brand X1 ahead of an expected initial deployment to some key markets and "hundreds of thousands" of customers before the year was done.
April 2012: Comcast Sizes Up All-IP Set-top
With Comcast fleshing out a gateway-client architecture that would become a hallmark of X1, chatter began to spread about what would later be known as the Xi3, an IP client HD box that would feed off tuners in the home's main set-top or gateway. Comcast would later follow with a broader set of X1 client devices that would support 4K, High Dynamic Range and wireless connectivity to the primary gateway.
Figure 2: Xi3 and Remote
The Xi3 would lead to more X1 client devices adding HDR and 4K capabilities and wireless connectivity.
May 2012: Comcast's X1 Video Platform Lands First in Boston
Comcast took advantage of The Cable Show in Boston to announce that Beantown would be the first market to get X1, with expansions to more major US markets slated for later in the year. Comcast followed with deployments in several markets, including its home town of Philadelphia, the Bay Area, Colorado, Florida and Washington, D.C.
Figure 5: Early X1
The X1 on-screen guide, circa 2012.
June 2013: X1's Cloud DVR Cometh
At The Cable Show in Washington, D.C., Comcast showed off a slew of new cloud-powered capabilities coming to X1, including more streaming to mobile devices and a cloud DVR that was initially tested in Boston and Philadelphia. Comcast's first commercial launch of the new cloud-based offerings for X1 took place in Boston in the first half of 2014.
Next page: January 2014: X1 Paves Path to Syndication
January 2014: X1 Paves Path to Syndication
Even before Comcast made a failed play for Time Warner Cable, the cable operator had already begun to publicize the idea of syndicating X1 to other cable operators. Such a move would help Comcast recoup some of the costs of the platform and gain more scale and buying power for set-tops, gateways and other products that underpin X1. And it would also broaden Comcast's tech and product influence in the marketplace. Comcast confirmed syndication talks were underway with Cox in early 2014, but they were mothballed when Comcast pursued TWC, an acquisition that would have given Comcast much more scale. Syndication efforts were rekindled after Comcast's deal for TWC fizzled in 2015.
Figure 3: Cox Syndication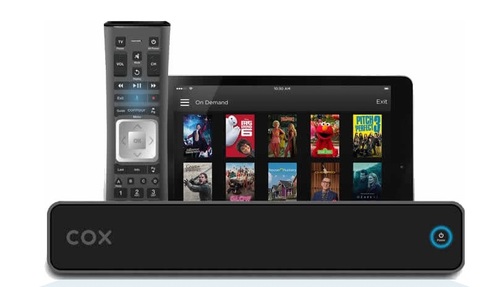 Cox's new Contour video service taps into X1's software, cloud platform and device ecosystem.
Once conquering the US market through acquisition clearly was off the table, Comcast instead embarked on a colonization plan with X1 syndication. To date, that effort has focused on North American tier 1s, with Cox, Shaw Communications, Rogers Communications and Videotron currently on board.
For the X1 syndicates, there are both pros and cons. On the positive side, they can ride Comcast's development path, lower their own engineering and development costs for video services and latch onto Comcast's volume purchasing power. On the other hand, those syndication partners also cede a good portion of their product and service roadmaps to Comcast and are beholden to Comcast, now in a vendor role, and its ability to respond to and fix problems.
Early 2014: X1 Flies Into Schools
X1 started off as a single-home residential TV play, but was adapted to also serve different environments, including university and college campuses (with Xfinity On Campus, starting back in 2013 and into 2014) and other types of multi-dwelling units. More recently, X1 extended its long reach to hotels and other small- and medium-sized businesses.
March 2015: X1 Finds Its Voice
By this time, Comcast was nearing the widescale, commercial debut of the XR11, the operator's first standalone voice remote for X1. The voice remote is now a core component of X1 and the cableco's new Flex product for broadband-only customers. Comcast launched an updated model, the XR15, in late 2017. X1 customers are making nearly 1 billion voice queries a month.
Figure 4: The XR11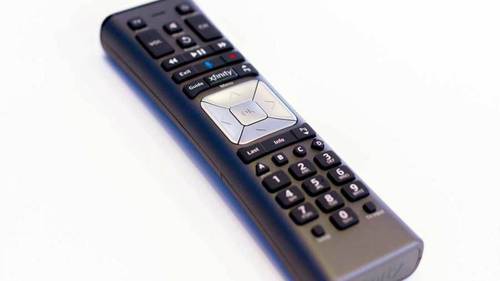 Comcast's XR11 voice remote for X1 has been followed by a new model, the XR15.
June 2015: X1 Gets Into a Sporting Mood
X1 began to integrate real-time sports stats and easy access to live and upcoming games through a partnership with Philadelphia-based startup OneTwoSee. After starting with Major League Baseball games, the X1 Sports App expanded into a wider range of major sports, including basketball, NASCAR races, soccer and football. Comcast acquired OneTwoSee in March 2016.
Spring 2016: Game On, Off...Then On Again
In 2013, Comcast and EA explored the streaming of console-quality games to X1 boxes using tablets and smartphones as the controllers. That multi-year trial was scuttled in April 2016. However, the idea was picked up again the following year when Comcast teamed with TransGaming (now part of Nvidia) to initially offer free, casual games to X1 boxes, and later expanded to include a few paid titles from Jackbox Games and others.
Figure 8: Xfinity Games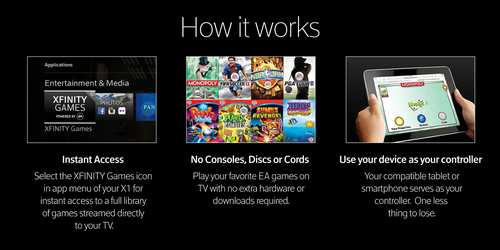 Comcast's partnership with EA didn't stand the test of time, but the effort did lead to a different initiative focused on more casual gaming titles.
July 2016: Comcast and Netflix Cut a Deal
In what was to become one of many OTT video integration deals, Comcast struck up an agreement to stream Netflix on X1 boxes and to stitch the SVoD offering into X1's search and navigation platform. X1 integrated Netflix on a national basis by late 2016, paving the way for similar tie-ins with popular subscription services like YouTube, Amazon Prime Video and (soon) Hulu, as well as a swath of free, ad-supported services like Tubi, Xumo and Pluto TV.
Figure 6: Netflix On Board
X1's Netflix integration led to tie-ins with a broader set of free and subscription-based OTT video services.
November 2016: Comcast Hooks Up With Sling TV
Comcast and Dish Network-owned Sling TV announced a deal to integrate the OTT provider's video services with X1 boxes and gateways. The initial agreement did open the potential for Comcast to tie in all Sling TV packages, including its Blue and Orange skinny TV bundles. But so far that integration has been limited to Sling TV's International programming packages.
September 2017: TV in an 'Instant'
In yet another adaptation of the X1 platform, Comcast introduced Xfinity Instant TV, an in-footprint/in-home managed IPTV service with slimmed-down lineups that eschewed traditional set-top boxes for delivery on a select group of supported connected TV devices as well as PCs, smartphones and tablets.
March 2019: Courting the Cord-Cutters
Comcast hasn't taken X1 out of its own footprint (save for the syndication deals with other MSOs), but it is using X1 to serve broadband-only customers and consumers who have otherwise cut the video cord. After introducing Xfinity Flex in March 2019 as a streaming and smart home product as a $5 per month add-on, Comcast recently began to offer the product for free to broadband-only subs. Later this year, Comcast will enable Flex customers to flip the device into a fully-fledged X1 box that can upgrade to the MSO's pay-TV service.
Figure 7: Streaming Muscle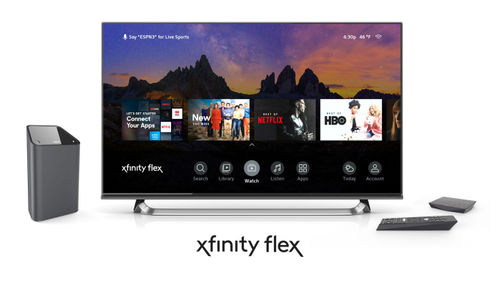 Comcast uses the Xi6 client box for both Flex and its full X1 service.
June 2019: The Eyes Have It
Following the addition of accessibly functions like a "talking guide" in 2014, Comcast's X1 platform added a capability that enables people with physical disabilities to navigate the service using only their eyes.
Seemingly Happening in Perpetuity: Comcast's Patent Fight With TiVo
As Comcast brought video software development in-house and gained traction with other MSOs through syndication agreements, it drew several lawsuits from TiVo at the ITC and in civil courts after their previous licensing deal expired in March 2016. There's been no sign of a settlement or a new deal, with both sides unwilling to blink.
— Jeff Baumgartner, Senior Editor, Light Reading
Subscribe and receive the latest news from the industry.
Join 62,000+ members. Yes it's completely free.
You May Also Like
---