Charter Skinnies Down With New TV Bundle
Charter Skinnies Down With New TV Bundle
Charter has introduced its own skinny TV bundle, but it's awfully hard to find. Charter is slimming down.
With little fanfare, Charter Communications Inc. introduced a new skinny bundle of TV channels called Spectrum TV Stream earlier this month, combining the major broadcast channels plus HBO or Showtime for $13 per month. Channels are streamed online, and the Charter offer comes with a free Roku 3 player… at least until November 20.
For an extra $7 per month, users can access 16 additional networks, including cable favorites like Discovery, ESPN and FX. The pricing is slightly misleading, as Charter also tacks on certain taxes and fees. According to one Charter customer reporting on the user forums on DSLReports, the price jumped to $27.50 when he called to sign up for service.
Figure 1: Charter flyer for Spectrum TV Stream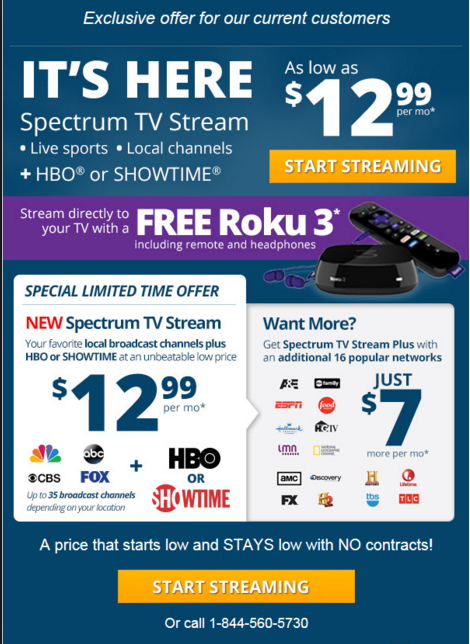 Spectrum TV Stream appears to have launched around the same time that Charter introduced its broader Spectrum TV app for the Roku platform, although it is only available in select markets and to existing customers. But unlike the app, Spectrum TV Stream has received very little promotion, suggesting that either Charter is soft-launching the service with plans to market it further in the future, or that the company doesn't want to highlight a low-cost product that could put pressure on its video revenues. (See Charter Parks Its App on Roku and Skinny Bundles Sock FiOS Video Revenues.)
Charter has not responded to requests for comment.
Want to know more about pay-TV market trends? Check out our dedicated video services content channel here on Light Reading. Charter is only the latest pay-TV provider to introduce a skinny bundle. Dish Network LLC (Nasdaq: DISH) was the first with the launch of Sling TV, followed by Verizon Communications Inc. (NYSE: VZ) with its Custom TV packages and Comcast Corp. (Nasdaq: CMCSA, CMCSK) with the slow rollout of its Stream service, which is expected to be available broadly in 2016. In Charter's case, the new skinny bundle doesn't advertise any on-demand video titles or any kind of digital video recording function. This makes it lighter on features than its competitors, which all offer either some on-demand content, or in Comcast's case, cloud DVR. (See Comcast 'Stream' Joins OTT Flood.) Charter CEO Tom Rutledge did hint in his last quarterly earnings report that a skinny bundle was in the offing, but he also said at the time that Charter hadn't found the right mix of elements yet to launch an effective slimmed-down product. That struggle reflects the ongoing tension between escalating content costs and growing competition for consumer attention where customers are demanding both more video choice and lower monthly fees. (See Resetting the Bundle.) — Mari Silbey, Senior Editor, Cable/Video, Light Reading
Subscribe and receive the latest news from the industry.
Join 62,000+ members. Yes it's completely free.
You May Also Like
---