Cable Nets Split to the Internet With Philo
Cable Nets Split to the Internet With Philo
A+E, AMC, Discovery, Scripps and Viacom are creating their own streaming service with a $25 million investment in Philo, an OTT offering launching today. There's a new pay-TV service in town, and it's funded in large part by major programming groups A+E, AMC, Discovery, Scripps and Viacom. Taking a page out of Hulu's book, the five cable network companies have invested $25 million in Philo, an over-the-top video service launching today.
Philo includes more than 35 stations in its channel lineup for a monthly fee of $16. An optional bonus package of nine additional channels is available for an extra $4 per month, bringing Philo to a top fee of $20, roughly in line with one of the earliest OTT competitors, Sling TV.
If the name Philo sounds familiar, that's because the company has actually been around for several years. Two Harvard students founded the business, then known as Tivli, at the beginning of the decade. It grew into a campus-based solution for Internet TV and has spread to dozens of colleges and universities nationwide, taking on the name Philo several years back.
The reason Philo has been successful on the content front is because the closed environment of a college campus has made it possible to secure programming rights that would otherwise be difficult to acquire.
"When the company was founded six years ago, it really was not possible to go and acquire the rights to create a full-featured streaming Internet TV product. They just weren't available to anybody, much less to us," says CEO Andrew McCollum. "And so that's how we sort of settled on getting up and running in a college because that was an environment where, because of the unique aspects of how colleges get TV, we could go to the schools and basically say keep the TV package you already have, and we will convert it into this multiplatform streaming TV experience."
Philo has maintained a steady position in the university market despite a growing threat from Comcast Corp. (Nasdaq: CMCSA, CMCSK), which now has more than 100 schools on its roster for the competing Xfinity on Campus TV service. (See How Comcast Is Hooking College Kids on Cable.)
However, the latest Philo launch clearly marks a new era for the company.
After impressive early funding from vendors that included Home Box Office Inc. (HBO) , Mark Cuban, and Facebook co-founder Andrew McCollum, who became CEO of the company a year ago, Philo attracted cash from a new set of programmers with the goal to launch a broader OTT service. The five programmers involved with Philo's launch today have not only lent their financial heft to the company's operations, but also a valuable slate of content with multiscreen distribution rights. (See also Philo Raises $10M, Considers New Markets.)
Figure 1: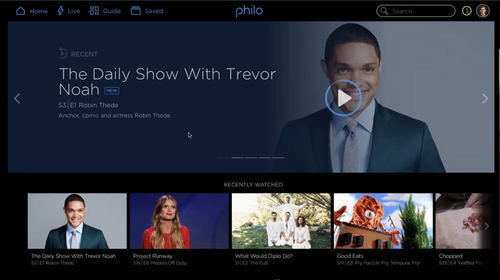 For the cable networks invested in Philo, the service creates an interesting competitive situation with the programmers' traditional pay-TV partners. Philo is a skinny bundle of channels for the non-sports-viewing crowd, which means it doesn't have the breadth of a standard cable, telecom or satellite TV service, but it certainly creates a market alternative, and it does so on an Internet platform with a lot more flexibility than any legacy TV delivery system. (See Fall Is a TV (Industry) Lover's Delight.)
Philo features include: digital video recording with unlimited cloud storage (recordings remain available for 30 days); broad access to video titles on demand, with nearly all programs available online if they've aired within the last three days; access to three concurrent streams on different devices; availability on computers, mobile apps and the Roku platform, with more supported devices on the way; and soon-to-arrive social features that let users share favorites and sync viewing with friends.
Philo has also focused heavily on keeping content front and center in the user interface.
"We really try to dial back as much of the UI as we can to really allow the content to step forward and shine," says McCollum.
Want to know more about video and TV market trends? Check out our dedicated video services content channel here on Light Reading. Of course, the major disadvantage Philo has is that the service isn't bundled with broadband. Internet access is still cable and telco operators' ace in the hole, allowing them to compete with big-bundle TV service supported by margins from the broadband business. (See Why You Can't Quit Cable TV.) It's also not clear if Philo has a channel lineup that will prove attractive to a wide audience. Hulu with live TV and YouTube TV, for example, are more expensive at $40 and $35 per month respectively, but both include broadcast content. And AT&T Inc. (NYSE: T) is practically giving away DirecTV Now, including all of the major network channels and much more, to customers that also take its mobile service. Philo's McCollum says the company will be looking for new ways to expand and collaborate with both other programmers and even distributors in the future. "We also will be looking at doing details with other traditional programmers [and] independent networks," comments McCollum, adding that on the distributor side, the company has also had a number of conversations, "and particularly we've had a long-standing relationship with the NCTC (National Cable Television Cooperative) and talk to them a lot about ways we could work with them in college, outside of college using our technology we've built ... as well as potentially collaborating on this type of service." In the meantime, Philo joins the growing crowd of OTT providers offering new choices direct to the viewing public. TV may not have gone a la carte, but it is breaking down into smaller content bundles, and many of the programmers behind those bundles are figuring out how to create their own distribution channels. Want a preview peek at Philo? See our Philo screenshot slideshow here: Slideshow: Meet Philo TV. — Mari Silbey, Senior Editor, Cable/Video, Light Reading
Subscribe and receive the latest news from the industry.
Join 62,000+ members. Yes it's completely free.
You May Also Like
---