AT&T Buys AppNexus, Charts Ad Strategy
AT&T Buys AppNexus, Charts Ad Strategy
Smarter advertising will leverage the telecom giant's content and wireless operators to 're-invent' how ads are done, says exec.

AT&T today closed on its purchased of AppNexus, a global advertising technology platform, further advancing its stated strategy of leveraging its new position as a content owner as well as a distributor to change how advertising is done.
The terms of the deal, which is expected to close in the third quarter, were not disclosed. AppNexus operates a global advertising marketplace, and will become part of the AT&T Inc. (NYSE: T) advertising & analytics operation, led by CEO Brian Lesser who came to the telecom giant nine months ago from the advertising world. The idea, according to AT&T's announcement, is to accelerate the growth of its advertising platform and the push into "advanced TV advertising" by incorporating AppNexus's 400 software engineers and project managers into AT&T's operations.
Figure 1: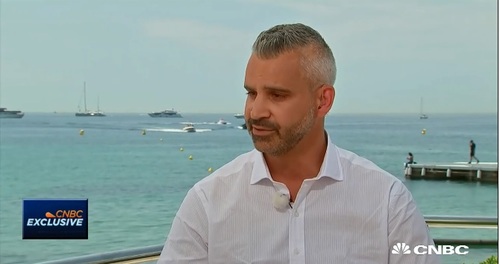 Brian Lesser in his CNBC interview from Cannes.
Lesser also once served on the board of AppNexus, so he is familiar with the company's technology.
"Ad tech unites real-time analytics and technology with our premium TV and video content," Lesser said in AT&T's press release. "So, we went out and found the strongest player in the space. AppNexus has scale of infrastructure, advanced technology and diverse talent. The combination of AT&T advertising & analytics and AppNexus will help deliver a world-class advertising platform that provides brands and publishers a new and innovative way to reach consumers in the marketplace today."
AT&T will use its new approach to advertising across all of its content platforms, including Turner Networks, Audience Network and Otter Media, the company stated.
As Lesser told CNBC in an interview last week, the goal is to "lighten the ad load" by reducing the number of times advertising interrupts premium content, in part by making existing ads more relevant and targeted. But AT&T also intends to re-invent advertising, he said, as a company uniquely positioned by virtue of owning content, distributing content and having the analytics technology and access to data as well.
Now entering its fifth year, the 2020 Vision Executive Summit is an exclusive meeting of global CSP executives focused on navigating the disruptive forces at work in telecom today. Join us in Lisbon on December 4-6 to meet with fellow experts as we define the future of next-gen communications and how to make it profitable.
For example, he said, if a consumer is watching programming via DirecTV on their big screen and is also an AT&T wireless subscriber, "we are the only company in the world that knows you are watching a big screen on the wall and you have a small screen in your pocket," Lesser said. "We can show an icon on the screen that indicates to you there might be a mixed reality experience, where you can see more about the car you just saw or the dress you just saw, without interrupting the content. You can take it to the phone. We are going to build what is today a $2 billion advertising business into something more significant."
While subscription ad-free services such as Netflix are popular, they can't support the full range of content that is available today, Lesser added.
"The world needs advertising more than ever, we just need to make it more relevant and we need to make it matter to consumers," he said.
According to its news release, AT&T plans to continue investing in the "foundational technology" AppNexus brings and to integrate it into the existing data, premium video content and distribution systems. The new acquisition also extends the operator's advertising and analytics footprint into significant new markets in Asia-Pacific, Europe and Latin America.
The move comes quickly after AT&T's acquisition of Time-Warner went through, getting over a federal lawsuit hurdle last week, and may be an indication of things to come given that Lesser & Co. have been champing at the bit to get going for several months now.
— Carol Wilson, Editor-at-Large, Light Reading
Subscribe and receive the latest news from the industry.
Join 62,000+ members. Yes it's completely free.
You May Also Like
---