Umachines Claims 2D MEMS Advance
Component startup
Umachines Inc.
plans to use the upcoming
Optical Fiber Communication Conference and Exhibit (OFC)
to showcase its particular take on MEMS (micro-electro-mechanical systems).
Umachines is part of a growing roster of companies lining up in favor of 2D versus 3D MEMS (see
Umachines Unveils MEMS Switch
and
Umachines Is Wild About MEMS
). Unsurprisingly, the startup says its take on 2D MEMS sets it apart from the rest.
Putting this claim into perspective requires some definitions: MEMS is a technique wherein arrays of tiny tilted mirrors are used to shunt light in various directions. Two basic types of MEMS arrays are in use today: 2D MEMS, wherein the multiple mirrors are arrayed on a single level, or plane, in an optical component (see
All-Optical Switching Tutorial, Part 2
); and 3D MEMS, in which the mirrors are arrayed on two or more planes, allowing light to be shaped in a broader range of ways. In general, 2D MEMS is thought to be cheaper and easier to make than 3D, but it supports a smaller switch port count.
Both 2D and 3D MEMS call for the tiny mirrors to hinge up and down at specific angles in order to direct light through a switch. Therein lies much criticism of MEMS technology in general: The wear and tear caused by moving parts leads to quick obsolesence. And getting the mirrors to angle just right requires very complex controls.
Now Umachines says it's got a way to overcome both these negative factors. Instead of moving the mirrors horizontally to direct light, the vendor permanently sets the angle of the mirror in the manufacturing process. In the finished module, the mirrors move vertically into the path of the light. No angles, no hinges.
This setup, Umachines claims, makes its MEMS hardier and easier to manufacture. "We believe that our [technique] has enabled us to manufacture components that have superior performance and reliability," says Cheng Teik Tan, VP of business development at Umachines. He touts a recently signed manufacturing contract with
Sanmina-SCI Corp.
(Nasdaq: SANM) as evidence of the startup's fabrication viability.
Is Umachines's take really unique? It's tough to tell. Competitors such as
OMM Inc.
seem indifferent to news of the innovation.
"Let me say this: We've been around for five years, we ship to over sixty customers. I think anybody coming into this market has a long, tough battle ahead," says Conrad Burke, senior VP of sales and marketing at OMM.
Burke says that over the next couple of years, market demand will focus on smaller-port-count switches for edge and metro use, not massive all-optical crossconnects. Customers are eager for modules featuring up to 32x32-wavelengths, he says.
Like Umachines, OMM has decided on 2D MEMS, since 3D technology is still "expensive and unproven," according to Burke. OMM abandoned its 3D MEMS development plans last year (see
OMM-inous News
), believing the market was farther out than originally hoped.
The roster of companies joining the 2D march is growing, bolstered by financial conditions that force a choice between the technologies. Like OMM and Umachines,
DiCon Fiberoptics Inc.
sees lots of life in 2D MEMS (see
DiCon Intros 11 New Products
).
This isn't to say 3D has entirely lost its luster.
Agere Systems
(NYSE: AGR) says its primary focus is on 3D MEMS (see
Agere Ramps Up 3D MEMS
).
Movaz Networks Inc.
announced yesterday it will demo its own 3D MEMS module at OFC (see
Movaz Sees 3D
), and
Integrated Micromachines Inc. (IMMI)
, whose founders are friendly with OMM's, plans to unveil its new 80x80-wavelength 3D MEMS switch at the show.
Last August, IMMI opted to get out of 2D MEMS development. CEO Denny K. Miu claims it was a coincidence that his buddies at OMM got out of 3D MEMS just prior to this decision. But he does concede, "We didn't want to compete with OMM and others for low-port business."
Miu says the key to the 3D market is making an optical switch module that can add to, rather than replace, existing OEO switches. "Our customers want to augment what they already have," he says. Relatively small but scaleable optical switches based on 3D MEMS are just the ticket for equipment vendors looking to add high-speed core connectivity to existing multiservice gear, he maintains.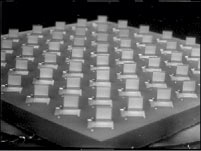 — Mary Jander, Senior Editor,
Light Reading
http://www.lightreading.com
Like what we have to say? Click here to sign up to our daily newsletter
Cable Next-Gen Technologies & Strategies – Making cable faster, broader, deeper, better
If you want to know where the cable tech space is heading, we've got you covered. Join the biggest names in the industry in Denver, CO on March 14 & 15 for the latest edition of Light Reading's Cable Next-Gen Technologies & Strategies conference.
Back for a record 16th consecutive year, Cable Next-Gen is the premier independent conference covering the broadband technology market. This year's edition will tackle all the top tech topics, including 10G, DOCSIS 4.0, Distributed Access Architecture, next-gen PON, fixed wireless access, network virtualization, the Digital Divide and more
Get your free operator pass here.
PARTNER PERSPECTIVES
- content from our sponsors