Telecom services across South Asia are gradually being restored after the devastating tsunami that hit the region last weekend. With tens of thousands dead and more than a million homeless, subsea communications links will be vital as aid agencies the world over continue the work of assessing the damage and providing assistance.

The major undersea cables, operated by consortiums of telecom providers, survived largely unscathed -- Videsh Sanchar Nigam Ltd. (VSNL) (NYSE: VSL) says the Tata Indicom-Chennai-Singapore cable, SEA-ME-WE-2 and SEA-ME-WE-3, and the Western Africa Submarine Cable (WASC) were not affected; neither was Bharti Tele-Ventures Ltd.'s 3,200 kilometer cable connecting Chennai, India, with Singapore.

The Press Trust of India reported Tuesday that the Malaysian leg of the South-Asia-Far-East (SAFE) submarine cable had been disrupted and traffic was being rerouted via VSNL's redundancy cables. There was no word on when the cable could be restored, as repairs have to be made by the Malaysian landing operator. The SAT-3/WASC cable links Europe with West Africa and SAFE continues the connection on to India and Malaysia. The Indian link remains operational.

The map below shows the major undersea cables in Asia, with the SAFE cable indicated in red. A larger version of the map is here.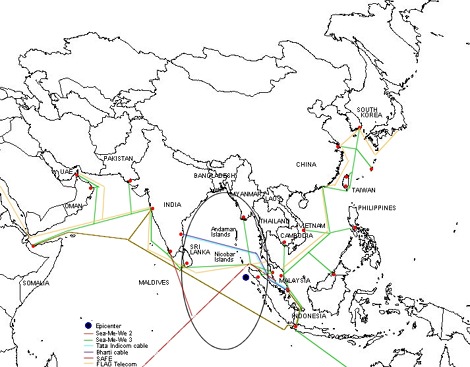 The breakdown of local telecom services around the epicenter (shown on the map) is hampering relief efforts, especially in remote areas such as the Nicobar Islands and the Aceh province of Indonesia -- the areas hardest hit by the tsunami.

State-run Indian operator Bharat Sanchar Nigam Ltd. (BSNL) said today that it had restored communications in the states of Tamil Nadu, Andhra Pradesh, and Kerala, but more than a third of the telecom exchanges on Car Nicobar are still down, according to Reuters. A spokesman added that damage to the roads makes it difficult to reach many of the exchanges.

Providers are airlifting terminals for use as public telephones and setting up free call stations to aid rescue operations. In areas that were not directly damaged, operators say networks are up and running, but are experiencing congestion and dropping calls as people seek to connect with friends and relatives.

In Australia, Telstra Corp. is offering free calls to the tsunami-struck regions, free mobile calls from those areas, and a donation of $100,000 to Australian agencies aiding the relief effort (see Telstra Aids South Asia).

— Nicole Willing, Reporter, Light Reading