The Sweet Smell of Bog
7:00 PM -- Are you homesick for the verdant green hills and interesting smells of Wales? Has it been literally years since you've shagged a sheep, eaten a leek, or mined coal? Is your name horrifically devoid of vowels?
Well, good news: A visionary entrepreneur wants to sell you a
bottle of authentic Welsh air
... for just £24. (That's approximately $942 U.S., at current exchange rates.)
This is a tremendous idea, whose time has clearly come. It's just too bad the trademark "Perri-Air" was already taken.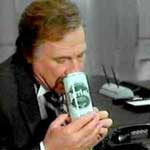 But how do you know this product is really "authentic," you ask? Simple: The folks at
walesinabottle.com
include a Certificate of Authenticity with every bottle of real Welsh atmosphere. And if you're still hesitant, you can request an Affidavit of Veracity attesting to the genuineness of your Certificate of Authenticity... guaranteed!
To sweeten the deal, the proprietors promise: "Whatever your request, from the ordinary to the bizarre, we will quote for your personalised product." Sadly, the site offers no hints as to how "bizarre" they're actually willing to get.
Now, Red Panda knows that some readers out there have budgets that won't accomodate this £24 empty bottle, however stylishly presented. So he's got a Plan B for salving that old-country nostalgia: Just find some mossy, standing water and go
bog snorkeling
.
Ahhhhh
, now that's Wales!
— The Red Panda Who Went Up a Hill but Came Down a Mountain,
Light Reading