MobiledgeX Revs Up & Shifts Into Gear

Comment (0)
BERLIN -- Edge Computing Congress 2018 -- Only nine months after it was formed, startup MobiledgeX has unveiled its suite of edge computing software tools designed to bring third-party application developers on board next-generation networks, outlined its open source plans and ramped up its network operator charm offensive in an effort to get the entire carrier community on board by Mobile World Congress 2019.
The Deutsche Telekom AG (NYSE: DT)-backed startup is focused on building what is effectively a middleware platform that will enable third-party developers to run their applications on edge computing platforms: Part of its plan, importantly, is to persuade those developers that this can be a pain-free process that doesn't involve direct involvement with telecom/mobile operators, which have a terrible track record of building working relationships with major app developers. "Operators are not geared up to deal with the developer community," noted MobiledgeX CTO Sunay Tripathi (formerly CTO at Pluribus Networks) during a presentation here in Berlin. (For further insight into the startup's plans, see OrbTV: MobiledgeX Further Exploring Edge Computing Opportunities, DT-Owned MobiledgeX to Power German Telco's Edge Rollout and DT Forms New Edge Computing Unit, Appoints Ex-Ericsson Cloud Guru as CEO.)
And the company is in a rush to get things done, for a number of reasons (which we'll come to shortly).
Part of its strategy, which has the end goal of making it easy for third-party applications to be housed and run on telco edge compute resources and benefit from the low latency and high-speed connectivity that can be enabled at the edge of the network, has been the development of software tools that will help deal with some of the interaction and scale challenges faced by those aiming to make use of edge computing resources. And the scale challenges are daunting: MobiledgeX is assuming there will be 20 billion devices globally (including IoT modules) that could interact with communications networks by 2020, up from less than 4 billion currently.
Its Cloudlet Resource Manager (a microservice) will abstract the operators' edge compute resources and make it easy for developers to build for. "The telcos have a lot of cloudlet resources" -- compute that exists in lots of locations, including but not limited to central offices or base stations -- but they have all basically developed "the same things in different ways," making it a nightmare for developers to work with such a fragmented ecosystem. The Cloudlet Resource Manager is an effort to provide a single, standard interface to any operator compute resource, making it easy for developers to build their code to multiple deployments.
Its Distributed Matching Engine is another microservice set of code that provides an interface to any end user device that's looking to use the applications housed on the edge computing platforms (and enable device verification), and its Edge Cloud Controller is the orchestration software that brings it all together and enables automated, zero-touch management. Once a device is verified by interaction between the Matching Engine and the network and its request to use an application is established, the MobiledgeX software identifies the closest compute 'cloudlet' and installs the relevant application in that cloudlet: The startup's CMO, Geoff Hollingworth, says it can be thought of as the Airbnb of infrastructure.
"We are bringing the cloud closer to the device… This all deals with the scale issues and the major challenge that all telco infrastructure is different," stated Tripathi.
MobiledgeX CEO, Jason Hoffman, was less kind about the state of telco infrastructure as he discussed his quest for what he calls the edge computing "holy grail" here in Berlin -- his comments can't be shared in a family publication such as Light Reading...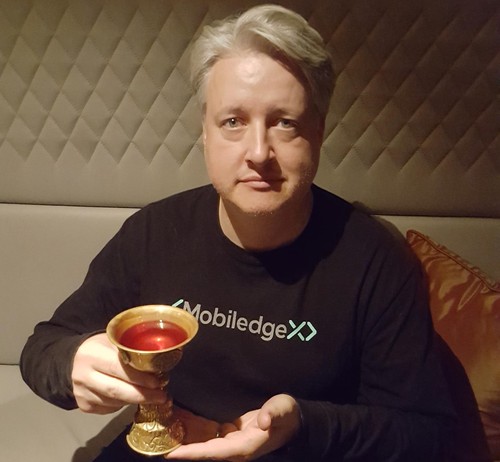 But Hoffman, Tripathi and the rest of the growing MobiledgeX team are all gung-ho about opening up the edge computing business opportunities that exist for the telcos and have been actively engaging with a number of Tier 1 carriers (beyond Deutsche Telekom) about the adoption and use of its software.
And the operators won't need to cough up to use it: The code is going to be offered up as royalty-free open source through the Apache Software Foundation. "This will remove any friction about 'whose code is this,' and every operator will be able to use it," noted Tripathi. (Interesting that it's not working with Apache and through the Linux Foundation…)
---
Deep dive into real-world issues and virtualization deployment challenges with industry leaders. Join Light Reading at the NFV & Carrier SDN event in Denver, September 24-26. Register now for this exclusive opportunity to learn from and network with industry experts – communications service providers get in free!
---
Which all sounds like a useful process if MobiledgeX can pull it off (and enable seamless handover between cloudlets for instances where the device is on the move).
But its efforts will be for nothing if it doesn't get support, and funding, from multiple operators and establishes a large global base of available cloudlets/edge computing resources that can be tapped into. The company has established relationships with Telefónica, SK Telecom and Vodafone, and is in early talks with Verizon.
Deutsche Telekom will help, of course: It has a wholesale arm that can spread the word as well as appeal to its fellow Tier 1 operators to work with, and invest in, MobiledgeX so that it can thrive as an independent operation that is not regarded by developers as being "telco."
It's also looking to engage with the Telecom Infra Project (TIP) community, get involved in its Edge Computing project group and engage with the numerous operator participants.
But it will need many more to buy into its story, and quickly. There's only really room for one (two at most) de facto standard platform that enables this third-party application/edge computing process and MobiledgeX isn't the only option -- Telefónica, for example, is also examining alternatives from the Open Edge Computing Initiative and specifications being developed by ETSI's Multi-Access Edge Computing (MEC) group. (See Telefónica Joins the MobiledgeX Fan Club.)
In many ways, it's likely to be a winner-takes-all scenario, as widespread operator community buy-in will be needed to make it easy for, and attract, the developer community, which is needed for new service/application creation. (The startup is in talks for further funding beyond its initial cash injection from DT.)
MobiledgeX believes it has an edge (groan!) in this regard: CTO Tripathi says that from his years in the IT and cloud sector at Pluribus and Sun Microsystems, he already has relationships with many of the major applications developers and communities that can be leveraged.
A lot needs to go right for Hoffman and his team in the next few months, especially as they have set themselves the goal of being regarded as the de facto, go-to player in this niche but important edge computing role by the time MWC 2019 rolls around. "And then the proper work can begin," says Hollingworth.
Will it be a case of Barcelona or bust? It won't take long to find out.
— Ray Le Maistre, Editor-in-Chief, Light Reading
PARTNER PERSPECTIVES
- content from our sponsors
GUEST PERSPECTIVES
- curated contributions