How Cisco converged T-Mobile's 5G and 4G cores
T-Mobile has long been on the forefront of the global wireless industry's move toward standalone 5G technology. But that overall transition has been rocky – to put it mildly – with a number of massive operators missing their launch deadlines amid complaints of "risk" about the "sea change" involved.
And that's why Cisco's latest comments on the topic are so noteworthy. The vendor recently offered some insights into its work with T-Mobile to launch the operator's new cloud-native 5G core gateway, which combines the operator's legacy 4G core with its new standalone (SA) and non standalone (NSA) 5G cores.
"With a fully automated converged core gateway, T-Mobile can simplify network functions across the cloud, edge and data centers to significantly reduce operational life cycle management," according to the companies. "The increased efficiency is an immediate benefit for customers, providing them with even faster speeds. The new core is also more distributed than ever before, leading to lower latency and advancing capabilities like edge computing."
But how did Cisco manage the work?
Cross-team communication
"To successfully deploy this solution at a massive scale against an aggressive timeline, we created closed-loop communication between our engineering teams and the customer teams," wrote Cisco's Rohit Jain on the company's website. "This approach enabled tighter collaboration and a product that matched customer expectations from the very start."
Jain explained the vendor broke down the barriers between its engineering and customer teams, which he said helped streamline the vendor's software development process. He also said that Cisco's software engineers had access to real-time network monitoring, which gave them the ability to quickly see problems and other key performance issues.
The result? "Real-time monitoring by the engineering team accelerated the development cycle and helped to deliver high-quality software to the customer," according to Jain.
Today, Cisco and T-Mobile boast a cloud-native control plane, optimized with Kubernetes orchestrated containers on bare metal, running across Cisco products including its 8000 Series routers, 5G and 4G packet core gateways, Unified Computing System (UCS), Nexus 9000 Series Switches and Cisco Network Services Orchestrator.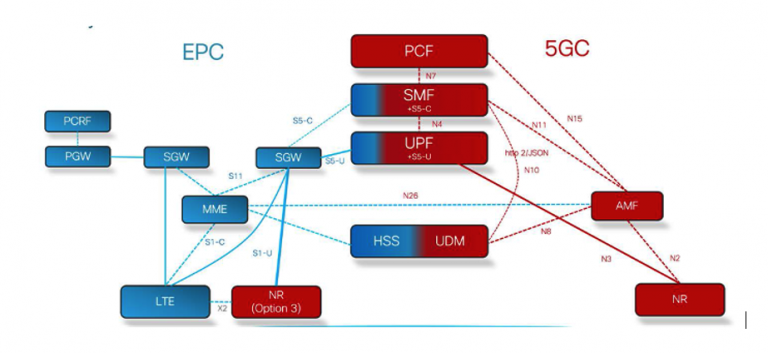 Another Cisco executive, Ravi Guntupalli, explained that the company's converged core can support both legacy 4G devices alongside newer SA or NSA 5G devices anchored on the same Session Management Function (SMF) and User Plane Function (UPF). "All capabilities northbound such as Policy via Policy Charging Function (PCF) and Charging via Charging Function (CHF) are supported using new service-based architectures which communication service providers can use to unify offerings and focus critical investments," he wrote on another post to Cisco's website.
A complex task
Cisco's Guntupalli acknowledged that the work was not easy. "While the biggest promise of 5G has always been speed, the network transformation to get there has been anything but fast. Migrating from monolithic legacy architectures to a 5G service-based architecture (SBA) has proved to be a daunting task," he noted.
Indeed, T-Mobile rivals AT&T and Verizon in the US are slowly moving toward SA 5G, albeit much later than they had originally planned. "There were hopes early in the year that many more [SA networks] would be launched in 2022, but the hopes were lowered as the year progressed," wrote analyst Dave Bolan, from research firm Dell'Oro Group.
Following its launch of NSA 5G, T-Mobile was among the first in the world to launch the SA version of 5G in 2020. That launch was primarily designed to improve T-Mobile's coverage because the operator's SA 5G signal can travel farther in its 600 MHz spectrum when a 4G anchor signal is not required. According to SDxCentral, Cisco and Nokia are the primary vendors behind T-Mobile's SA 5G core.
As noted by FierceWireless, vendors Ericsson and Nokia lead the 5G SA core market globally, according to Counterpoint Research, with Huawei, ZTE, Samsung, NEC and Mavenir also showing strength.
Related posts:

— Mike Dano, Editorial Director, 5G & Mobile Strategies, Light Reading | @mikeddano
PARTNER PERSPECTIVES
- content from our sponsors