This Is the New Fios TV From Verizon
This Is the New Fios TV From Verizon
Timing is still unclear, but Verizon has quietly revealed how its current Fios TV service will transition to all-IPTV. BARCELONA -- Mobile World Congress 2017 -- While Verizon has been tight-lipped for years about what's next for Fios TV, the telco let slip significant new details this week about how the platform will evolve. At Mobile World Congress, the newly formed Exponent business unit within Verizon demonstrated the technology that will be the foundation for Fios TV going forward -- an all-IP delivery system designed to support multi-screen video services, and ultimately the integration of IoT applications. (See also Verizon's Exponent Exports Its Expertise.)
Verizon Communications Inc. (NYSE: VZ)'s current version of Fios TV is a hybrid service where linear television is distributed via QAM, and on-demand video is delivered over IP. With the new platform, linear TV will also shift to IP delivery, giving Verizon the ability to introduce new features more quickly and to stream content to virtually any Internet-connected device.
Both the user interface and the set-tops for the new Fios TV look very different from their counterparts today. The UI borrows elements from other successful cloud-based program guides including personalization features, the ability to integrate online video services and support for voice commands. The main menu includes a mix of live and time-shifted content and can also host ads targeted to different members of the household. All of the guide content is served up from Verizon's own backend system, which means the telco can set up rules for determining when and how different elements appear.
"All of that is dynamically customizable," says Martin Busse, associate director within Exponent at Verizon.
Figure 1: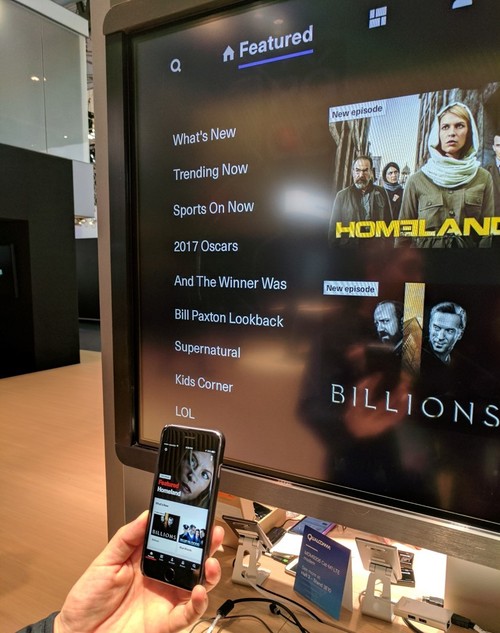 There are a couple of interesting touches to Verizon's Fios UI. First, the main menu screen doesn't include channel numbers, instead identifying stations by their network names.
Figure 2: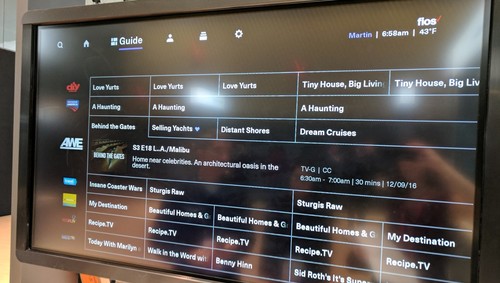 The second is that whatever user profile is enabled can be set to switch automatically to whoever is speaking voice commands into the TV remote. Alternatively, users can hop manually between individual profiles with the touch of a button.
Busse also explained in his demo that Fios customers will have multiple set-top options. There's a new DVR box that is substantially smaller than Verizon's current offerings, as well as two lighter-weight, non-DVR clients. One of the client boxes includes ports for Ethernet and component video. The other is wireless only and about the size of a deck of cards. If a household has solid WiFi performance, the subscriber would only need that tiny box connected to each TV set.
"You can ship this," Busse points out. "You don't need a truck roll."
Figure 3: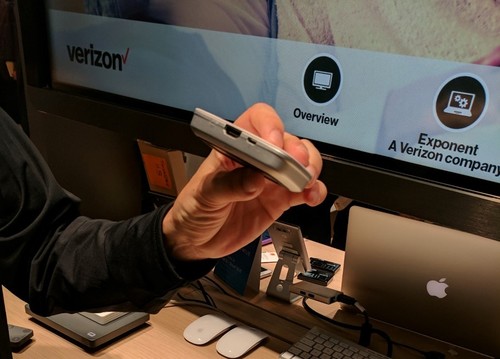 Verizon also plans to offer a three-day look-back feature for customers who don't need a DVR, but still want access to television shows in a short on-demand window after an initial airing.
The TV set-tops aren't the only new hardware Verizon is introducing either. Of note, Verizon is rolling out a new gateway device with its updated Fios TV service. The new gateway combines the functionalities of a standard router with an optical network terminal (ONT). Today, the ONT is a separate box from the router, often located either outside the house or in a basement. The new gateway consolidates two boxes into one.
Figure 4: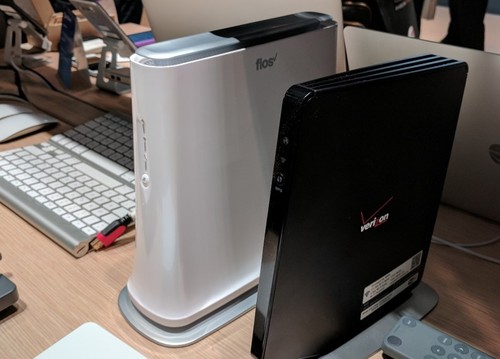 Old Verizon Fios gateway on the right, next to the new Fios gateway on the left.
Want to learn more about the latest pay-TV and broadband technologies? Sign up now for Light Reading's Cable Next-Gen Technologies & Strategies event on March 21-22, at the Curtis Hotel in downtown Denver.
It has taken Verizon a long time to get ready for its IPTV launch. It was six years ago that the telco first started talking about delivering TV as an IP application available on any Internet device. Then came the acquisition of the OnCue IPTV assets from Intel Corp. (Nasdaq: INTC) in 2014, which was supposed to speed along the IP transition for Fios. Unfortunately, that effort appeared to get bogged down amid other priorities, including the launch of Verizon's lackluster over-the-top mobile video service Go90. (See Why Did Verizon Buy OnCue?)
Verizon's goal is to align all of its video services onto a single common platform. That will include services like Go90 and Fios TV, but also other offerings that haven't been launched yet.
For example, Verizon's broadband gateway includes IoT radios, which Verizon plans to use for a smart home service that includes video streamed from connected cameras.
"All of that is active right now," says Guru Pai, EVP and chief product officer at Verizon, "but we haven't turned on a service."
From a timing perspective, Busse initially told Light Reading that the new Fios TV service is in beta trials now and will launch before the end of the quarter. However, another Verizon spokesperson backtracked from that timeline later, saying it's not confirmed.
Hints of the IPTV service first appeared almost a year ago when Light Reading reported on the appearance of a new all-IP set-top in Verizon documents filed with the FCC. (See Verizon IPTV Ambitions May Go Beyond Go90.)
Variety then reported that a new version of the Fios TV service was expected to launch later in 2016. That deadline has passed, but Verizon could keep itself within reasonable range of the projected timeline if it moves forward with deployment in the first quarter.
— Mari Silbey, Senior Editor, Cable/Video, Light Reading
Subscribe and receive the latest news from the industry.
Join 62,000+ members. Yes it's completely free.
You May Also Like
---