Standardizing NFV Infrastructure With Bogometry, Dickering & Do-Ocracy
Standardizing NFV Infrastructure With Bogometry, Dickering & Do-Ocracy
Operators gather in Paris for three days of meetings to simplify NFV infrastructure. The Common NFVI Telco Task Force (CNTT) is meeting face-to-face in Paris this week at a "coming out party" -- in the words of Mark Cottrell, AVP Domain 2.0 and Cloud at AT&T -- for the latest networking open source group, with a goal of standardizing NFV infrastructure.
I was there for the first day of the three-day event held at Orange's R&D office in the outskirts of the French capital. At slightly over 60 attendees, the count was a step up from the dozen or so that participated in the CNTT's inaugural meeting at MWC Barcelona in February. (See Orange, Vodafone to Unveil Common Approach to NFVi and GSMA to Bring Standardization to NFVi Wild West.)
That initial meeting was for operators only; no vendors allowed. One participant likened it to parents having a pow-wow behind closed doors before presenting a united front to the children. The children in this analogy are the vendors whose reputation for subverting standards efforts precedes them.
Figure 1: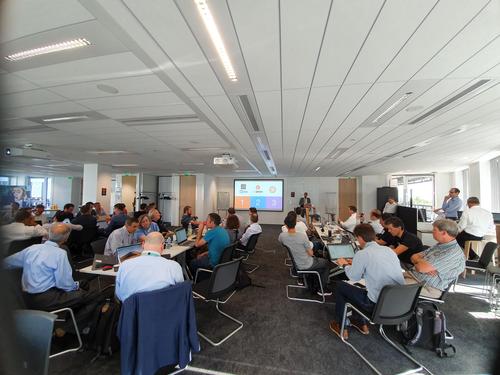 Operators gather in Paris for three days of meetings to simplify NFV Infrastructure.
In the open source spirit of transparency, an attendee list will be published on the CNTT wiki in due course. For now, I can say there were representatives from Cisco, Dell, Ericsson, IBM, Intel, Mirantis, Nokia, Red Hat, Spirent, Suse and ZTE. In contrast to other telco open source initiatives I've been involved in, Huawei had an unusually small presence.
I was also surprised by the high level of attendance and participation by telecom operator personnel. Aside from AT&T, Orange and Vodafone, who had kickstarted the project, there were representatives from China Mobile, Deutsche Telekom, Globe, Telstra and Verizon. Paris has its attractions but getting budget to travel to these events still requires justification. Mark Cottrell summed up that justification quite succinctly: "We're all here to improve our companies' TCO."
The first day of the event was essentially a high-level overview of the CNTT reference model and architecture which, for all the insomniacs out there, can be accessed here and here. This provoked a lot of debate with questions largely coming from the vendor community who presumably had not been privy to these documents. Much of the questioning was about terminology (e.g. "What is the difference between a VNF and CNF?"), understanding the scope (e.g. "Does it cover VNF onboarding?") and even a bit of computer-science navel gazing.
The CNTT had cunningly pre-empted potshots by labeling the sections of its reference model and architecture with a bogometer (defined here). This provides a measure of bogosity from high (initial framework) to low (complete specification). The penultimate level on this ranking is "dickering over fine points", a new word for me (please do not google it while at work).
The CNTT advocates also had a prepared response for all the doubters and naysayers: "If you don't like it, make a contribution and change it." Heather Kirksey from the Linux Foundation summed it up nicely: "Open source is a do-ocracy."
A sole representative from the ETSI NFV ISG pleaded with participants to align the CNTT specs with their own. Why operators had decided to use the GSMA as a vehicle for NFVi standardization, rather than ETSI, was the unmentioned elephant in the room.
There was a fair bit of vendor bashing by operators. One major US operator said they were looking to "deprecate" a popular virtual machine vendor as they went 100% OpenStack and that they thought other telcos would do the same, even if it took ten years. The same operator described most vendor VNFs as monolithic ports of traditional physical network appliances, not the containerized, cloud-native gems that their marketing departments describe them as.
There was a lot of technical discussion on day one, so much that there were frequent calls to "parking lot" -- or table -- questions. Undoubtedly the parking lot will be even busier by day three. Overall, I'm hopeful that with such apparently strong operator support the vendors will eventually bow down and revise their VNFs to run on CNTT reference architectures. This looks like an open source project that is small enough for operators and vendors to get their arms around and valuable enough to be worthwhile getting involved.
— James Crawshaw, Senior Analyst, Heavy Reading
Subscribe and receive the latest news from the industry.
Join 62,000+ members. Yes it's completely free.
You May Also Like
---