SES Takes ONAP to the Final Frontier
SES Takes ONAP to the Final Frontier
SES Networks is using Amdocs to implement the Open Network Automation Platform (ONAP) on Microsoft Azure, to allow its telco customers to seamlessly extend to SES's satellite service. SES, which operates a constellation of 70 satellites providing global data and video connectivity, is implementing the Open Network Automation Platform (ONAP) to let its customers forget that their data is flying through space.
SES Networks, the data unit of satellite operator SES S.A., hired Amdocs to implement ONAP on the Microsoft Azure cloud, to allow telcos -- which are SES's customers -- to use the same tools to manage flows on SES satellite networks as they use to manage their terrestrial networks, SES said Monday.
To succeed, SES needs to integrate easily with its customers' existing infrastructure. "We really need to make satellites seamless," SES Networks CEO JP Hemingway tells Light Reading. "We need to be able to integrate it into large scale communications networks seamlessly. We need to provide incredible automation, so it's easier to consume our services. [Customers] are just buying data connectivity services. We take care of the automation."
As part of that seamlessness, SES previously qualified for MEF carrier Ethernet certification, to make it easier for operators to integrate SES services with terrestrial carrier Ethernet.
Figure 1: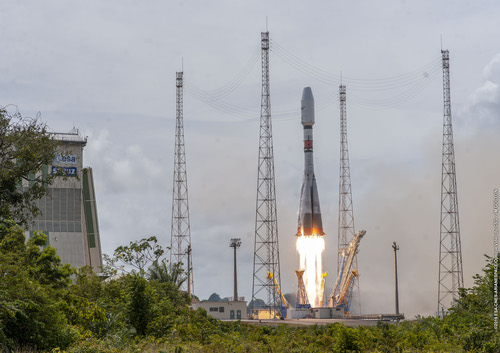 April satellite launch for SES Networks.
SES plans to use ONAP alongside other Network Functions Virtualization (NFV) capabilities that, along with the global presence of Azure, will help it to provide services to its telco customers. The initial service on offer will be SD-WAN, but later SES plans to support additional applications, including virtual EPC (evolved packet core), firewall and other security applications, and WAN optimization tools. These services will be delivered through the Microsoft Azure Marketplace.
Amdocs provides implementation and customization of the Dublin ONAP release
In addition to Microsoft, SES has partnerships with Amazon Web Services (AWS) and IBM to connect organizations to applications residing in those clouds.
In addition to integrating with customers, SES is looking to ONAP to support its own expansion plans, Hemingway says.
SES Networks provides data services to three market segments: telcos and mobile network operators, which use SES for services including cell tower backhaul and enterprise VPN; maritime and aviation companies, such as commercial shipping, cruise liners and consumer airlines (for WiFi and other aviation applications); as well as government customers, which use SES for a range of services including drone surveillance for environmental control, defense and humanitarian aid.
SES operates two types of satellites: Geostationary orbit 'birds,' 36,000 kilometers above the Earth; and 20 satellites in lower, non-geostationary Medium Earth Orbits (MEOs) that can provide lower-latency, which enables services not available through conventional geosynchronous orbits (such as video Skype, large scale data transfer, synchronous data replication), as well as high-bandwidth, 10 Gbit/s connections.
SES plans to launch an additional fleet of satellites from its O3b subsidiary in 2021, scaling from a few hundred beams today to 30,000, delivering gigabits of individual capacity and terabytes of overall capacity. Automation will be useful now, but it will be essential when the service begins to scale, Hemingway says.
The move by SES to use ONAP and Azure is part of a broader trend among network operators to deploy virtualized functions and run them in the cloud.
For example, AT&T this year launched a deal with Mirantis to implement network functions on its US 5G network using Kubernetes and OpenStack cloud. (More recently, AT&T signed deals with Microsoft and IBM to move non-network applications to the cloud.) And TurkCell, which serves 35 million subscribers in and near Turkey, is implementing a telco cloud using Red Hat OpenStack.
The SES implementation differs from those of AT&T and TurkCell -- and many other telco cloud implementations -- in that SES is moving its network functions to the public cloud. That would be an attractive option for carriers looking to leverage public cloud providers' skills at compute infrastructure, scalability and global presence, and leave the carrier free to focus on connectivity. Of course, as with all outsourcing deals, that freedom comes with a loss of control. But the trade-off may be worth it to achieve flexibility, reach and business focus: Expect others to follow suit.
Related posts:
Satellite's Grip on C-Band Spectrum for 5G Could Be Slipping LeoSat CEO Envisions a High-Capacity, Low-Latency Backbone... in Space! Should Satellite Companies Be in Charge of Selling Their 5G Spectrum? Cloud Constellation Banks $100M for Space Laser Cloud Security
— Mitch Wagner




Executive Editor, Light Reading
Subscribe and receive the latest news from the industry.
Join 62,000+ members. Yes it's completely free.
You May Also Like
---