Ngena Fits Network Form to NFV Function
Ngena Fits Network Form to NFV Function
Ngena's global 'network of networks' solves a problem that the telecom vendors promised us would never exist. That doesn't mean its new service isn't a really good idea. I had an interesting conversation recently with Dr. Marcus Hacke, the founder and MD of Ngena GmbH.
What Ngena* has done is to create an über-network that connects the networks from a dozen Tier 1 carriers around the world, including major players such as Deutsche Telekom, Reliance Jio, SK Telekom, MTN and CenturyLink. Enough carriers, in fact, to give this "network of networks" almost ubiquitous global coverage.
Figure 1: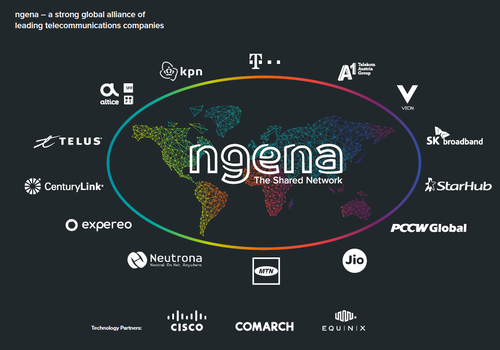 Ngena's alliance partners as of February 2018.
So why do these carriers need Ngena's backbone to connect them? Why can't they just hook up their services directly? Well, they can. And they do.
But the fact is that, today, when they do so, all of the clever traffic policy "stuff" that their customers pay for, and need -- QoS policies, security, and so on -- gets stripped out at the network borders, leaving their customers sucking on best effort (a.k.a. "basic bitch") service -- essentially, what they've been shuffling along with since the very first days of the Internet 30-odd years ago.
Ngena is solving that problem by building a global backbone network connected via 20 data centers run by Equinix, which provide the jump-off point into the networks owned and run by their carrier partners via either Layer 2 Ethernet switches or Internet gateways. The clever part of its solution lies with the OpenStack-based software that Ngena runs on Cisco hardware in the data centers and in every customer network.
Figure 2: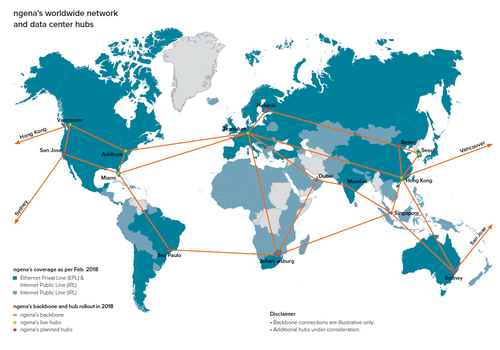 Ngena's global backbone (February 2018).
This code acts as a fully virtualized, software-based "service platform" that rides over the top of the Ethernet/IP transport network. All the apps, services and network orchestration are based in software, and delivered as VNFs (virtual network functions), allowing Ngena to manage the network end to end, all the way into the customer prem.
This architecture allows Ngena to solve two big problems for service providers: First, ensuring the traffic and security policies that a customer sets on one network make it across the border onto a destination network run by a completely different carrier; and second, how to spin up software-based, virtualized services without having to go through a huge and painful VNF onboarding process (probably the number one problem faced by service providers today).
Right now, the virtualized part of the network is handled exclusively using hardware and software from Cisco (including the SD-WAN products Cisco acquired when it bought Viptela last year). That will change this year, in the third quarter of 2018, when Cisco releases a version of its code to run on x86 or white box hardware which, in turn, will be available as part of the Ngena solution. But Dr. Hacke warns that rolling into a white-box-plus-software implementation won't be straightforward:
"A lot of people underestimate the complexity of using the x86 in a network environment," he says.
It's still early days for Ngena, but Hacke says it's set to light up its first customer -- a leading German manufacturing company -- in April.
Figure 3:
Dr. Marcus Hacke, Founder and MD of Ngena: "If you want to move fast and develop something cloud-native, you need to find a small group of partners with deep integration."
Given the current situation in the comms industry, more customers will undoubtedly follow. As I've said previously, our industry has completely failed to deliver on the promise of software-based virtualization that it made around half a dozen years ago. Back then, service providers were told to expect an open and interoperable, free-market virtualization ecosystem that would enable them to pick and choose the best apps and services, for the best price, and run them over an NFV infrastructure from whoever they preferred.
What we've ended up with is the exact opposite -- a market where carriers have less choice than they did in the 1990s, back when Ethernet and IP ruled the roost.
Ngena is the natural corollary to that industry fail state: a pragmatic, workable solution to a set of massive virtualization challenges that, had we stuck to the basic principles of telecom -- standards, interoperability, certification -- would never have happened.
I have to give a tip of the hat here to Doc Hacke. Getting the CEOs of this many major telecom players to cooperate on a service as complicated as Ngena must have been like herding cats -- feral, rabid cats, armed with bazookas. But as he himself points out, he had little choice:
"If you want to move fast and develop something cloud-native, you need to find a small group of partners with deep integration," says Hacke.
In a former career Hacke was a theoretical physicist. But there's nothing theoretical about the benefits of the new service his company is offering.
— Steve Saunders, Founder, Light Reading * A note about pronunciation. Ngena is an acronym of Next Generation Enterprise Network Alliance. However, the company pronounces its name as "gina" -- not "engeena." The reason is that "ngena" happens to also be a word in the language of the Ubuntu tribe in South Africa, which means, roughly, to come into, or join. The Ubuntu actually use a glottal stop or "click" when they say the word, but rather than try to teach the telecom industry the intricacies of the Xhosa dialect, the company decided to simply drop the "n." Sensible. But, you know, really complicated?
Subscribe and receive the latest news from the industry.
Join 62,000+ members. Yes it's completely free.
You May Also Like
---