LF Networking Gets Ambitious About Open Harmonization
LF Networking Gets Ambitious About Open Harmonization
Expansion into AI, network operating systems for white box and edge computing are built into efforts to collaborate across industry groups. LOS ANGELES -- Open Networking Summit -- Building on significant momentum in the networking space, the Linux Foundation's networking arm is getting even more ambitious, announcing a move to harmonize its open source networking efforts with those of adjacent ecosystems including containers and cloud-native efforts, edge computing, network operating systems for white boxes and AI/deep learning.
The LF Networking Fund (LFN) today made a series of announcements including the launch of DANOS, an open network operating system for white boxes and switches that brings together existing projects such as Free Range Routing and dNOS, and creates an "uber" operating system for white boxes that should speed their commercialization, said Arpit Joshipura, general manager of networking for the Linux Foundation.
Figure 1: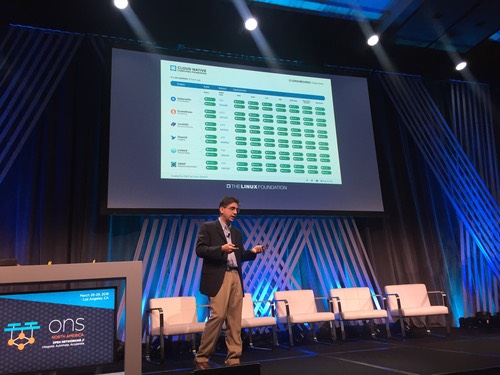 LF's Arpit Joshipura
Another major step forward was enabling the Open Network Automation Platform (ONAP) to run on Kubernetes, a move announced by LF and one of its projects, the Cloud Native Computing Foundation (CNCF); that means ONAP is now part of the latter's Cross-Cloud Continuous Integration Project and can run on multiple public clouds as well as bare metal. This move also enables end users to integrate open networking and cloud-native technologies for seamless portability of applications, said Joshipura, who conducted a staged demonstration of that, testing ONAP 1.1.1 and 1.95 Kubernetes deployed across AWS, Azure, Google cloud, IBM's cloud, OpenStack and bare metal. (See ONAP, CNCF Come Together on Containers.)
All of this is on top of a white paper, based on research done for LF by ACG Research, which shows vendors can participate in an $11 billion market for orchestration and edge network systems, if they embrace open source and support network operators in this effort.
Light Reading is bringing together all of the key players in the automation revolution for the first time at Automation Everywhere on April 4 in Dallas. Join us as we tackle the business and technology challenges behind driving network automation. The event is free for communications service providers -- register today! "The future strategic vendors that get the benefit of this spend will be those that embrace open source," Joshipura said in his keynote. Joshipura, who delivered the keynote address here this afternoon, noted that LFN has grown to 100 members in 100 days, and is rapidly building on the harmonization efforts of the past year. Those came in response to industry complaints that too many open source groups were working in an uncoordinated way, that drained vendor and operator resources and produced confusion. That Harmonization 1.0 saw the creation of ONAP, from two existing groups, and its fairly rapid establishment as a de facto orchestration platform, as well as the creation of LFN as the common governance unit for multiple LF projects. It has also seen LFN establish close ties to existing groups, including the TM Forum, the Open Compute Project and the MEF. (See TM Forum Brings Open APIs to Linux Partnership.) The move into adjacent areas has created the The LF Deep Learning Foundation, and the Acumos AI Project, as well as the new edge project Akraino. (See Linux Foundation Injects Open Source Into AI and AT&T Sharpens Edge With New Open Source Effort, Test Lab Launch.) What is different now as LFN launches new projects, said Joshipura, is that these will be pre-integrated into the existing work, so that efforts remain tightly coupled and collaboration is enabled from the outset. That is playing out now with DANOS, which stands for disaggregated network operating system, and has already been pre-integrated with five different projects -- including some outside LF -- which will come together going forward, Joshipura said. — Carol Wilson, Editor-at-Large, Light Reading
Subscribe and receive the latest news from the industry.
Join 62,000+ members. Yes it's completely free.
You May Also Like
---