Leading Lights: Only Days Left to Enter!
Leading Lights: Only Days Left to Enter!
Never mind the days, there are only HOURS remaining before the door closes on this year's Leading Lights awards deadline... Right, this is it. We've already extended the deadline, so no more extensions. This Friday, March 23, is the FINAL deadline for submissions to this year's Leading Lights, Light Reading's annual (and the industry's most prestigious) awards program.
So, unless you've had a terrible year, innovated in no way whatsoever and have the word "loser" as part of your corporate slogan, you need to get off your glutes and enter! NOW!!
Why? Because if you don't enter, you can't win a fabulous award that you'll be able to boast about for years and show off at your office and at industry events. And it's worth showing off because these independent awards, now in their 14th year, mean something -- if you win, you've deserved it.
And there is still time to submit a winning entry, as we have simplified the process this year with a 300-word pitch (with accompanying links) being the heart of all entries.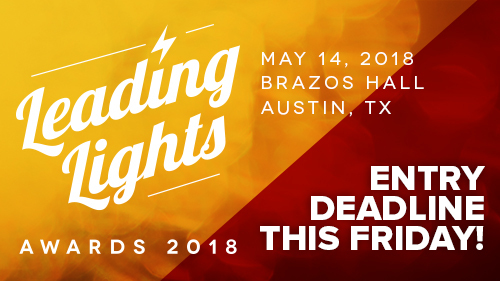 So, to find out more about the 24 Leading Lights categories (plus three Women in Comms awards), check out our previous articles about this year's awards program -- they include more information, links to past winners and other useful background.
But if, as you should, you just want to get on with entering immediately so you can start thinking about how great it would be to get shortlisted and attend the gala awards dinner in Austin, Texas, on May 14, then just head on over to the Leading Lights 2018 home page, where you can see the full list of categories and get all the details of how to enter.
But remember -- products, services and strategic directives must have been announced on or after March 1, 2017, to qualify for consideration. So if it was launched before that, then it won't qualify. So please be sure to read the guidelines and check the FAQ document too.
OK, that's enough reading -- get writing!
— Ray Le Maistre, Editor-in-Chief, Light Reading
Subscribe and receive the latest news from the industry.
Join 62,000+ members. Yes it's completely free.
You May Also Like
---