AT&T's Chiosi: Unite on Open Source or Suffer
AT&T's Chiosi: Unite on Open Source or Suffer
The telecom industry needs to agree on an approach to pulling together all the open source pieces or face crippling delays. DALLAS -- NFV Everywhere -- The telecom industry needs to agree on how it wants the various pieces of open source to come together in a platform for the future, AT&T's Margaret Chiosi said here Thursday. Otherwise, there is the risk of a splintered effort that will ultimately slow critical network transformation.
Chiosi, a Distinguished Network Architect at AT&T Inc. (NYSE: T) who is also president of the Open Platform for NFV Project Inc. and one of the original players in the European Telecommunications Standards Institute (ETSI) NFV ISG, explained why open source is critical to AT&T's Integrated Cloud (AIC) architecture -- its converged services platform moving forward -- and outlined the numerous open source groups in which the telecom giant is participating, which span 700 different projects.
But she cautioned strongly against allowing different versions of open source platforms to take hold in telecom, as the industry evolves to the New IP. "We just need to get on a path where we need to work it together," Chiosi said. "And of course, nothing is ever perfect, and we'll evolve it as we go forward. But this split of everyone coming up with their own open source version of the whole platform and then trying to sell it to all of us is not good. The more we splinter, for this industry, the telecom industry, it is going to be very bad for us. We can't afford to be splintered."
Figure 1: AT&T's Margaret Chiosi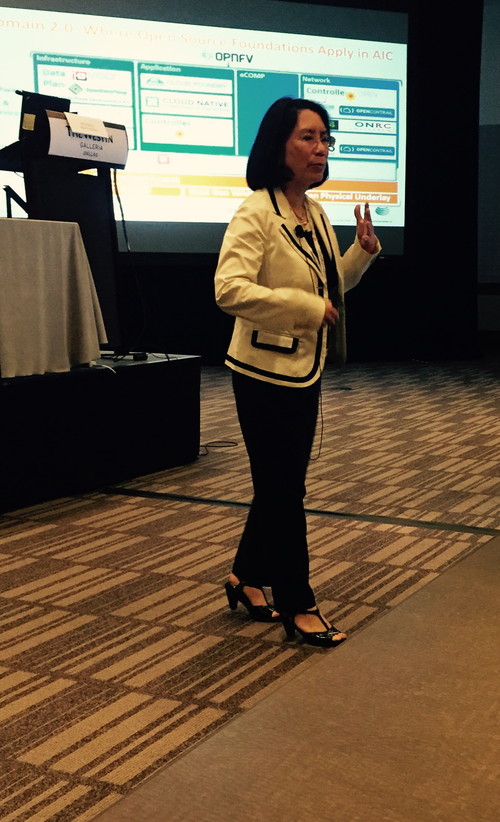 Chiosi believes OPNFV is a good environment for figuring out how to make all the pieces work together and to find and fix the gaps that are left. The group is prepared to then "upstream" its work back into the appropriate places, she says, and to work on those components for which there isn't an upstream home.
AT&T is building its AIC on three pillars: NFV, SDN and what it calls its ECOMP for enhanced control, orchestration, management and policy, she explains. All of that fits under the Domain 2.0 umbrella, which includes both software and hardware assets.
See the latest happenings as telecom business services migrate to the cloud in our cloud services section here on Light Reading.
Both OpenDaylight and OpenStack are foundational frameworks which will link other pieces of open source to the next generation of hardware elements, which are designed to be as commercial and off-the-shelf as possible. Those other open source elements include (and this is not the full list): Linux, Data Plane Development Kit (DPDK), the Open Container Initiative and more as part of the infrastructure; Cloud Foundry and Cloud Native Computing Foundation in the application space; and multiple elements in the network area including controllers such as ODL, ONOS and Open Contrail and Open V-switch among others.
In Chiosi's view of the world, OPNFV serves to knit all of the open source pieces together in a coherent way. She said she is less concerned with how this all happens technically than with bringing the industry together in a single approach to get it done, knowing it can be enhanced and improved along the way, through the open source process.
The Bell Labs veteran pointed to her long career of doing "concept to delivery" at AT&T, working through the same repetitive processes of lifecycle management for each new product, regardless of where in the network it resided.
"I was so bored of doing it over and over again," she said. "The bugs were the same, the operational issues were the same but everyone was doing it differently, doing it their own way. Even if we can get those fundamental pieces that repeat over and over again into open source so we can free up the resources to go and innovate, it will be a big improvement."
Active participation by telecom network operators in the open source process -- including providing code and feeding back internal developments into the open source community -- does require resources and time, but has its own payback, Chiosi noted. Not only is that the best way for network operators to make sure they get what they need out of open source, but it is also a great way to get a clearer picture of who within the industry is actually moving forward, without the fog of vendor marketing messages.
"You can build your own technical reputation, but you also get to know who is who, and who really knows what," she said. "There are so many vendors involved, but by participating in the open source process, you learn who the real key contributors are, and you see who is doing what and who is where. That's the value."
— Carol Wilson, Editor-at-Large, Light Reading
Subscribe and receive the latest news from the industry.
Join 62,000+ members. Yes it's completely free.
You May Also Like
---