Amdocs CMO: We're Gonna Mint It in MANO
Amdocs CMO: We're Gonna Mint It in MANO
Amdocs is very bullish about its revenue prospects from a productized version of the recently created open source management and orchestration (MANO) system ONAP. BARCELONA -- Mobile World Congress -- Amdocs is expecting to generate significant revenues in the coming years from a commercial, productized version of ONAP (Open Network Automation Platform), the new open source management and orchestration (MANO) system that looks set to play a major role in telco cloud strategies.
ONAP came into being only days ago, following the merger of two of the leading open source MANO efforts, AT&T's ECOMP (Enhanced Control, Orchestration, Management and Policy) and OPEN-O (Open Orchestrator). (See MANO Marriage: ECOMP, OPEN-O Converge as ONAP.)
Now, under the auspices of the Linux Foundation and using the millions of combined lines of code (the vast majority coming from the ECOMP development), ONAP will be further developed as an open source MANO system that can be used by any network operator looking to introduce virtual network functions into their architectures.
But open source code is free, right? In theory, but history shows that what end users want is a hardened, "productized" and supported version of open source code, and that's something they're prepared to pay for -- Red Hat's commercial Linux products being a classic example.
Essentially, Amdocs wants to be the Red Hat of MANO.
As a major virtualization partner to AT&T, Amdocs played a major role in the development of ECOMP and is now looking forward to reaping some rewards from those efforts, according to Gary Miles, chief marketing officer at Amdocs.
"We're a big fan of open source," says Miles, who notes that the telecom software sector is starting to move away from the licensing model that has prevailed for decades and which has provided companies such as Amdocs a significant part of their bread-and-butter revenues.
So as the telco software sector industry shifts towards new business models, Amdocs believes it's in prime position to develop a commercial, productized version of ONAP.
"Someone has got to package, maintain, integrate and run," a commercial version of ONAP, notes Miles, and he's hell bent on Amdocs being that someone.
Amdocs is already one of the most successful companies in the communications networks software market, generating revenues of $3.7 billion and a net profit of $409 million in its most recent full financial year, so does it think a packaged MANO business can be as big again if ONAP becomes the de facto MANO choice for the world's major network operators? (See Amdocs Reports Fiscal Q4.)
Miles says he can't make predictions about how large the market opportunity might be, but he says Amdocs is "very bullish" about the potential. "This is the sweet spot, the middle area between the network and IT and we got in early" by working closely with AT&T on the ECOMP development, he notes.
Figure 1: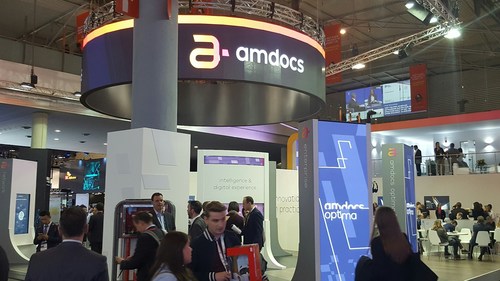 Amdocs is talking up its potential to drive new revenue opportunities from packed open source MANO at MWC 2017.
It's early days for ONAP, of course, but in addition to AT&T, China's three major operators as well as Orange and Bell Canada are on board and supporting the initiative and it seems unlikely they won't be joined by others. "We're hoping the whole industry will get behind [ONAP]," says Miles, not surprisingly. "It's better not to have a fragmented market," he adds. And if Amdocs can be first to market with a reputable, packaged version of ONAP, a lack of fragmentation would play to its top and bottom line.
In addition to its MANO ambitions, Amdocs has also been talking up its artificial intelligence (AI) developments here in Barcelona, and launched aia, a "communications-industry-specific digital intelligence platform" that combines telco-specific business processes from Amdocs with AI and machine learning capabilities from a number of partners, including state-of-the-art AI and machine learning engines from global partners such as IBM Watson. (See Amdocs Shows Off at MWC17.)
— Ray Le Maistre,

, Editor-in-Chief, Light Reading
CALLING ALL CLOUD, NFV AND SDN COMPANIES:
Make sure your company and services are listed free of charge at Virtuapedia, the comprehensive set of searchable databases covering the companies, products, industry organizations and people that are directly involved in defining and shaping the virtualization industry.
Subscribe and receive the latest news from the industry.
Join 62,000+ members. Yes it's completely free.
You May Also Like
---