Smart Cities Need Smarter Pipes

Comment (0)
We often talk about the densification of networks in telecom, but that idea of tightly packed connectivity and computing intelligence is only a follow-on to the larger trend of human densification. In 1991, 2.3 billion people lived in urban areas out of the 5.4 billion inhabiting the planet. By 2016, that number had risen to 4 billion people living in cities out of 7.4 billion people worldwide.
More people needing more resources in more closely confined environments means communities have to get smarter about how they manage, well, everything -- physical assets, information, transportation, public safety and more.
It's that requirement that's, in large part, feeding the telecom networking trend. People want smarter cities, and smarter cities will only happen with better, more effective communications networks.
Smart cities, dumb pipes
For the first time ever, Light Reading is hosting an event later this month to tackle the issues that communities and telecom service providers are facing as they work to make cities smarter. The event won't focus on the application level, or on technology pilots that haven't been implemented at scale. Instead, the panel will focus on how communities need to prepare their communications infrastructure to enable a wide range of future smart cities initiatives.
We'll answer questions including: How can communities increase their network capacity efficiently? What are the strengths of different wired and wireless technologies? How can communities and industry partners work together to realize short-term value while also building for the long term? And much, much more.
And you are invited to join us!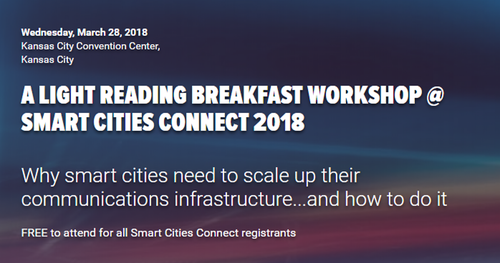 We are hosting this event as a free breakfast session in conjunction with the Smart Cities Connect Conference & Expo in Kansas City, Missouri March 26-29. It will include one-on-one conversations with leaders from Oregon (the city of Eugene) and New Orleans, as well as a panel of experts covering many of the most important technology aspects of the communications industry: cable, fiber, wireless and telecom towers.
The all-star speaking lineup includes:
Kim LaGrue -- CIO for the city of New Orleans with more than 25 years of experience in IT operations, telecommunications and data management
Matt Sayre -- Vice President of the Technology Association of Oregon and an early leader in re-architecting broadband networks in the state
Satya Parimi -- Group Vice President at Spectrum Enterprise , a Charter Communications unit engaged not only in commercial services but also specifically the smart cities sector
Cheri Beranek -- CEO of Clearfield Inc. (Nasdaq: CLFD), a leading innovator in fiber deployment technologies that partners with both municipalities and network operators
Rebecca Hunter -- Leader of Corporate Development and Strategy for Crown Castle International Corp. (NYSE: CCI) with unique insight on the role tower companies will play in the deployment of next-generation network services
Jaime Fink -- CTO of Mimosa Networks Inc. and an expert on how fixed wireless technology can serve a vital role in community connectivity
We hope you can make it as well. The Light Reading event is free for anyone attending the larger Smart Cities Connect conference. Registration available here: Smart Cities, Dumb Pipes
We promise it'll be worth the trip.
— Mari Silbey, Senior Editor, Cable/Video, Light Reading
PARTNER PERSPECTIVES
- content from our sponsors
GUEST PERSPECTIVES
- curated contributions