CableLabs Is Building a VR Media Spec... With the Holodeck in Mind
Dr. Arianne Hinds doesn't shrink before skepticism.
The CableLabs principal architect and futurist flat out announced that she's working on a new media format for glasses-free virtual reality, and didn't back down one iota when her fellow panelists in the session on VR, AR, MR: Identifying the Operator Opportunity at Light Reading's Big Communications Event expressed doubt.
The new specification? It's for delivering content that can be displayed as rays of light directed from a panel in a way that creates image volume and not just a flat two-dimensional image. The goal is to make the spec agnostic of whatever display technology is used and to figure out how to build media delivery networks to support it. At a guess, Hinds says she thinks it will ultimately be possible to deliver content in this form to an 85-inch diagonal display with broadband throughput of 2 gigabits per second.
CableLabs isn't starting this process from scratch.
"CableLabs is working very closely with some of the VFX (visual effects) companies to stand up a spec around a well-used VFX media format," says Hinds. "So all we're doing is we're documenting best practices and using that as a basis for us to architect the networks to support the light field displays."
The existing format Hinds refers to is called ORBX, but she notes that CableLabs will probably rebrand its version with a more user-friendly name. She says CableLabs is aiming for the spec to be ready by the end of this year.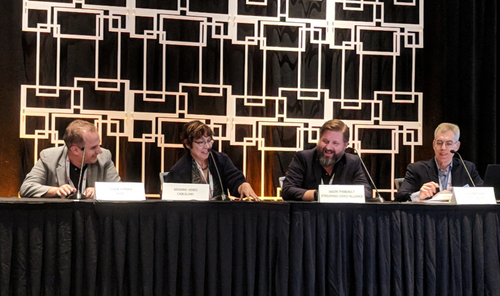 If Hinds is optimistic about creating a new holographic media ecosystem, however, Jason Thibeault, executive director of the Streaming Video Alliance , is less sanguine. To begin with, Thibeault doesn't think it makes sense to create virtual and augmented reality standards today. The technology is changing too fast.
Beyond that, Thibeault cautions that content producers have to be involved in the process of bringing a new media spec to market.
"Because," he explains, "they're going to be the ones to encode in that mezzanine format and distribute. So is it cacheable? Is it not cacheable? How does all that work? Involve them in that process because that will really help draw people into that possible container for producing VR content and you won't have as much backlash from people going 'I don't know what to do with this.'"
Dr. Ozgur Oyman, senior standardization manager at Intel Corp. (Nasdaq: INTC)'s Next Generation & Standards (NGS) organization, also outlines other challenges for pushing out virtual reality as a mass consumer technology, including bandwidth demand, determining what quality of experience users will pay for and parallel developments in mobile networks and edge computing.
Thibeault believes it could take up to two decades to develop a viable market for advanced forms of virtual reality.
But once again Hinds has a much rosier outlook. She's seen the prototype technology and she thinks creating an experience similar to the famed holodeck from Star Trek will be doable in ten years.
Now that would be a big communications event.
— Mari Silbey, Senior Editor, Light Reading
UPCOMING LIVE EVENTS
June 6-8, 2023, Digital Symposium
June 21, 2023, Digital Symposium
December 6-7, 2023, New York City
All Upcoming Live Events
PARTNER PERSPECTIVES
- content from our sponsors