New options are emerging for network operators that want to compete against Twilio and others in what's being called the communications-platform-as-a-service (CPaaS) market. The ability to add messaging to existing wireline numbers and offer enterprise customers the full range of communications options is one way the companies that operate the underlying network infrastructure can begin to capture advanced services revenue that now flows to the over-the-top players.
Or that's the pitch that companies such as Telestax and Brightlink IP are making to network operators looking to stem the flow of revenue from their service offerings to the OTT world.
"Today, the OTT apps are coming into the network, how much money do operators make on those? Zero," says Kevin Nethercott, Telestax VP of business development, in a presentation at the Incompas event in San Francisco this week. At the same time the transactional transport revenues are under increasing price pressure.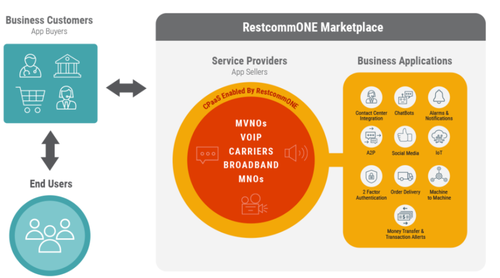 What TeleStax offers is its RestcommONE Marketplace, which offers a pre-integrated set of CPaaS offerings that include voice calling features such as call queueing, text-to-speech and conference calls but also messaging including two-way SMS texting, phone numbers and smart codes and MMS, and video features such as peer-to-peer video conferencing. These can all be delivered in the manner enterprises want today -- that is, through an application programming interface (API), to deliver popular options such as chatbots, Internet of Things apps, video websharing and more.
All of that is offered on a revenue-share basis so that network operators don't have to invest in the upfront capex to deliver new services, Nethercott says.
"What we are seeing is significant growth in the margins and how much we are charging for advanced applications," he says. "Now the network operators need to figure out how to tap that revenue."
Key to all of this is what he calls CPaaS-enablement and a fundamental aspect of that is the ability to send text messages to telephone numbers associated with wireline networks, so that all forms of communications can be delivered from one platform, as an API.
"What enterprises are looking for is a way to connect to an API," Nethercott says. "When we talk about APIs today we are not talking about provisioning APIs on the backend, we are talking about APIs on the front end and how you can provide those directly to your customers."
TeleStax is viewing this as an $8 billion market opportunity in the next two to three years, he adds. That's the kind of market that is fueling things like Twilio's highly successful IPO in 2016. (See Twilio IPO: Stock Soars 92%.)
Brightlink IP has been selling its Unified Communications services as a carrier's carrier, with a wireless license in all 50 US states, and the ability to sell CMRS numbers (customer mobile radio service) to enable messaging of all types. Now, the company is seeing growing interest among OTT players and enterprises, says Dave Bolas, executive vice president of EVP Business Development at Brightlink.
Until recently, only wireless operators could offer CMRS numbers, he says, but Brightlink is now leveraging its wireless license and supply of those numbers -- once used for pagers and such -- to deliver similar capabilities to CPaaS. That is what is making the platform more attractive to the still growing market of players in that space, Bolas says.
"We are still seeing OTT players popping up and there is growing interest in the enterprise space," he adds.
What is new for Brightlink IP customers are a set of proprietary monitoring tools that enable voice services to be provided with a view of call metrics that indicate the quality of the service being delivered. Those tools are important for both carriers and enterprises, if less so for the OTT market, Bolas says. Brightlink IP developed its own application programming interface to enable the port, he adds.
---
Want to know more about service strategies? Check out our dedicated services section here on Light Reading.
---
He also sees the industry moving away from provisioned telecom in the traditional sense and more to application-based services.
Brightlink has recently positioned itself well for that movement by bringing in new investors and bulking up its management team, most recently with the hiring of John Belanger as executive vice president. He brings sales executive experience from previous roles at Peerless Network, IntelePeer, Orange, MCI and EDS Advanced Solutions.
— Carol Wilson, Editor-at-Large, Light Reading