This Olde Website: 2018
This Olde Website: 2018
Fire up the Flux Capacitor! It's time for another jog down Memory Lane of the Web to visit sites from yesteryear and the sepia-tinged digital storefronts of Apple, AOL, Huawei, Netflix, TiVo... and many more. You, like many of us, are looking ahead to the New Year and whatever 2019 has in store. Good. Bad. Ugly. Tolerable?
But before we hurt our brains dwelling on that too much, let's go back in time, to the simpler days of the World Wide Web -- way, way back when there were five seconds of time when calling it the World Wide Web wasn't uncool yet. Or referring to the Internet as The Information Superhighway didn't result in an awkward glance that said, "Get away from me, you nerdy hobgoblin!"
Yes! Thanks to the Internet Archive's WayBackMachine, what was once lost can be found again. And, boy, did we ever find some stuff!
Okay, perhaps that's overselling things a bit. In all seriousness, I trolled around some old web pages of companies that Light Reading covered (or once covered, when they were still around), along with some random stuff tossed in, just because. Then I created some witty and interesting captions for each!
So, buckle up, Sherman! Click on the image below to start your journey though the Web of Yore.
Figure 1: Comcast (March 2000)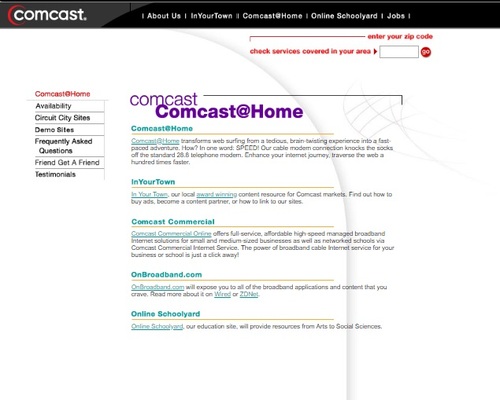 Back when some major cable operators hitched their broadband service dreams to the old @Home joint venture, and before that all came crashing down the following year -- with @Home filing Chapter 11 and its MSO partners going it alone for all time.
— Jeff Baumgartner, Senior Editor, Light Reading
Subscribe and receive the latest news from the industry.
Join 62,000+ members. Yes it's completely free.
You May Also Like
---