AUSTIN, Texas -- Big Communications Event -- Enterprises are demanding more from their networks, leaving communications service providers scrambling to keep up.
Networks in the past needed to connect to a few hundred locations and physical buildings, Roman Pacewicz, AT&T Business Solutions senior vice president for offer management and service integration, said at a panel this week, titled "Are We There Yet? Delivering On-Demand Services." (Editor's Note: Love the title. It reminds us of this.)
But that was then. Customers now have thousands or even hundreds of thousands of endpoints for physical locations, smart machines, cloud environments and mobile workers, Pacewicz said.
"A network has to be able to enable all those endpoints to interact and collaborate," Pacewicz said. It requires a tremendous amount of flexibility.
Hypercloud providers such as Amazon Web Services Inc. (AWS) have set an expectation of easy, fast self-service for compute and storage, and enterprises demand that kind of service from network providers as well, said Tim Naramore, chief technology officer at Masergy Communications, said.
"They have set an expectation and as network providers we have to meet it," Naramore said.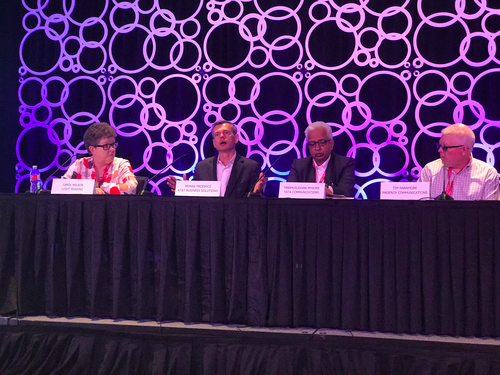 Moreover, end users don't care about underlying network technology, Naramore said.
"At the end of the day, at Masergy, we believe it's about the application," he said. Applications are the purpose of the network. "It's like my server guys say -- the server would work perfectly if the users didn't use it," he quipped.
Virtualization is helping to drive on-demand networks but lack of standardization is creating problems.
"The whole industry is transforming, and without standardization it will take longer," Pacewicz said.
AT&T Inc. (NYSE: T) is on a journey to virtualize its network. The company has a goal of 55% network virtualization by the end of this year and 75% by the end of 2020.
To that end, the carrier had to create its own Enhanced Control, Orchestration, Management & Policy (ECOMP) system and then open sourced it and merged it with another group's project, OPEN-O, to create the Open Network Automation Platform (ONAP) under the auspices of the Linux Foundation. (See MANO Marriage: ECOMP, OPEN-O Converge as ONAP.)
"We fundamentally believe this is not something that is proprietary to each carrier. The proprietary nature is the configuration of the services on top," Pacewicz said.
ECOMP enabled AT&T and Colt to collaborate on automated network configuration to provide shared services to enterprise customers, Pacewicz said.
But ECOMP might not be for everyone, Naramore said. "The idea that everyone is going to use the same solution is not necessarily what's going to happen," he said. Specific network operators may have particular network needs that make ECOMP unsuitable. But standardized APis can enable interoperability -- and those APIs will become more important to enterprise customers.
Meanwhile, legacy services present challenges to delivery of on-demand networks.
"To me, the relevant thing is migration to a software-centric network," Pacewicz said. It's not a revolution -- it's not rip-and-replace -- it's an evolution."
As technologies come to end-of-life, they will be replaced, he said. Over time, the infrastructure becomes more on-demand.
On the other hand, many customers want to transition immediately, and AT&T can accommodate that, Pacewicz said.
---
Want to know more about SDN? Visit Light Reading's SDN Technology content channel.
---
Legacy and new equipment will always coexist, Madhusudhan Mysore, Tata Communications Transformation Services chairman and managing director, said. "You will always have yesterday's equipment, today's and tomorrow's," he said. Operators need operational efficiency to handle legacy, current and newer technologies.
"Is there a point where you try to firmly nudge your customers off the old things?" Carol Wilson, the Light Reading editor-at-large who moderated the panel, asked.
"You gently move them along that journey," Pacewicz said. As fewer customers are supported on legacy products, the economics of maintaining those products -- managing old infrastructure with fewer customers -- becomes more difficult.
The need to maintain legacy equipment is a competitive disadvantage for traditional carriers; Amazon and other hypercloud providers don't have legacy equipment that they need to service, Mysore said.
Growth in networking and data usage helps, Pacewicz said. "Customers want to move off that old technology when the bandwidth begins to run out," he said.
Related posts:
— Mitch Wagner
Editor, Enterprise Cloud News
CALLING ALL CLOUD, NFV AND SDN COMPANIES: Make sure your company and services are listed free of charge at Virtuapedia, the comprehensive set of searchable databases covering the companies, products, industry organizations and people that are directly involved in defining and shaping the virtualization industry.
---