Telco Foe, New York AG Resigns
In an extremely abrupt move, New York Attorney General Eric Schneiderman stepped down from his post Monday night amid accusations from several women of violent physical assault.
The allegations of abuse, which include hitting and choking former romantic partners, were first reported by The New Yorker on Monday. Schneiderman denies the charges, but nonetheless said he is resigning as attorney general because of their impact on his ability to continue effectively in office.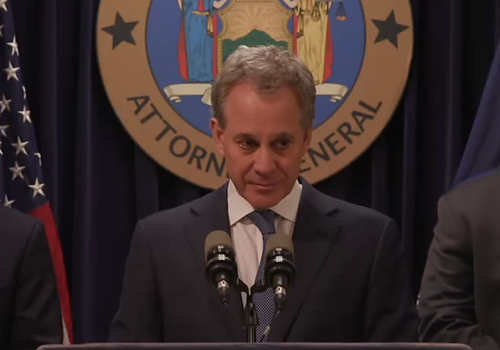 While Schneiderman's resignation is not associated with his performance on the job, telecom and cable industry executives will not be sorry to see him go. The New York AG has been a vocal critic of numerous industry practices and is actively fighting the industry on multiple legal fronts.
Most prominently, Schneiderman is one of roughly two dozen attorneys general in the US suing the Federal Communications Commission (FCC) for repealing the Open Internet Order of 2015. In New York and a handful of other states, the lawsuit is paired with an executive order requiring companies that do business with state agencies to abide by net neutrality principles. (See Net Neutrality: States' Rights vs. the FCC.)
Schneiderman is also at the head of a suit against Charter Communications Inc. in New York. In that complaint, the attorney general has accused Charter of leasing equipment to subscribers that can't support the broadband speeds promised by the company. Charter has tried to get the lawsuit dismissed, but has so far been unsuccessful. (See NY State Sues Charter for Broadband Fraud.)
Charter is also facing a $13 million settlement fine imposed by the New York State Public Service Commission for failing to meet broadband deployment requirements imposed as part of the conditions for approval of the company's acquisition of Time Warner Cable. (See NY State Levies $13M Fine on Charter.)
---
You're invited to attend Light Reading's Big Communications Event -- the ONE event that delivers fresh perspective on the rapid transformation of the telecom industry and the road ahead. We'll see you May 14-16 in Austin -- communications service providers get in free!
---
Until now, Schneiderman had been considered a rising star in progressive circles. In addition to his hard line against the telecom industry, Schneiderman has been a vocal opponent of the Trump administration, and, ironically, a prominent voice in the #MeToo movement.
His full statement of resignation reads:
"It's been my great honor and privilege to serve as Attorney General for the people of the State of New York. In the last several hours, serious allegations, which I strongly contest, have been made against me. While these allegations are unrelated to my professional conduct or the operations of the office, they will effectively prevent me from leading the office's work at this critical time. I therefore resign my office, effective at the close of business on May 8, 2018."
— Mari Silbey, Senior Editor, Light Reading
UPCOMING LIVE EVENTS
June 6-8, 2023, Digital Symposium
June 21, 2023, Digital Symposium
December 6-7, 2023, New York City
All Upcoming Live Events
PARTNER PERSPECTIVES
- content from our sponsors