Comcast customers are suffering through an outage hitting business and residential Internet, video and voice, the company said Friday. The cause is a fiber cut that Comcast believes affects other providers as well.
"We identified two separate and unrelated fiber cuts to our network backbone providers. Our engineers worked to address the issue immediately and services are now being restored to business and residential Internet, video and voice customers. We again apologize to anyone who was impacted," the company said in an emailed statement.
One of Comcast's large backbone network partners had a fiber cut that we believe is also impacting other providers. It is currently affecting our business and residential internet, video and voice customers. We apologize and are working to get services restored as soon as possible

-- ComcastCares (@comcastcares) June 29, 2018
Downdetector.com reported outages in the Comcast Xfinity service beginning at 12:36 p.m. ET Friday, with reports coming from Seattle, San Francisco, Chicago, Philadelphia, New York and more. More than 11,000 reports of outages were lodged in the first four hours.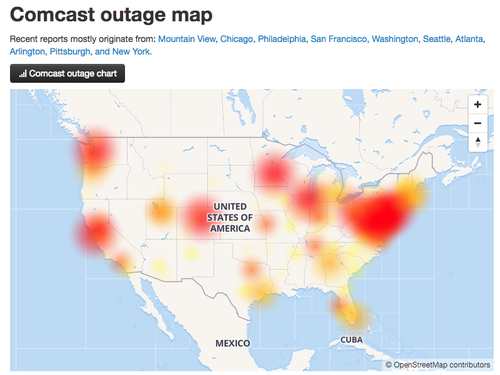 ---
Now entering its fifth year, the 2020 Vision Executive Summit is an exclusive meeting of global CSP executives focused on navigating the disruptive forces at work in telecom today. Join us in Lisbon on December 4-6 to meet with fellow experts as we define the future of next-gen communications and how to make it profitable.
---
We're bring you more information as it comes in. Meanwhile, Twitter had some things to say:
Has Comcast tried unplugging for 30 seconds then plugging back in?

— Paul Dellevigne (@pauliethesuit) June 29, 2018
Comcast trying to fix the issue as we speak #comcastoutage pic.twitter.com/2Pmm3CWPu8

— Anthony (@ironorgold) June 29, 2018
Comcast down?
Guess I'll just play hits all afternoon pic.twitter.com/wJz8HUe2yW

— The_breeze (@Buflo_dolla) June 29, 2018
A live look at @comcast trouble shooting their own equiptment #comcastoutage pic.twitter.com/O1NGG4EWVW

— 🐶🐶 (@Double_Dogg) June 29, 2018
Related posts:
— Mitch Wagner




Executive Editor, Light Reading