Proving that even the direst of once-enemies can grow close, Comcast and Netflix are announcing a new deal that will have the cable operator start bundling the Netflix service in new and existing subscription packages.
The companies have not shared any details on pricing yet, except to say that offers will vary by market. However, they have clarified that all billing will continue to run through Comcast, giving the service provider ownership of the customer relationship.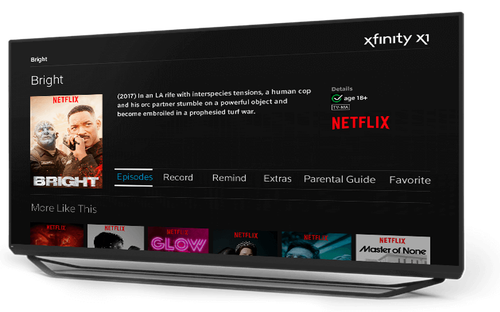 Comcast Corp. (Nasdaq: CMCSA, CMCSK) and Netflix Inc. (Nasdaq: NFLX) first teamed up in 2016 when the cable company launched Netflix on its X1 video platform. Rather than just paste a Netflix app into the X1 menu, Comcast fully integrated the online content into its search and discovery system, allowing viewers to browse Netflix shows alongside other on-demand programming, and search for Netflix content using X1 voice controls. (See Comcast Binges on Netflix in New Beta.)
That initial deal implied some level of data sharing between Comcast and Netflix because the search and discovery features require access to content metadata. However, it was never clear how much data Netflix gained access to about subscriber viewing habits through the X1 platform. Light Reading has asked if there's any additional data-sharing component to the new deal, but has not received an answer.
Comcast is noting that Netflix has become one of the most "highly-viewed services on the platform; and among households watching Netflix on X1, X1 has quickly become the most used platform for Netflix viewing."
In many ways, Netflix has evolved into a premium network, just like HBO, Showtime or Starz. However, the online provider has the massive benefit of its own direct-to-consumer business, which earned the company tens of millions of customers long before it ever started partnering with service providers.
The new bundling deal with Comcast also comes as smaller rival Hulu LLC (in which Comcast happens to have an ownership interest) is also getting aggressive about pairing up with other content and services. Spotify Premium customers can now get access to Hulu for a total of $13 per month, a $5-per-month savings compared to the regular pricing. And Hulu is similarly offering an HBO add-on for a total of $13 per month (Hulu plus HBO), while HBO on its own typically costs $15 per month.
— Mari Silbey, Senior Editor, Light Reading