Damage to two of the three main submarine cables in the Mediterranean Sea has caused a major disruption to communications traffic in the Middle East and India, highlighting the need for the route diversity that will be provided by several new cable builds that are in the works.

The two cables -- FLAG Telecom Ltd. 's Europe-Asia cable and SeaMeWe-4 (the word stands for "southeast Asia, Middle East, Western Europe") -- were cut yesterday near Alexandria on the north coast of Egypt, leaving SeaMeWe-3 as the only cable connecting Europe with the Middle East.

Reports suggest the damage to the cables was caused by the anchors of ships diverted from Alexandria's port after storms forced Egypt to close the Suez canal. It's expected to take up to two weeks to repair the cables.

Analyst firm TeleGeography Inc. , which tracks the submarine cable market, says the disruption has reduced the amount of available capacity on the direct route to Europe by 75 percent (620 Gbit/s), leaving carriers to re-route traffic from Europe through southeast Asia and across the Pacific and Atlantic oceans.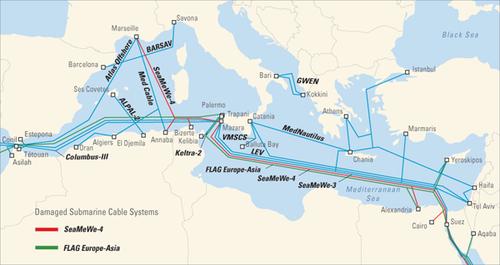 A statement posted on the Egyptian communications ministry's Website yesterday read: "A partial 70 percent Internet disconnection has occurred nationwide, while international communications at offshore call centers have been affected by 30 percent. Slight problems also erupted with phone calls to Europe and the U.S." Service capacity was expected to be 50 percent by the end of today.

The United Arab Emirates (UAE), Dubai, Saudi Arabia, Qatar, and Bahrain are also among the countries affected. In an impressive display of understatement, Bahrain Telecommunications Co. (Batelco) posted a note on its Website this morning saying "one of our international cable providers is facing a problem."

The outage extends as far as India, where Internet users and outsourcing firms have reported sluggish or non-existent service. FLAG Telecom, a subsidiary of Indian carrier Reliance Communications Ltd. (RCom) , said it had lost as much as 60 percent of its capacity.

"Despite their best efforts, we can expect this accident to affect a large number of carriers and ISPs, who are reliant on the damaged cables," Ovum Ltd. 's David James writes in an analyst note. "This will in turn affect their enterprise and consumer customers in India, Southern Asia, the Middle East and, to a lesser extent, in Europe."

With carriers clambering to get onto the older SeaMeWe-3 cable, or redirecting traffic via expensive satellite links, there's a clear need for additional routes to handle the growing bandwidth demands of the region and provide backup for such an occurrence.

At least five new submarine systems in the works will run through the Middle East and provide additional connectivity to Europe and Asia:

These new cables would provide carriers with additional routing options and improved resiliency in the event of a major fault, although it would still take time to re-route traffic to undamaged systems.

Still, multiple cables are not necessarily a guarantee against major outages. In December 2006, an earthquake disrupted seven of the eight submarine systems connected to Taiwan, and the effects were felt for months afterward. (See Earthquake Cuts Cables Near Taiwan and Quake Shakes IP Transit Market.)

— Nicole Willing, Reporter, Light Reading