Rakuten's Tareq Amin: RAN chips biz needs a massive shake-up
Rakuten's Tareq Amin: RAN chips biz needs a massive shake-up
The boss of Rakuten's telecom subsidiaries calls for a rethink of chip designs and insists he can deliver portability – provided someone is prepared to invest.
To call Tareq Amin an Apple enthusiast would be like saying Usain Bolt was quite a good sprinter. MacBook in hand, flitting busily around the property where he is staying on a work trip to the US, the Rakuten executive is enamored with his newish gadget. It's thanks entirely to the M1 and M2 processors that Apple designed in-house to replace the Intel chips it had previously used. "The performance of this laptop is ridiculously crazy," he told Light Reading on a Zoom call. "Something like that is the dream chip for radio."
Ever since he popped up at the Japanese firm in 2019, tasked with building a new mobile network in Japan, Amin has been trying to bring about change in a sector that can be stubbornly resistant to the genuinely new. Now boss of the Mobile subsidiary operating that network and the Symphony unit that sells products to other telcos outside Japan, Amin has identified the merchant silicon sold for the radio access network (RAN) as one of his latest bugbears. Most of what's available is far from ideal.
Figure 1: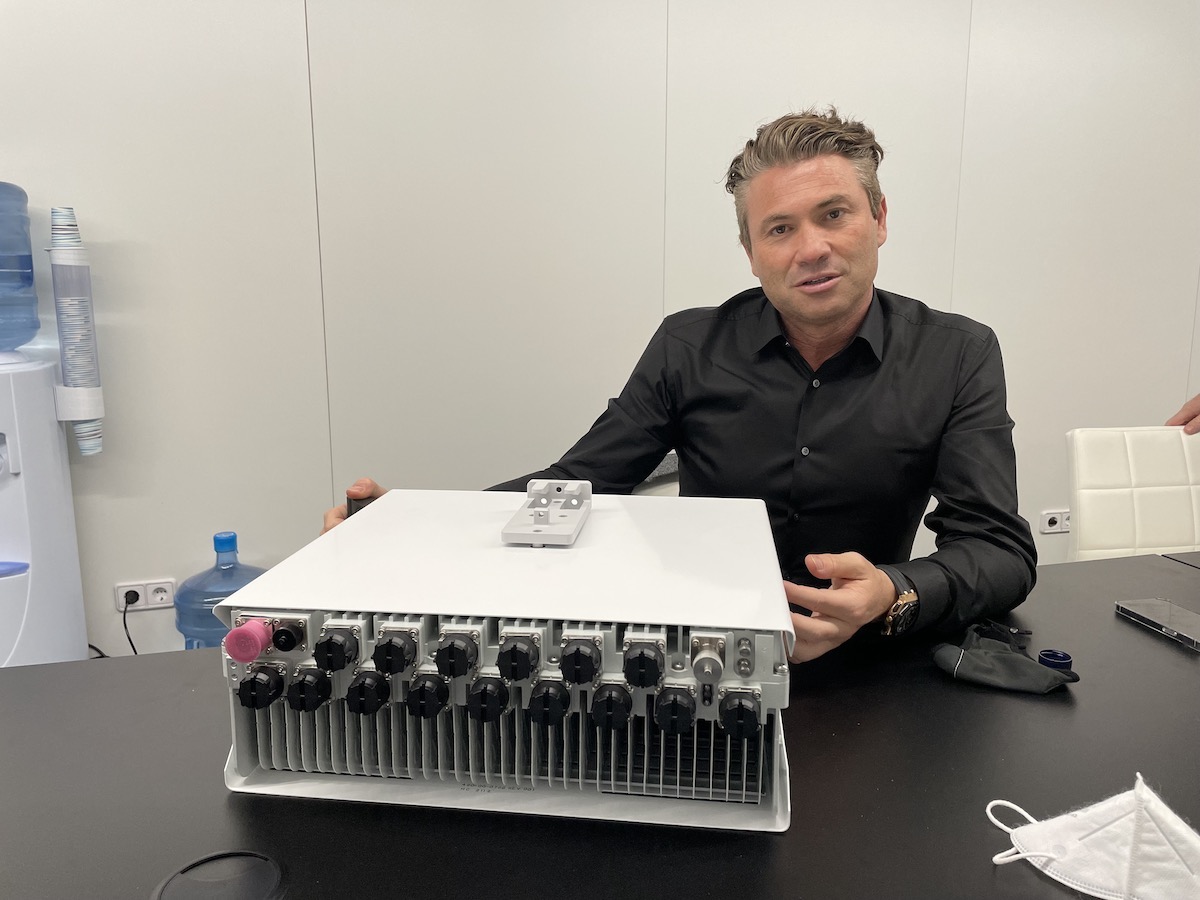 Rakuten's Tareq Amin shows off hardware at Mobile World Congress 2022.
(Source: Iain Morris/Light Reading)
What he especially loves about Apple's processors, designed using blueprints from UK-based Arm, is the extreme integration between the central processing unit (CPU) and supporting elements, including the accelerators used for resource-hungry software. This is not what he typically sees with the "inline" accelerators designed to cope with the demands of baseband (or Layer 1) processing in the distributed unit (DU) part of the RAN.
Suppliers like Qualcomm, which he otherwise admires, have started to use separate PCIe cards, plugged into a server, to coexist with CPUs provided mainly by Intel. "I have a good relationship with Qualcomm, but where I diverge is that I'll never buy a PCIe card for acceleration," he said. "It is extremely inefficient. If I can buy one CPU that does the job of this accelerator that sits somewhere else, it is cheaper."
Dream on

Yet this PCIe-based acceleration is now being offered by various chip companies seeking to challenge Intel in the virtual and open RAN technology market. So far, it has left Intel as the only big and viable alternative. Amin is a happy customer. Much like Apple's M1 and M2 processors, Intel's latest Sapphire Rapids product integrates acceleration into the chipset, a design idea that came originally from Rakuten, Amin insists.
But the situation is not perfect, he acknowledges. As good as Sapphire Rapids is, Intel remains a step away from producing a completely integrated CPU like Apple's, in Amin's view. By combining the CPU with accelerators, timing functions and network interface cards, this dream chipset would boost capacity threefold and sharply reduce cost, he believes. One target is to slash the upfront baseband product cost from the $5,000 mark today to around $3,000. "We will change the market if we hit a $3,000 price on this DU."
Figure 2: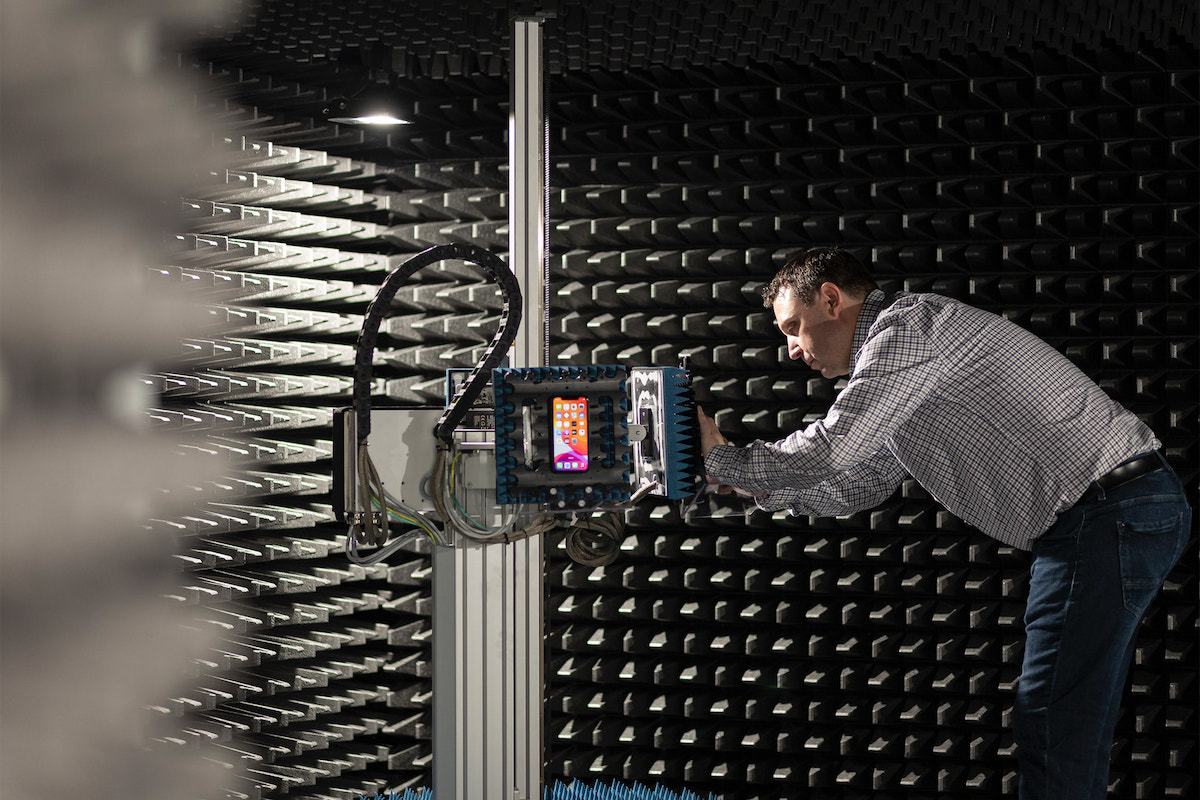 An Apple R&D facility in Munich, Germany, where silicon is designed.
(Source: Apple)
Even if Intel could do that, no sensible company these days wants to rely on a single supplier. "Of course, we want to see a multitude of chipset vendors," said Amin. "There is nothing better in life than competition." The candidates that most impress him as viable future alternatives to Intel are Marvell Technology and AMD.
Marvell he credits for its chip architecture, five-nanometer design and recent successes with both Nokia and Samsung among the big kit vendors. AMD, meanwhile, already occupies the number-two spot in the market for data center CPUs. After buying Xilinx, known mainly as a maker of field programmable gate arrays (FPGAs), it could be in a strong position to develop a more sophisticated chipset integrating some of Xilinx's intellectual property, according to Amin.
Abstract concepts

Where both companies look weak is on the software side. Layer 1 software is usually integrated with hardware in a traditional RAN sold by the likes of Ericsson and Nokia. In the disaggregated RAN championed by Amin, it would have to come from somewhere else. And today that market is characterized by empty stalls and tumbleweed.
This partly explains Rakuten's close partnership with Intel. Unlike most operators, Rakuten Mobile owns the RAN software that powers its network, having invested in a US developer called Altiostar before taking full ownership of it in 2021. Now part of the Symphony product portfolio, the brand has been changed to SymRAN. The software, however, was originally built on a reference design from Intel called FlexRAN. And to the disgruntlement of telco technology executives demanding portability, FlexRAN works only with Intel's chips.
Rakuten could develop SymRAN into a fully portable Layer 1 with full abstraction of the underlying hardware, insists Amin. In fact, it was ported once before, by his account. Long before the Rakuten takeover, Altiostar's baseband software ran off an Arm-based chip built by Texas Instruments. At the behest of Amin, Altiostar's only big customer at the time, it was persuaded to shift. "I could have run virtual software on an SoC [system-on-a-chip] that is Arm, but I also wanted it to integrate properly with my cloud environment," he said.
Figure 3: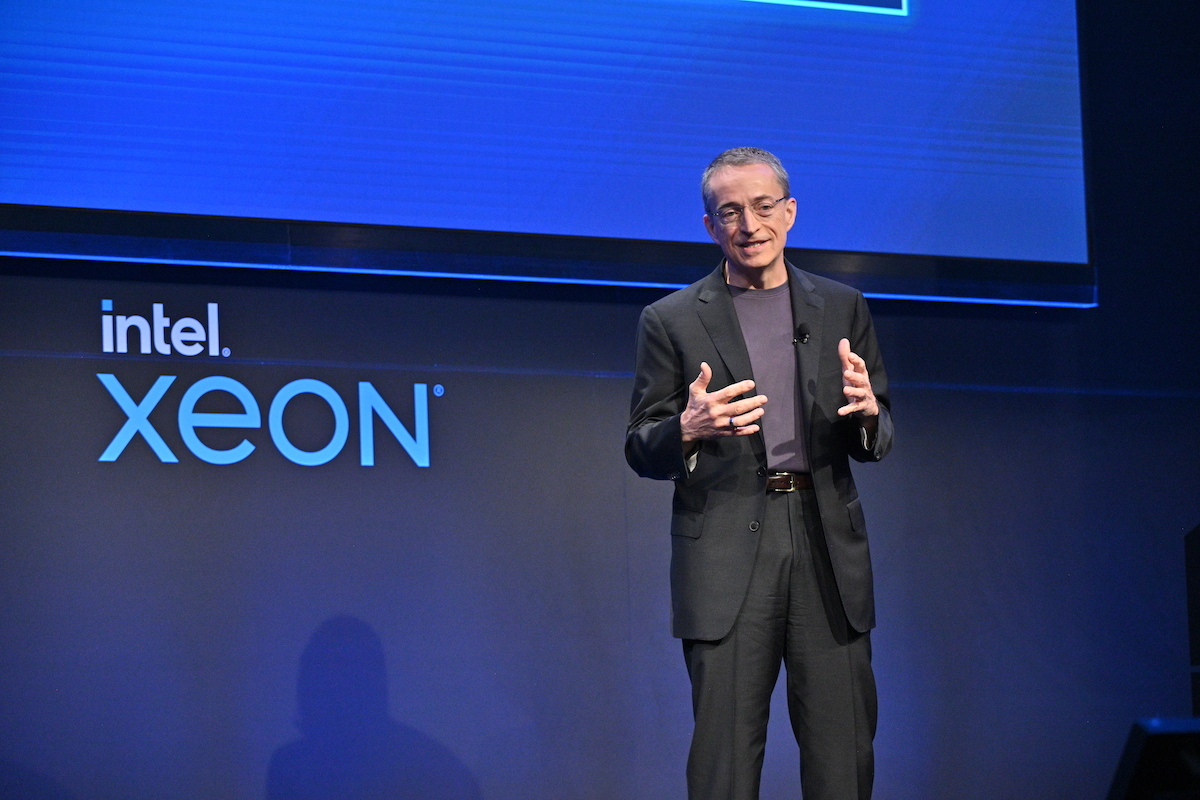 Intel CEO Pat Gelsinger introducing the latest x86 processors.
(Source: Intel)
The process was revealing, Amin recounts. First, it showed FlexRAN really is nothing more than the biscuit base, requiring lots of sponge and icing to be slapped on top before the goods are ready for consumption. Second, it made him realize the effort needed to build a fully deployable Layer 1 is considerable.
"Someone must make the investment, and the investment is really about human resources to create commercial-grade Layer 1 software that can be abstracted from the silicon underneath it," said Amin. "If I want to move from Intel to Marvell to Qualcomm to Broadcom, I would tell all these chipset suppliers, no problem, but you have to invest. I am a startup today. So is any open RAN vendor. And as startups, we need to make sure as CEOs of these companies we conserve our capital and we put our energy into the right thing."
Unfortunately, no one so far has been willing to make that investment, despite the pleas of some telcos for abstraction. Without outside funding, Amin would be forced to choose between pausing work on his open RAN deals and continuing to build on top of the existing stack. But if the funding became available, he is confident Rakuten could do it – even providing abstraction between the underlying x86 and Arm architectures.
It would involve moving some of his most experienced software people onto that task and then backfilling their roles on FlexRAN development with new hires, he told Light Reading. Amin's goal would be to base the resulting product on open source code so everyone could benefit. "It's nothing that would scare me," said Amin. "I know it is doable."
Logical hardware ideas

On the hardware side, he has long been frustrated by what he sees as high costs and margin stacking. He believes the problem could easily be fixed by a relatively small group of big telcos. "Maybe I'm oversimplifying, but why don't six or seven mobile operators come together?" he said. With each contributing just $25 million, they could set up a fund addressing radio units, massive MIMO equipment and DUs. The sums involved for each player would equate to "0.0001% on the balance sheet" and be nothing compared with the $4 billion to $5 billion that a US operator might spend on radio technology in a year.
"All of a sudden, we have a startup and the startup has credibility because the operators tell it they will buy the hardware from it," said Amin. "Ericsson and Nokia and Mavenir and Rakuten all buy the same hardware, and it's industry-designed and industry pricing-agreed. We compete on feature sets and software and the cost of software, where the industry will see a dramatic transformation. It doesn't to me seem like an illogical idea."
Unlike software abstraction, however, it's an area Rakuten Symphony, under Amin's leadership, is determined to avoid. That strategic decision to remain purely a software and services company marks it apart from some of its open RAN competitors. "We are very different from Mavenir in one thing," said Amin. "We never invest in hardware."
Figure 4: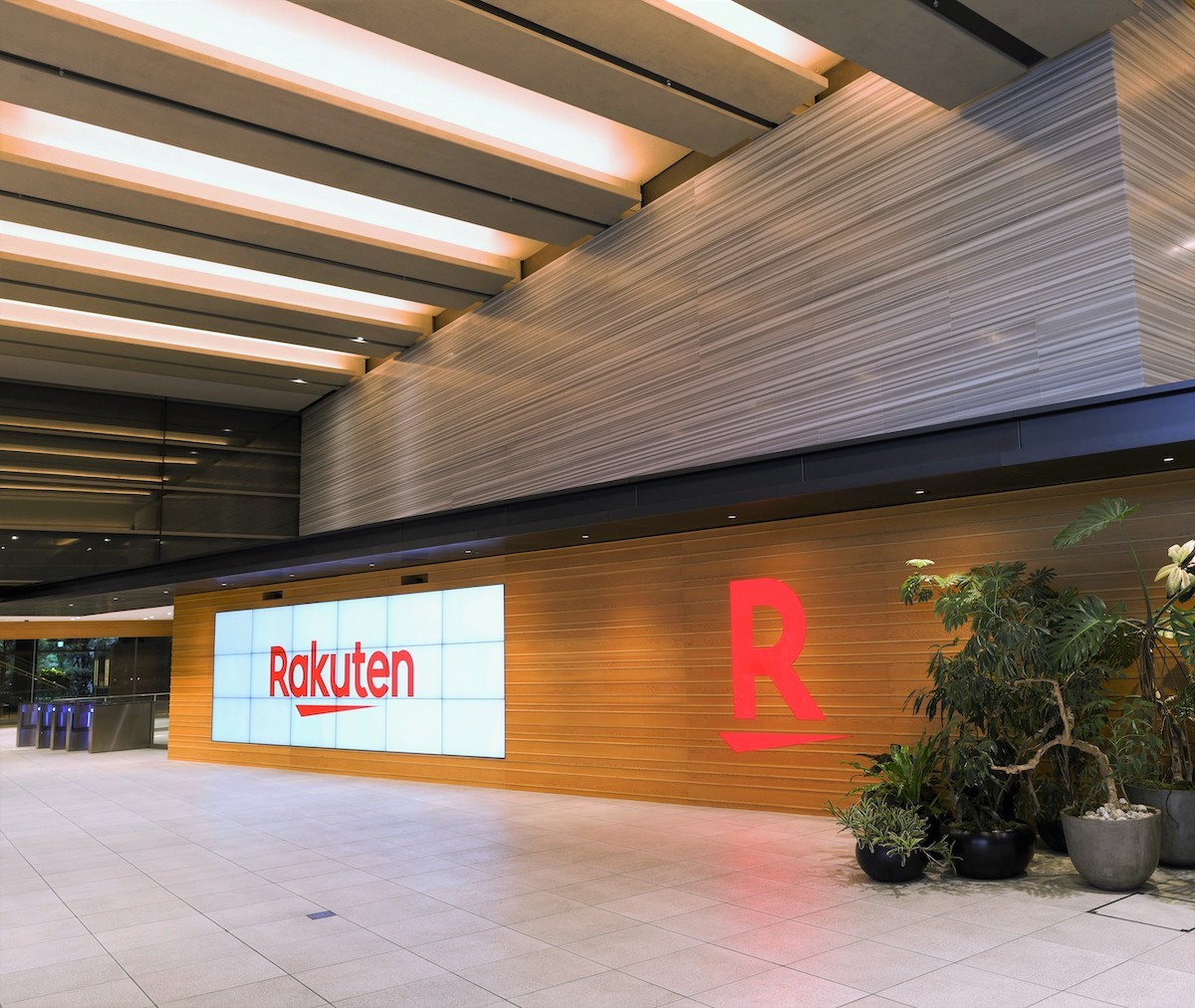 The entrance to Rakuten's global headquarters in Tokyo.
(Source: Rakuten)
His example of Apple is instructive, suggesting inline acceleration in a RAN does not have to be done through an additive PCIe card. The challenge there might be integrating Arm-based accelerators with a CPU from Intel or AMD. But tech companies like Apple and Tesla also show that telecom can learn a lot about relevant technology from outside the industry.
"We're always stuck thinking we know better," said Amin. "And the fact of the matter is, no. Other companies have done amazing innovations in silicon design that needs even more complex processing than telecom." Organizations with nineteenth-century origins and fresh thinking are not often a natural mix.
Related posts: Ericsson boasts 'open' portable RAN, adding AMD next to Intel Open RAN must do a better job of facing its critics Intel chip costs are holding up open RAN, says newly funded EdgeQ Virgin Media O2 pairs Mavenir with Mavenir on open RAN Good luck building a virtual, open RAN – there's no such thing
— Iain Morris, International Editor, Light Reading
Subscribe and receive the latest news from the industry.
Join 62,000+ members. Yes it's completely free.
You May Also Like
---