HP's Newer, Simpler Optical Backplane
HP's Newer, Simpler Optical Backplane
Going beyond speedy switching, HP Labs' novel approach aims for a world without switch fabrics PALO ALTO, Calif. -- Researchers at HP Inc. (NYSE: HPQ) are trying out an optical backplane architecture that appears simpler than the normal approach and could obviate the need for a switch fabric.

What makes it simpler is the use of a bus carrying traffic past every line card. The normal approach is to replace the electrical connections with optical ones, which leaves the same number of connections but makes them faster and more expensive.

"You're not doing anything new" with that approach, says Michael Tan, an HP Labs distinguished technologist. "One of the things one of our Fellows talked to us about was, if you want to replace copper [that way], you'd have to get plumber's wages."

The press got its first look at the backplane Tuesday at the HP building -- the one where Bill Hewlett and Dave Packard's offices are still preserved, as is the 1950s exterior. The occasion was an introduction to the HP Networking and Communications Lab, a key element in the company's newly found drive to chip away market share from Cisco Systems Inc. (Nasdaq: CSCO).

HP had already showed off the backplane at Interop in May, in private sessions.

The key materials are available now, but HP officials are saying the optical backplane is at least two years away from being a product, partly because they want to squash more cost out of the architecture.

"We believe we can be of equivalent cost, and perhaps 20 percent lower cost, than our electrical counterpart," Tan says.

A cheaper optical backplane could be a breakthrough. It's easy to presume that switches and routers will have to go to optical backplanes someday, when factors of speed, power and/or heat make copper traces infeasible. But the industry hasn't gotten there yet. Copper looks like it's going to run at least 25 Gbit/s per line -- suitable for dealing with 100 Gbit/s traffic -- while optical alternatives remain relatively expensive. To date, sticking with copper has been a no-brainer.

One word: plastic
The core of the backplane is a plastic spine that runs past all the line cards -- a stick with 12 waveguides running down it, essentially. Two of these got installed in the 8212, each carrying traffic transmitted by three of the box's six line cards.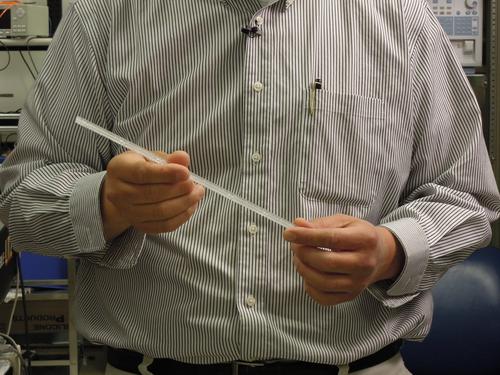 The backplane itself is dumb; traffic is simply sent to every line card. A semitransparent mirror diverts some of the optical power to each line card, and a field in the packet header indicates what the packet's real destination is. The line card ignores any traffic that's not meant for it.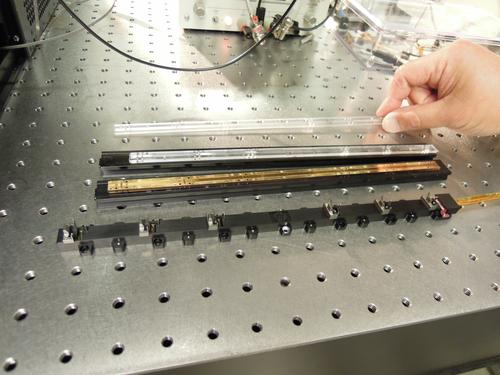 The light coming from each line card is a set of four 850nm beams, each carrying 6.25Gbit/s of traffic. (Bandwidth-per-beam is limited by the electronics on the line card.) The waveguides are wide -- about the thickness of a human hair -- so that dust won't be a problem, Tan says.

HP wants to refine a few things before trying to make the backplane into product. The electrical-to-optical interface isn't yet integrated into the line-card ASIC, for instance. And once the signal becomes optical, it's sent to the backplane connector via fiber; researchers want to replace that with on-card waveguides.

— Craig Matsumoto, West Coast Editor, Light Reading


Subscribe and receive the latest news from the industry.
Join 62,000+ members. Yes it's completely free.
You May Also Like
---