Here's What Trump's Huawei Ban Cost US Firms in Q2
Here's What Trump's Huawei Ban Cost US Firms in Q2
Several US companies put a dollar amount on the losses they incurred from President Trump's Huawei ban. Here's the tally. On May 16, President Trump's Commerce Department forbade US companies from doing business with China's Huawei. Although the agency has since allowed a large number of US companies to resume much of their business with Huawei, the effect of the action -- however temporary -- can be quantified.
$435 million. That's how much public US companies reported losing in the second quarter due to the ban.
Company Headquarters Q2 Loss Attributed to Huawei Ban Synaptics San Jose, Calif. $20 million Cohu Poway, Calif. $5 million Skyworks Solutions Woburn, Mass. $67 million Lumentum Milpitas, Calif. $20 million NeoPhotonics Corporation San Jose, Calif. $13 million Semtech Corporation Camarillo, Calif. $7 million Micron Technologies Boise, Idaho $200 million MaxLinear Carlsbad, Calif. $3 million
At least, that's the amount that public, US-based companies directly attributed to the ban during their second-quarter earnings calls with analysts. The true financial effect of the ban is undoubtedly much, much more. After all, a wide range of other public US companies -- such as Qualcomm, Lattice Semiconductor, Microchip Technology, Inphi Corporation and Qorvo -- said the ban directly affected their quarterly results, but executives did not attach a specific amount to the situation. Further, private US companies were also subject to the ban, but they do not report their results publicly.
To put these numbers into context, Wall Street analysts cited by Reuters estimated that Huawei spent around $70 billion on components last year, with around $11 billion of that going to US firms like Qualcomm, Intel Corp and Micron Technology. Reuters also released a chart -- based on information from Goldman Sachs citing company data and Bloomberg -- showing the amount of money companies make from sales to Huawei as well as the percentage of their business that's attributable to Huawei.
Figure 1: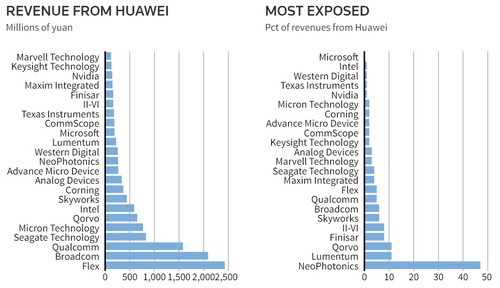 (Source: Reuters)
But the dollar amount attributable to Trump's Huawei ban is just part of the story. The other part involves the obvious chaos that the ban caused in executive offices across the country. And -- perhaps more importantly -- the effect the ban will have on future business.
"There's a lot of uncertainty as it relates to Huawei from our perspective," said Synaptics CFO Kermit Nolan on the company's earnings call with investors, according to a Seeking Alpha transcript of the event, noting that "Huawei seems to be effectively a bargaining chip within that [US-China] trade war."
Indeed, the exact conditions of Trump's Huawei ban remain cloudy at best. Some companies, like Westen Digital, said they immediately suspended shipments to Huawei when the ban was announced, but then resumed shipments a month later after determining it was legal to do so. Other companies, like NeoPhotonics, resumed shipments of only some products and have applied for waivers from the government to resume shipments of other, additional products.
Speaking to Bloomberg on July 23, US Commerce Secretary Wilbur Ross said that the agency had received around 50 applications for waivers from around 35 companies, and that the agency would make its judgements on the waivers in the next few weeks. "We're processing them as quickly as we responsibly can," he said, explaining that the waivers must be approved by not only the Commerce Department but also the Departments of State, Defense and Energy. "This is not a simple thing."
But it's the long-term effects of the ban that could result in the biggest ramifications for US companies. "During the time when we [ceased] shipment to Huawei, they moved their sourcing requirements to some of our international competitors that were not impacted by the entity list [ban]. And so when we subsequently resumed shipment, it was at a reduced rate that contemplated them sourcing components from other competitors," Stephen Milligan, Western Digital's CEO, said during his company's earnings conference call, according to a transcript provided by the company
.
Subscribe and receive the latest news from the industry.
Join 62,000+ members. Yes it's completely free.
You May Also Like
---