AT&T: White Box Networks Transform Procurement
AT&T: White Box Networks Transform Procurement
White box networks disaggregate into software, hardware and maintenance; AT&T procures each separately. SANTA CLARA, Calif. -- White Box Strategies for CSPs -- White box networking drives AT&T to develop new, disaggregated procurement and integration processes, Ken Duell, AVP of new technology product development and engineering for the carrier said Tuesday.
AT&T Inc. (NYSE: T) is making "huge changes" in procurement, Duell said on a panel here Tuesday morning. White box networking disaggregates networking equipment into three parts -- software, hardware and maintenance -- and AT&T is procuring all three separately, he said.
"It requires a substantial change in how we acquire technologies," Duell said. The model is still evolving and incompletely defined.
Similarly, AT&T is managing its own network integration, rather than relying on a single vendor to manage the process.
"Right now, because of the state of the ecosystem, we're doing it ourselves," Duell said. The telco giant would like to involve a whole ecosystem, but for now it looks to best-of-breed components.
Mixing and matching components from different sources can lead to a "fingerpointing" problem -- if the network is running two software loads, and there's a problem, who do you call for resolution?, Duell said.
AT&T runs its own probe software to find the cause of problems, isolate and fix it. It also looks to DevOps tools, such as Puppet and Chef, to manage its networks, Duell said.
To do all this, AT&T is retraining tens of thousands of its employees in what Duell called "a skills pivot," where those who are proficient in one area learn to adapt those skills to match the new demands for software engineering proficiency.
Communications providers are accustomed to buying from a single vendor, but now they have choices, said Steve Garrison, VP of marketing for Pica8 Inc. , speaking on the panel. Now network operators can choose between multiple operating systems, manufacturers and ASICs from chip vendors such as Cavium, Mellanox and Broadcom, Garrison said.
Want to know more about white boxes? Visit Light Reading's White Box content channel.
"For someone who's used to calling up Cisco and saying, 'Give me a router,' that presents a challenge," he said.
To take full advantage of the benefits of white box, communications providers should differentiate on the hardware level as well as software, Chloe Jian Ma, senior director, cloud market development, Mellanox Technologies Ltd. (Nasdaq: MLNX), said. Cloud operators such as Facebook and Google work with ODMs to build their own switches and servers, and comms providers should follow that lead.
Figure 1: Hardware Counts Too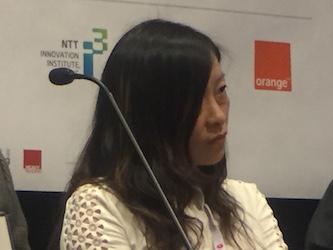 Mellanox's Chloe Jian Ma
Garrison agreed. "The box is the substrate. The software is what we all think of as trigging the benefits. But they have to work together," he said. A carrier like AT&T or Orange could ask for a custom top-of-rack switch with a small production run of 500 or 1,000 units. "You don't need a standard. These people will build what you want them to build. All you have to do is call them up and ask," Garrison said.
But CSPs customizing their own white box designs need to be careful that they don't go too far, and eliminate the standardization that's a primary benefit of white box networking. Customize too much, and you're back to using proprietary hardware.
Related:
Subscribe and receive the latest news from the industry.
Join 62,000+ members. Yes it's completely free.
You May Also Like
---