IBM, FDA Look to Blockchain to Secure Health Records
IBM, FDA Look to Blockchain to Secure Health Records
Looking to use the emerging technology to secure patient information, clinical trials, genomic data, mobile devices and Internet of Things technologies. IBM and the US Food and Drug Administration (FDA) are looking to blockchain to help secure patient records and other healthcare information.
The FDA has signed a two-year research agreement with IBM Watson Health that will explore whether blockchain technology can protect and secure data within the healthcare field, specifically regarding patient data contained in electronic medical records (EMR), as well as healthcare data found in clinical trials, genomic data, mobile devices and Internet of Things (IoT) technologies. (See Cloud Rises But Overall Revenue Down for IBM)
To start, IBM Corp. (NYSE: IBM) and the FDA will focus on using blockchain to protect data in oncology research. The two plan to share their initial findings later this year.
Blockchain is underlying technology that makes Bitcoin work, but its potential applications go far behind Bitcoin. Unlike a traditional federated database system with different databases from different vendors trying to communicate to one another, blockchain essentially creates different "blocks" of information that link together in a chain of transactions, where each transaction is time-stamped and encrypted.
Figure 1: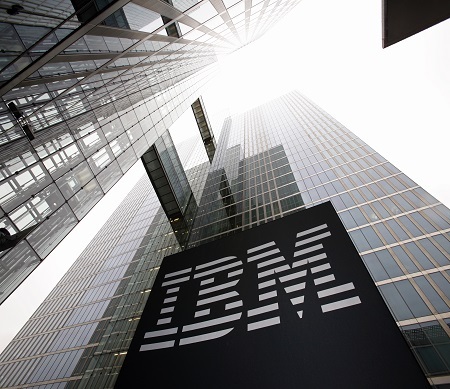 (Source: IBM)
This also makes it hard to disrupt and allows for the chain to be rebuilt if there's a disruption.
Blockchain makes digital currency like Bitcoin secure, providing trust between two individuals, who might be strangers to each other, across peer-to-peer networks. And the same principles can be applied to other types of data that have to move across different databases and contain sensitive information. In this case it's patient data, which can then be shared between different doctors and hospitals even if they are using different systems and EMR platforms.
This more secure and accurate data can then be used in research and could help develop new and improved medications and treatments.
"The healthcare industry is undergoing significant changes due to the vast amounts of disparate data being generated. Blockchain technology provides a highly secure, decentralized framework for data sharing that will accelerate innovation throughout the industry," Shahram Ebadollahi, vice president for Innovations and the Chief Science Office at IBM Watson Health, wrote in the January 11 announcement.
It's not only IBM and other tech vendors that see are concerned about the security of healthcare and implementing electronic medical records.
In an interview with the website Vox, President Obama, whose signature domestic policy is the Affordable Care Act (ACA), or Obamacare, spoke about how securing patient data proved to be a much larger challenge than he and his advisers thought when they designed the framework for the legislation. Despite millions for research, secure EMR remains an issue.
"It's a lot slower than I would have expected; some of it has to do with the fact that it's decentralized and everyone has different systems," Obama told Vox. "In some cases, you have economic incentives against making the system better; you have service providers -- people make money on keeping people's medical records -- so making it easier for everyone to access medical records means that there's some folks who could lose business. And that's turned out to be more complicated than I expected."
In terms of research, IBM and the FDA will explore if blockchain can protect data that is used in clinical trials, as well as information gathered from patients who are participating in real-world experiments.
In addition, IBM and the government will determine if blockchain can protect data sent to doctors and researchers from wearable and IoT devices that patients use during these trials.
IBM is also looking to use blockchain as the basis for more secure financial transactions. The company has announced a deal with Depository Trust & Clearing Corp., the utility that overseas and clears all stock and bond trades within the US. (See Blockchain: The Light Hidden Under Bitcoin's Bushel)
Charles King, an analyst with Pund-IT Research, wrote in an email that IBM and other companies started to look at blockchain in 2016 as a new form of security and encryption technology and expects that to continue in 2017, with more money being poured into research and deals.
"Both attest to the increasing maturity of blockchain and its effectiveness for ensuring the security and legitimacy of all sorts of transactions," King wrote, referring to IBM's deals with the FDA and Depository Trust.
"Blockchain may have arisen through its use in Bitcoin but IBM is making significant investments to develop enterprise-focused solutions and services based on the technology," King added. "Blockchain was a major focus of attention at World of Watson and other IBM events in 2016, and I expect it will continue to gain momentum with enterprise customers in 2017."
CALLING ALL CLOUD, NFV AND SDN COMPANIES:
Make sure your company and services are listed free of charge at Virtuapedia, the comprehensive set of searchable databases covering the companies, products, industry organizations and people that are directly involved in defining and shaping the virtualization industry.
— Scott Ferguson, Editor, Enterprise Cloud. Follow him on Twitter @zdeferguson.
Subscribe and receive the latest news from the industry.
Join 62,000+ members. Yes it's completely free.
You May Also Like
---