Virtualization Frustration Sees Telcos Rebel
Virtualization Frustration Sees Telcos Rebel
Service providers are increasingly unhappy with their suppliers, and they are making their feelings known. Like a precocious but insecure child craving recognition, China's Huawei loves to be smothered with praise. At the lavish events it puts on, customers of the world's biggest equipment vendor seem obligated to acknowledge its brilliance during keynote presentations. The plaudits, of course, serve an important publicity purpose, helping Huawei to show the world how far it has come since its infancy, when it was in the shadow of Western rivals and often regarded as a low-cost imitator.
So it was something of a surprise when -- at a recent event in China -- a senior executive from China Mobile Ltd. (NYSE: CHL), the world's biggest mobile operator, decided to lecture Huawei about its relationship with customers. "Huawei should not have the mindset that operators will buy hardware and software together," said Zhengmao Li, a senior vice president at the Chinese telco, during a keynote presentation. "If you go down this path you will run into problems in ten years' time." (See Software or Hardware: China Telcos Tell Huawei to Decide .)
Figure 1: Finger Wagging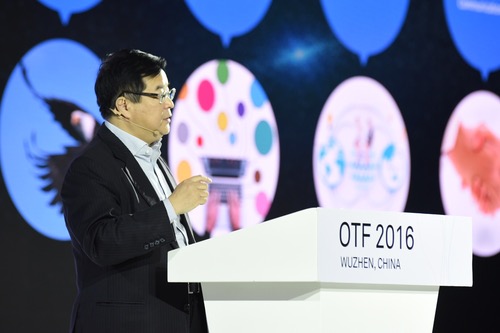 China Mobile's Zhengmao Li tells Huawei it faces a stark choice about its future role.
Zhengmao was not the only customer wagging a finger at the Chinese vendor. Following him on to the stage, Zhen Jicai, a vice president at China Telecom Corp. Ltd. (NYSE: CHA), told Huawei that it might ultimately be forced to choose between the roles of software integrator and hardware manufacturer. By taking advantage of virtualization -- the thinking goes -- service providers will be able to separate hardware from software, running network functions as programs on cheap, off-the-shelf servers. Continuing to produce expensive boxes that support particular functions will not make sense.
The changing role of Huawei Technologies Co. Ltd. , and that of other major equipment vendors, is a worry for the companies that buy their products. "How are you going to buy a VNF [virtual network function] in future?" says Roberto Kung, the senior vice president of network operation and performance for France's Orange (NYSE: FTE). "We've heard that Huawei might become a software company, but it's a pain to buy software and we have to know how that will be done."
Telcos' paramount concern is that a software-licensing model could prove costly and complicated. As more network functions are virtualized, operators face the unsettling prospect of having to manage and renew a growing number of licenses. During Light Reading's "OSS in the Era of SDN & NFV" event in London last week, Neil McRae, the chief network architect of the UK's BT Group plc (NYSE: BT; London: BTA), described licenses as "these annoying things" that impede flexibility, imploring vendors not to sell licenses in the way they have flogged hardware. (See Latest NFV Headache: Software Licensing.)
The mounting frustration is a sign of the pressure that some service providers are feeling. More "agile" Internet players that grew up using software technologies are eating into their sales. Unless they can make use of the same technologies, telcos will struggle to respond. "Time to market is one challenge," says Atif Khan, the vice president of technology operation support for Etisalat , one of the largest operators in the Middle East. "That is not allowing us to compete with digital companies."
Moreover, a few of the world's biggest telcos have announced ambitious goals for the virtualization of their networks. Most famously, US telco giant AT&T Inc. (NYSE: T) wants to virtualize 75% of its network functions by 2020. China Telecom, meanwhile, is working toward a goal of 80% by 2025. And Vodafone Germany , a subsidiary of Vodafone Group plc (NYSE: VOD), is aiming for 60% by 2020. While these self-imposed deadlines are not imminent, the clock is ticking.
Next page: Open sores
Open sores
Were licensing the only virtualization hurdle, operators could perhaps feel more optimistic about progress. But it is not. Somewhat irked with the vendor community, operators are playing an increasingly prominent role in various open source initiatives, which aim partly to address the interoperability and standardization challenges surrounding virtualization. Yet with the proliferation of these groups -- which now include AT&T's ECOMP, the OPEN-O initiative backed by Chinese telcos and the Open Source MANO project from specifications body European Telecommunications Standards Institute (ETSI) -- there is a clear risk of fragmentation.
"There are three [major] open source initiatives and that is bad," says Orange's Kung. "I think we should have one open source and that we should contribute to and improve that to be competitive against our real competitors -- the OTT [over-the-top] players."
Figure 2: Open Source Confusion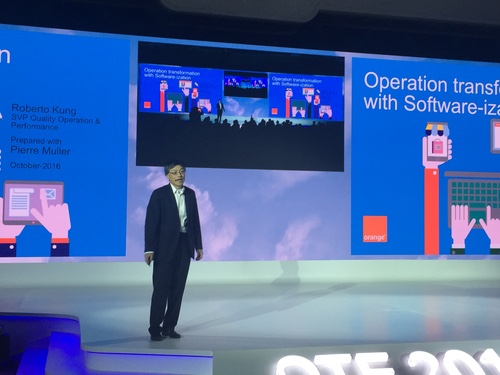 Roberto Kung of Orange complains about the proliferation of open source groups.
At a technical level, service providers are exhorting Huawei and other vendors to shape up. Vodafone Germany, which already claims to serve about 25 million customers using VNFs, wants to reduce the time it takes to "onboard" a VNF from six weeks to just two days. Another objective is to be able to allocate virtualization resources more efficiently and make them "site-independent." "It still takes a week to move an app from one site to another and that needs to go down to about 30 minutes," says Soren Trebst, Vodafone Germany's senior vice president of network operations. (See Vodafone Germany Urges NFV Vendors to 'Step Up' Efforts.)
Figure 3: Get Moving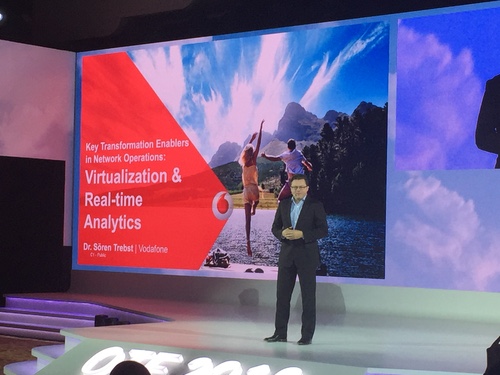 Deutsche Telekom's Soren Trebst says vendors need to step up their NFV act.
If it can provide support for end-to-end orchestration, and what Trebst describes as "full-scale automation," Vodafone Germany should be able to reduce its current operating costs by 30-40%, he reckons. But orchestration remains one of the industry's biggest headaches. "There are lots of promises but I've still not seen domain and services orchestration working as a live application," he says.
Next page: Cloudy future
Cloudy future
How serious are these setbacks? James Crawshaw, a senior analyst at Heavy Reading , reckons virtualization would be somewhere between "the peak of inflated expectations and the trough of disillusionment" in Gartner's hype cycle, the market research company's methodology for assessing technology maturity. "As a technological discontinuity NFV [network functions virtualization] provides an opportunity to modernize operations, but it also adds complexity," says Crawshaw.
In the Gartner hype cycle, the trough of disillusionment is followed by the "slope of enlightenment," as a given technology gains traction. Yet NFV might not be the only way for operators to acquire more web-like agility, according to Crawshaw. "You do not need NFV to increase the level of automation in network operations -- instead you need to move away from the proprietary CLIs [command line interfaces] of traditional telco hardware to the open APIs [application programming interfaces] found in IT," he says. "If we can get there by a more efficient route then NFV might become a niche technology for enterprise CPE [customer premises equipment] but not much else."
For more NFV-related coverage and insights, check out our dedicated NFV content channel here on Light Reading.
Given the interest in NFV, this would be a radical development. Yet the industry seems likely to be underwhelmed by the benefits arising from the first wave of investment in software and virtualization technologies. "There is not really a lot of automation going on," said industry analyst Caroline Chappell back in March this year. "Operators can still use a lot of their old systems and processes and it's not resulting in the extreme business benefits." (See The Real NFV Revolution Is 5 Years Away.)
Real "cloudification," as Chappell has described it, could entail the rollout of so-called "microservices," whereby a network function is decomposed into small individual components. Operators could then reuse these components in different ways to create customized and scalable applications.
It seems unclear whether a deployment of microservices would roll on naturally from earlier NFV investments, or represent another massive upheaval. But it could pose a huge threat to established vendors and their business models. Microservices would see monolithic and costly network functions broken down into components carrying much less value. And operators would look to use one instance of each component across different functions.
In the meantime, the tension between vendors and their service provider customers looks bound to increase. During Light Reading's Big Communications Event in May, Axel Clauberg, the vice president of aggregation, transport, IP and fixed access for Germany's Deutsche Telekom AG (NYSE: DT), complained that traditional vendors had constructed a "prison" from which telcos needed to escape. That would make Huawei the biggest jailer of them all. And the prisoners are starting to rebel. (See DT: Telcos Must Escape Vendor Prison.)
— Iain Morris,

, News Editor, Light Reading
Subscribe and receive the latest news from the industry.
Join 62,000+ members. Yes it's completely free.
You May Also Like
---