Orange Plots Mass Network-as-a-Service Rollout
Orange Plots Mass Network-as-a-Service Rollout
The French service provider will launch on-demand network offerings later this year and is urging vendors to shape up.
Orange Business Services is to launch a network-as-a-service (NaaS) offering for multinational customers in 70 countries by the end of this year, Light Reading has learned.
The new service will use the "Easy Go" brand and take advantage of the investments Orange Business Services has been making in software and virtualization technologies.
The move had been anticipated since March this year, when Light Reading first broke news of Orange's plans, and builds on commercial trials the operator has been carrying out with small and midsized enterprise customers in France under the brand name of EasyConnect. (See Orange Plots Wider Rollout of NFV for SMEs and Orange Unveils NFV-Based Offering for SMBs.)
Pitched initially at "big companies with small sites," according to Orange executive Franck Morales, the Easy Go offering heralds a gigantic shift in the way Orange provides services to customers, with major implications for Orange's business model and entire modus operandi.
Figure 1: Old-School Tech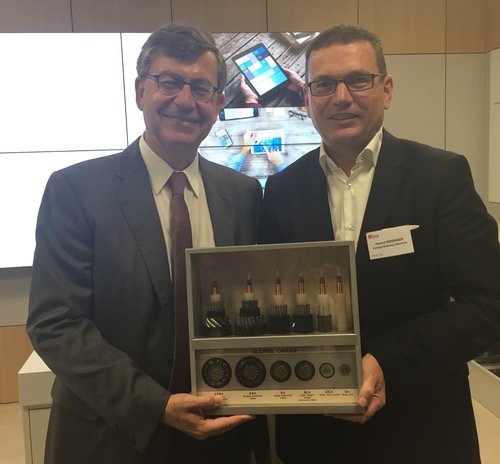 Pierre-Louis Biaggi, the vice president of sales development and partnerships for Orange Business Services, and Helmut Reisinger, the operator's executive vice president of international business, show off some undersea cables at the operator's facilities in Paris.
By adopting the on-demand principles popularized by web-scale players, Orange hopes to satisfy customers asking for speedier service delivery and more control over the connectivity applications they use.
But the investments in SDN and NFV are also aimed at redefining Orange's relationship with equipment vendors, allowing it to license technologies more flexibly and economically and without being "locked in" to one supplier's products.
The first connectivity services that will be offered under the NaaS umbrella, and provided as part of the Easy Go offering, will be focused on network security and cover functions such as firewalls, web filtering and application security control.
After receiving a "plug and play" CPE, a customer will be able to use a self-service portal to order, set up and monitor network services that are fully compatible with the business VPN (virtual private network).
"A main use case could be the retail market where you might need to change the location of shops every six months," says Morales, the vice president of connectivity marketing for Orange Business Services. "Changing connections and services is quite painful today for customers and we want to make that simple for them."
Security appears to have come out top in recent customer surveys gauging interest in NaaS capabilities, which partly explains the initial focus here, but Morales also points out that vendors have made greater progress on virtualizing security functions than in other areas.
Nevertheless, Orange expects to include other connectivity functions under the Easy Go brand in future. A WAN optimization service is likely to be the first to follow the security options. And as NaaS offerings are made available to bigger sites, bandwidth-on-demand capabilities will become a part of the picture.
For more NFV-related coverage and insights, check out our dedicated NFV content channel here on Light Reading.
Orange has indicated that its NaaS rollout will be accompanied by the extension of SDN and NFV technologies to additional points of presence (PoPs) -- eight by the end of this year, 18 by the end of 2017 and more than 40 in 2018.
As revealed in March, the operator appears to have settled on a number of key vendors for its main infrastructure, choosing Ciena Corp. (NYSE: CIEN)'s Blue Planet technology for orchestration and VNF (virtual network function) management, Juniper Networks Inc. (NYSE: JNPR)'s Contrail technology as the SDN controller and Red Hat Inc. (NYSE: RHT) for the OpenStack-based virtual infrastructure manager.
Figure 2: New-Technology Partners
Source: Orange Business Services
Although UBiqube Plc provided a VNF manager during trials in 2015, it seems to have been dropped in favor of Blue Planet for the commercial phase. "We carried out trials with no commitment to have those vendors as definite partners -- some of them are but some are not," says Morales.
When it comes to the virtual network functions, Orange has identified a number of suppliers as partners, including Cisco Systems Inc. (Nasdaq: CSCO), Fortinet Inc. , InfoVista SA and Riverbed Technology Inc. (Nasdaq: RVBD). The ultimate goal, says Morales, is to have several vendors for one virtualized function so that Orange can address a broader range of customer requirements.
Next page: Vendor frustration
Vendor frustration
Even so, the vendor community still has a long way to go to fully satisfy Orange's own demands, according to senior executives.
By the end of next year, the operator wants to introduce a "universal CPE" that can replace all of the 400,000 CPEs currently deployed globally and ensure that Orange can deliver new virtualized services at customer sites.
"Cisco, Juniper and other vendors are starting to introduce some boxes but at this stage the solutions are still quite expensive and not something we can deliver easily," says Laurent Perrin, an IT pre-sales architect at Orange Business Services. "We also need to have something that is powerful enough to add services virtually without having to change the box."
Orange executives have seized the initiative and begun experimenting with white box technology to reduce costs. The operator has already carried out a proof of concept (PoC) using an x86 box running virtual network functions. During that process, it replaced the x86 chips with ARM-based smartphone processors, and used container technology rather than virtual machines.
Containers essentially decompose network functions into much smaller individual components that service providers can re-use in different ways to create customized, scalable applications. Analysts have already said they could form an integral part of a second virtualization wave, following some investment in more clunky machines, and deliver more extreme business benefits to operators. (See The Real NFV Revolution Is 5 Years Away.)
"At this point today, we are not gaining a lot because VNFs are so big you need a large x86 engine," says Pierre-Louis Biaggi, the vice president of sales development and partnerships at Orange Business Services, in describing some of the challenges the operator faces.
The next step for Orange will be a PoC with a customer based on a vendor solution, according to Perrin, and the operator is already working on the selection of what he calls a "target solution."
But the company acknowledges that some traditional vendors are unhappy with these developments, even if they are being forced to adapt to them.
"Cisco and others are not looking at this very nicely because it is a way of changing their business model and separating the hardware from the software, meaning the replacement of the solution can be much easier," says Biaggi.
Despite the vendor concerns, Morales expresses optimism that a broad range of solutions will take shape in 2017, allowing Orange to make a decision on the universal CPE technology by the end of that year.
And as the technology and service proposition changes, so is the Orange organization.
The operator has set up an entirely new division that will initially cater to customers buying NaaS products, but other divisions will need to evolve as on-demand services become increasingly important to the overall Orange business.
"There is a huge human resources program that has just started at a Group level to ensure we are prepared globally," says Morales. "The evolution of skills is going to be a concern for the Orange Group between now and 2020."
— Iain Morris,

, News Editor, Light Reading
Subscribe and receive the latest news from the industry.
Join 62,000+ members. Yes it's completely free.
You May Also Like
---