Level 3: Analytics Unlocks SDN Potential
Level 3: Analytics Unlocks SDN Potential
Network analytics lets customers programmatically provision network services. DENVER -- Light Reading Carrier SDN Networks -- Network analytics are needed to wring full potential from SDN networking, Travis Ewert, VP of global network software development at Level 3 Communications, said Tuesday.
"We're very much advocates or strong endorsers of that on-demand model -- pay for what you use, use by the slice, on demand, when do you want to use it?" Ewert said on a panel here devoted to SDN use cases and applications. Self-service web portals can help drive network-on-demand services. But users don't want to go to a portal. They want direct, machine-to-machine connections for programmable networking. (See Level 3 Stays Ahead in the On-Demand Race.)
That's where data and analytics come in. Analytics can be the basis of if-then programming, using passive and active metrics to define thresholds and triggers to automatically provision network resources. "That's where this space gets interesting," Ewert said.
Figure 1: Pay as You Go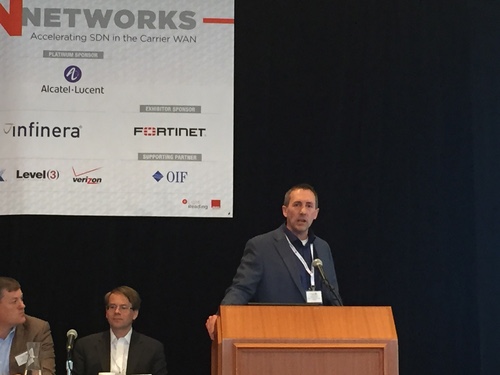 Travis Ewert, VP of global network software development at Level 3 Communications, advocates the on-demand service delivery model.
To achieve that level of programmability, carriers need to standardize their networks. "For scale purposes around automation and quality, if you don't standardize your network even down to configuration, it will be hard to come back and do these kinds of services if your network looks different all over the place," Ewert said.
Suppliers need to convert the command line to an interface that machine-to-machine procurement can deal with, Ewert said. "Just give us something that isn't command line. Get rid of command line. Get rid of SNMP."
Carriers can then build customer front ends to build capacity on demand, and schedule or calendar capacity. "We built our own domain controllers, augmenting with off-the-shelf capabilities," Ewert said.
Critical challenges for SDN aren't just technological -- they're organizational as well, said Igor Bergman, VP and software business unit head for Fujitsu Network Communications Inc. Network operators grapple with who owns which network elements, and who can control and manage those elements. "Who's actually in charge and who controls it? I see a lot of discussion of organizational efficiency and how to put it in place," Bergman said. "It seems every company has a little bit different model of how to deal with that."
Service providers are bringing data centers closer to the customer, and automating orchestration inside the data center. "What's missing is cross-connect between data centers and end-to-end," Bergman said.
Infrastructure and architecture are also important, Ken Kiser, VP of telecom strategy for Arista Networks Inc. , said. "In order to make SDN work, you have to have the right infrastructure or the right architecture to make it go. Historically, the networking vendors are horrible at this." Vendors provide CLIs accessible by SSH -- secure shell, a remote administration protocol.
"Poking at it from afar with a 20-foot pole through some ancient 24x80 screen-scraper thing doesn't work," Kiser said. Network operators need modern tools, but also need to preserve knowledge about CLI, because that's what network operators already know.
SDN has two clear use cases, according to Sunil Jain, datacenter marketing manager at Intel Corp. (Nasdaq: INTC). They are network virtualization overlays and NFV. NVOs are virtualized networks you can build because you use SDN, while NFV delivers applications built on top of the software-defined network, he said.
The leading WAN SDN applications are provisioning and configuration, intelligent or adaptive bandwidth management, dynamic QoS control and traffic engineering, Jain said.
SDN enables carriers to deliver bandwidth, network or video-as-a-service. "It's all about on-demand delivery of services to the quality a customer needs," Jain said.
Want to know more about SDN? This will be just one of the many topics covered at Light Reading's second Big Telecom Event on June 9-10 in Chicago. Get yourself registered today or get left behind!
As an example of the benefit of SDN, Jain cited Google, which improved network utilization from 65% to 95%.
But SDN isn't easy. Even with Google's vast software resources, the organization required two years to achieve those ends.
More about the Carrier SDN Networks event:
Subscribe and receive the latest news from the industry.
Join 62,000+ members. Yes it's completely free.
You May Also Like
---