Cisco Looks to Open Source for 'Badder Ass' Internet
Cisco Looks to Open Source for 'Badder Ass' Internet
Cisco says it's committed to open source, which it sees as essential to making the Internet more robust for business applications. AUSTIN, Texas -- Big Communications Event -- Cisco needs open source to build a "badder ass" Internet -- a network with sufficient performance, reliability and security for major business applications, a company executive said.
"Open source has shifted the innovation model in ways that allow for more rapid development, faster access to products and code for customers, and the ability for Cisco to get innovative technology out the door faster than we could have in the past," said Lauren Cooney, who heads up Cisco Systems Inc. (Nasdaq: CSCO)'s open source strategy from her position as senior director, strategic programs, in the chief technology and architecture office at Cisco.
Open source is essential, not just for Cisco, but for all companies, Cooney told Light Reading in a one-on-one interview this week. "It's critical that companies have an open source strategy," she said. "If they don't have one, they need one fast."
Figure 1: Cisco Open Source Champion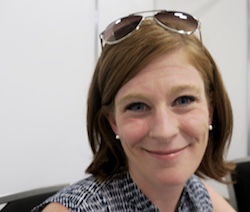 Lauren Cooney
For an example of why open source is needed, Cooney suggested the difficulties faced by big online retailers. Even a millisecond delay to customers is a big expense to a shop doing millions of dollars of transactions every minute. A tiny delay is long enough for customers to become distracted and cost a retailer sales. Reducing those kinds of delays requires coordination across the Internet community as a whole to build a "badder ass" -- more robust -- Internet. And that requires the innovation speed and cooperation brought by open source.
Cooney's perspective on open source is useful for a couple of reasons: It provides insight on how to implement an open source strategy from a technologist at a company that has been active in the open source community for years.
And it's also insight for Cisco's customers and partners on how Cisco -- a company with a reputation for proprietary technology and customer lock-in -- is working to change that perception and become known for its open source participation instead.
"People think Cisco is not engaged in open source," Cooney said.
But Cisco makes at least 1,500 contributions to open source per month, on average. That figure is based on contributions to Github coming from cisco.com addresses alone. The actual number is far higher than that, as many people register for Github from their personal email address, rather than business address. "I would guess it's probably double," Cooney said.
Want to know more about SDN? Visit Light Reading's SDN Technology content channel. "We have really moved into open source strongly in the past two years," Cooney commented. In that time, Cisco has gone from participating in three open source projects -- OpenDaylight, Linux and OpenStack -- to more than 20, including Hyperledger Project, Kinetic, OPNFV, DPDK and the Data Plane Development Kit (DPDK). The move to open source for Cisco is driven by the transition in networking to a "data centric world." Application developers need to pull information from the network into applications -- such as retail apps -- that deliver business value. "We want developers to use the Internet in a more effective way than they have in the past," she said. "We want to do this in the open and build a badder-ass Internet." Next Page: Bigger and Badder, But Not More Complex The network needs to expose data to platform-as-a-service providers such as CloudFoundry, OpenStack, Heroku and Microsoft Azure, to allow developers to take advantage of that data, Cooney said. These applications will be easier to simplify and secure. "Bigger and badder doesn't necessarily mean more complex," Cooney said. Bridging application and network management to enhance robustness (or make the network more "bad ass") is key to Cisco's networks-on-demand strategy, outlined by Cooney's boss, Cisco engineering CTO Dave Ward, in an interview with Light Reading in March. (See The Future Is Networks on Demand, Says Cisco Chief Architect.) Identifying projects that are likely to succeed is important to organizations getting involved in open source, and in making decisions on where to direct resources, Cooney said. Likelihood of success is determined not by financial investment, but rather by the quality of the code and the community, she added. According to Cooney, successful open source projects have high contributor diversity, a high degree of deployment and commercial offerings wrapped around the open source code. Without those factors, an open source project starts looking proprietary, with the same risks of vendor lock-in. Importantly, diverse participation means a variety of companies, customers and end users. For example, Cisco is involved in Project Mantl, a project on Github to help network operators get up to speed on microservices and containers. "It has every component you need," Cooney said. In addition to Cisco, Getty Images, Comcast and Charter are contributing code, among 66 contributors, with only 50% of code coming from Cisco. And Getty is deploying the project. Successful open source projects also avoid drama. "There's a lot of drama in the industry," Cooney said during a panel discussion of open source in the data center here Wednesday. "The code and the community are the most important things. Drama is not. Skip the drama." Cisco is not alone among networking vendors backing open source. Huawei is using open source components as part of its Application Driven Networking (ADN) platform, using 5G principles to build networks with the flexibility needed for different voice, Internet and machine-to-machine communications. (See Huawei Threatens Cisco With Application Driven Networking.) Huawei also backs OPEN-O open source network orchestration. (See OPEN-O Focused on Orchestrating SDN & NFV.) And Brocade has based its IP networking strategy around OpenDaylight, distributing a hardened commercial version of the open source SDN controller and contributing fixes back to the community distribution. (See Brocade Beefs Up SDN Operations Support and Brocade Wants to Be Red Hat of OpenDaylight.) Additionally, Brocade bought StackStorm, a startup which develops an open source cloud automation toolset, in March, incorporating those tools into its Workflow Composer network automation toolbench for automating management of both the cloud and network, announced this week. (See Brocade Looks to Bridge Network & Cloud Automation, Brocade Looks to Enterprise & Cloud With StackStorm Buy and Brocade Buys StackStorm to Boost DevOps.) — Mitch Wagner,
, West Coast Bureau Chief, Light Reading.
Subscribe and receive the latest news from the industry.
Join 62,000+ members. Yes it's completely free.
You May Also Like
---