Samsung pledges satellite services amid heated dealmaking
Samsung – one of the world's largest smartphone vendors – announced that it will build components for phones that can connect directly to satellites.
However, the announcement came from Samsung's modem division, so it would be up to the company's handset division, or other Samsung components customers, to launch commercial products using the technology. The company also declined to say which satellite companies might participate in the effort.
"Samsung aims to take the lead in advancing hybrid terrestrial-NTN communications ecosystems around the world in preparation for the arrival of 6G," said Min Goo Kim, EVP of processors at Samsung Electronics, in a statement from the company.
Details on the move remain scarce. Samsung officials said it would be up to Samsung's component customers to launch services and price the offering. Samsung rival Apple already offers satellite-based emergency messaging on its new iPhone 14.
In its release, Samsung said only that it plans to integrate satellite technology into its Exynos chips. That's noteworthy considering Samsung's latest flagship smartphone, the Galaxy S23, does not use Samsung's Exynos platform and instead only uses Qualcomm's Snapdragon chipset. Qualcomm, for its part, has a new deal with Iridium to offer its Snapdragon customers satellite connections, but Samsung phone officials have said they plan to wait for more effective satellite capabilities before offering them to Samsung Galaxy smartphone customers.
Importantly, Samsung also said its Exynos-based satellite services "will support two-way text messaging as well as high-definition image and video sharing." That would be an important development considering today's phone-to-satellite services generally support only slow-speed emergency messaging. An offering that supports high-bandwidth services like video calling would presumably require far more satellites than today's services use – and it could also pose a challenge to terrestrial mobile network operators looking to make profits from offering high-bandwidth services in remote or rural areas.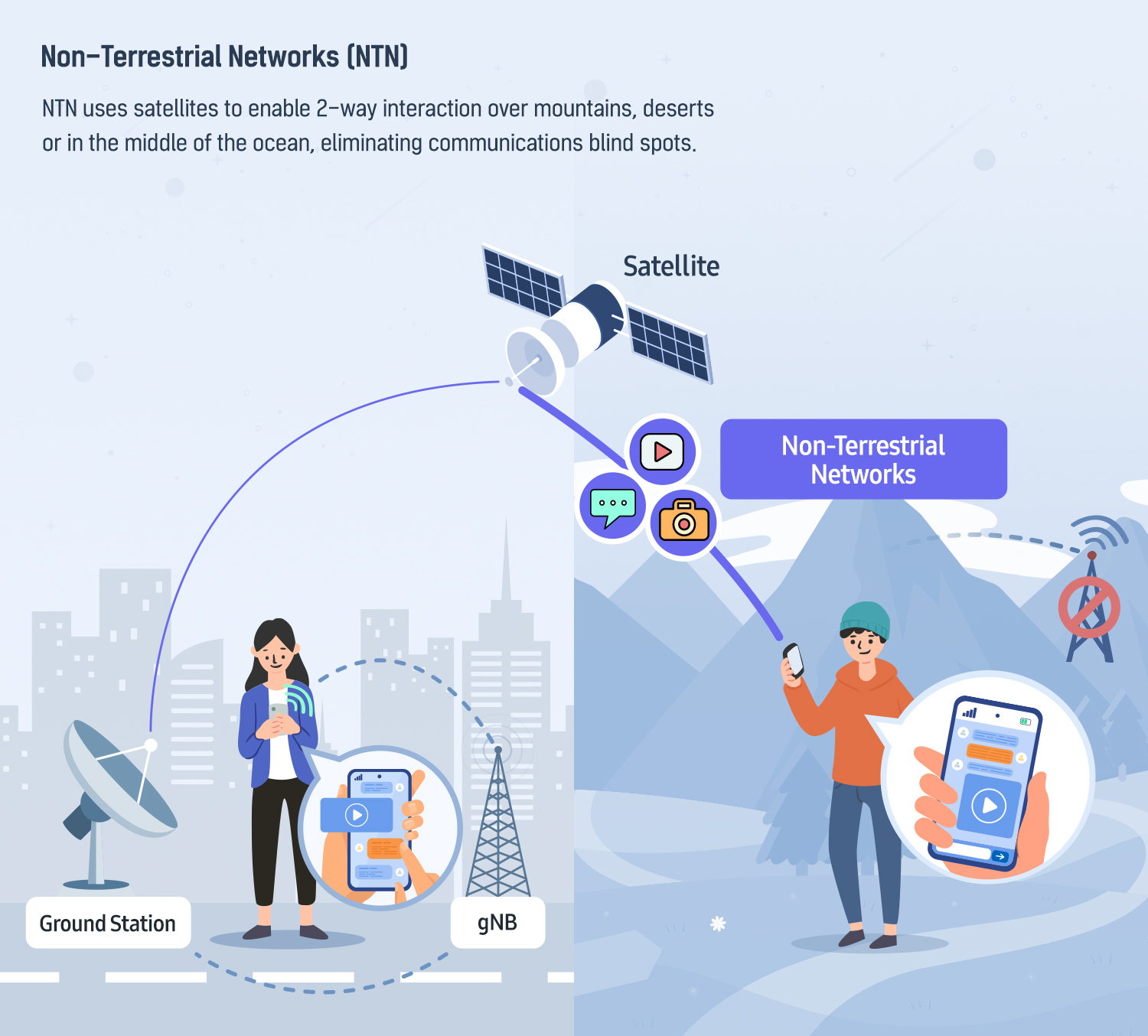 Wheeling and dealing
However, there is no shortage of vendors hoping to supply Samsung with the satellite capacity it would need to provide space-borne video sharing. Indeed, Omnispace and Ligado Networks this week announced a new Memorandum of Understanding (MoU) to combine their respective spectrum holdings in order to offer "space-based, direct-to-device (D2D) solutions for global voice, text and data connectivity."
Specifically, the companies pledged to merge Ligado's 40MHz of L-band satellite spectrum in the US and Canada with Omnispace's 60MHz of S-band satellite spectrum. "The combination of L- and S-band spectrum is a unique opportunity to expand the ecosystem of D2D applications and technologies, enhance user experience and extend service globally. For consumer smartphones, the offering will have enough bandwidth to go beyond emergency satellite texting by offering ubiquitous roaming mobile coverage with two-way voice, messaging and data capabilities," according to the companies' release.
However, there are plenty of obstacles to the companies' ambitions. For example, Ligado has spent years working to free its spectrum of interference concerns, and its financial footing remains a bit of a question mark. "Ligado has no cash and an overwhelming debt load," tweeted analyst Tim Farrar with TMF Associates following the announcement from Ligado and Omnispace.
A crowded space
Ligado, Omnispace and Samsung aren't the only companies pursuing the market for phone-to-satellite connections. SpaceX's Starlink, Apple, Qualcomm, Iridium and others are chasing the opportunity too.
Indeed, the financial analysts from New Street Research predict the phone-to-satellite market is worth $20 billion in the US and $100 billion globally. Meanwhile, Kaleido Intelligence predicted the sector will generate $9 billion annually on a global basis in 2030. Already the FCC in the US said it will open a proceeding to investigate the use of terrestrial spectrum for satellite services.
Among the latest developments: Terran Orbital announced a $2.4 billion contract to build 300 satellites for Rivada Space Networks. According to the financial analysts at B. Riley Securities, the agreement includes an option for Rivada to purchase an additional 300 satellites at a later date in order to reach its previous pledge of a 600-satellite constellation.
Rivada announced its satellite ambitions last year, and they may or may not include a plan to offer connections directly to mobile phone users. The company hopes to start its satellite deployment in 2025.
And, separately, longtime satellite operator EchoStar detailed its quarterly earnings this week, and in a release the company's CEO Hamid Akhavan reiterated his plan to build "a global S-band mobile satellite service network."
EchoStar has hinted that the network could service smartphone satellite connections.
Finally, European and North American companies aren't the only ones racing to space. According to SpaceNews, China this week launched its latest communications satellite into orbit.
Related posts:

— Mike Dano, Editorial Director, 5G & Mobile Strategies, Light Reading | @mikeddano
EDUCATIONAL RESOURCES

PARTNER PERSPECTIVES
- content from our sponsors