Inmarsat and Deutsche Telekom have successfully launched a new satellite designed to support in-flight WiFi services for passengers travelling across European airspace.
The European Aviation Network (EAN), as the European Commission-backed initiative has been called, will deliver connectivity to passenger planes from the Inmarsat-operated satellite as well as an on-the-ground mobile network developed by Deutsche Telekom.
Made by French-Italian aerospace manufacturer Thales Alenia, the S EAN satellite was launched by France's Arianespace from the Kourou Space Center in French Guiana at about 21:15 UTC on Wednesday.
Figure 1: The Moment of Launch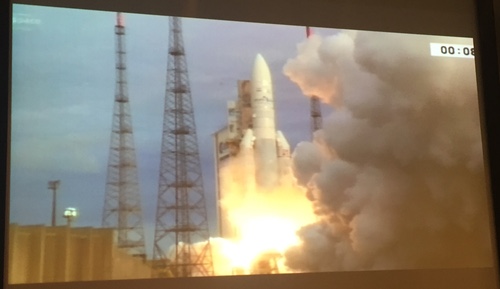 The Ariane 5 rocket takes to the skies, as witnessed by Light Reading on a big screen at Inmarsat's headquarters in London.
The plan is to start supporting services from the second half of this year and -- while the initial focus is on in-flight consumer offerings -- Inmarsat plc (London: ISAT) and Deutsche Telekom AG (NYSE: DT) say the EAN could also connect to aircraft sensors and help to make flight operations more efficient.
Inmarsat and Deutsche Telekom have already announced a launch partner in the shape of International Airlines Group (IAG) -- whose subsidiaries include British Airways, Aer Lingus and Iberia, among other carriers -- and Deutsche Telekom says that talks are underway with other airlines serving the region.
Speaking at a late-night press conference at Inmarsat's headquarters in London on Wednesday, Frederik van Essen, Inmarsat's senior vice president of strategy and business development, said IAG is now equipping more than 300 of its planes with the equipment needed to support services to be offered from the new satellite.
"The first service introduction is scheduled for 2018 and we expect 90% of the short-haul fleet to be equipped by early 2019," he said.
Predictably enough, Inmarsat is making some bold claims about the new service. For one thing, the equipment that goes on the aircraft will be a lot smaller and more lightweight than the kit needed for other satellite systems, says van Essen, which presumably makes installation easier and more cost effective.
"We're using specific frequencies that have been selected by the European Union for use in Europe," he told reporters. "Because of that we can use smaller and lighter antennas than you would normally use on an aircraft."
Figure 2: Aerodynamic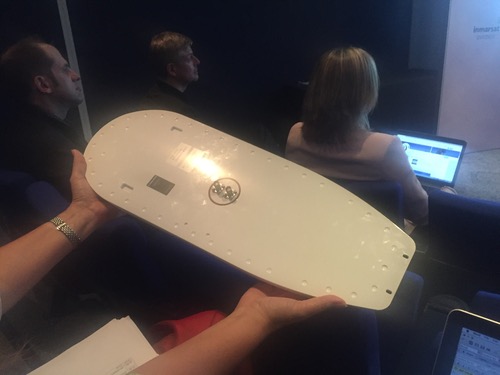 The equipment that needs installing on the top of the plane is relatively small and lightweight compared with older satellite-based offerings.
The satellite appears to use S-band spectrum at 2GHz, while Deutsche Telekom's network of about 300 LTE sites also works in the 2GHz frequency range. The system has apparently been set up to switch seamlessly between the satellite service and the terrestrial network as conditions dictate.
Representatives from Inmarsat and Deutsche Telekom insisted this was not dependent on altitude but on other factors, such as whether the plane is travelling over land or water.
Deutsche Telekom, which is using basestation technology from Nokia Corp. (NYSE: NOK), said that it could support a pan-European in-flight service with a limited number of sites simply by angling the antennas appropriately. It has completed work in five countries out of 30 (which include all of the European Union's member states as well as Norway and Switzerland), and expects to finish the entire project by the end of the year.
This means reaching wholesale-type agreements with operators outside Deutsche Telekom's European footprint, said Rolf Nafziger, the senior vice president of the German operator's international wholesale business.
Inmarsat and Deutsche Telekom said that test flights had recorded connection speeds of at least 70 Mbit/s to the aircraft and "in the high 30s" for uplink connections from a plane.
But executives faced skepticism at the press conference that S-band satellite technology would be able to deliver more than hundreds of kilobits per second.
Franco Carnivale, Inmarsat's vice president of satellites and launches, insisted that satellite technology had "moved on" and that the use of new digital processing technology would help to support much higher-speed services.
Want to know more about 4G LTE? Check out our dedicated 4G LTE content channel here on Light Reading.
Nevertheless, opponents of the deal between Inmarsat and Deutsche Telekom have claimed the European Aviation Network is really a terrestrial service masquerading as a satellite one, suggesting that satellite technology will be used only for back-up purposes when the terrestrial signal fails. And they say this contravenes the terms of the S-band license.
Those opponents include North America's ViaSat Inc. (Nasdaq: VSAT) and European operator Eutelsat, which say they are together developing a more powerful satellite service for in-flight connectivity than EAN.
Light Reading approached Eutelsat Communications S.A. for a comment on the S EAN satellite launch this week, but had not received a response as this article was published.
In emailed comments, ViaSat said: "The intent for the spectrum was to be used for satellite services; however, Inmarsat has used the license to create a terrestrial-based European Aviation Network -- what we believe is a misuse of a spectrum license granted to Inmarsat."
Viasat went on to say that it has been in touch with national regulatory authorities across Europe, including the UK's Ofcom and France's ARCEP, and that a number of them share its concerns. "We will continue our approaches to the European Commission and national regulators to resolve the situation," says the company.
Figure 3: Late Night in the Office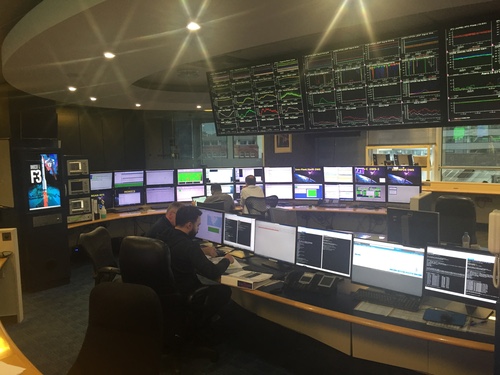 Inmarsat's network operations center, at its headquarters in London, allows it to monitor the status of its satellite services worldwide.
Another concern is that EAN poses a threat to Inmarsat's recently launched GX service, a pure satellite connectivity offering that is now being used by Germany's Lufthansa and Qatar Airways.
Commenting on that technology, Deutsche Telekom's Nafziger said: "My guess is that Lufthansa selected it because it was available but it does not really have this combination [of terrestrial and satellite connectivity] that is so unique."
From a commercial perspective, EAN is likely to be a relatively small opportunity for Deutsche Telekom but one that ties in with its strategy of providing a full range of connectivity services to customers wherever they may be.
Nafziger tells Light Reading that the terrestrial network investments needed to support in-flight offerings are "quite small compared with a normal network build in Europe."
Deutsche Telekom makes money by reselling capacity with Inmarsat to the airlines. "The airlines are a bit like the MVNOs [mobile virtual network operators] we normally host on networks and have the right to design their own tariff schemes and offer their own tariffs," says Nafziger. "We are also providing an ISP [Internet service provider] ability to them."
— Iain Morris,

, News Editor, Light Reading
Subscribe and receive the latest news from the industry.
Join 62,000+ members. Yes it's completely free.
You May Also Like
---