Copper Soldiers On: Broadband Special Report Part 1
Copper Soldiers On: Broadband Special Report Part 1
Some of Europe's biggest service providers are basing their broadband futures around the continued use of copper. From VDSL2 to supervectoring (or is that super-vectoring?) and on to NG-PON2, telecom service providers are these days confronted with a bewildering array of technology options for upgrading their broadband networks.
With new standards allowing operators to squeeze ever more juice out of those last-mile copper connections, the need to splash out on a costly fiber deployment has receded, in the view of many telecom executives. Yet the choice between one copper-based standard and another is far from straightforward. The topography of a market may be ill-suited to certain technologies, for one thing. And standards that seem a good bet today might soon lose their appeal.
Figure 1: Copper at the Speed of Light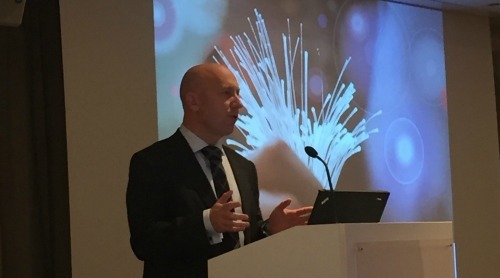 Peter Bell, the chief information officer of BT Openreach, discusses the UK operator's G.fast strategy during Light Reading's Gigabit Europe conference
Those operators taking the fiber plunge are being forced to make similar trade-offs, however. Ronan Kelly, the chief technology officer of broadband equipment vendor Adtran Inc. (Nasdaq: ADTN), reckons existing PON systems will start to come under pressure in the next five to eight years. That means service providers should already be thinking about what comes next. But the equipment needed for NG-PON2 -- which many expect to become the preferred PON standard of the future -- is still prohibitively expensive, according to Kelly. Adtran is now promoting a new technology called XGS-PON as a more cost-effective alternative that could meet needs over the next five to ten years.
Given all the concern and confusion, Light Reading has prepared a two-part guide to the main standards and technology options, whether these are in commercial deployment, trials or at a much earlier stage of development.
This first part examines the technologies that can be use to improve the performance of old-fashioned copper wiring. ADSL and first-generation VDSL have not been covered -- as these are already very mature technologies that are even becoming obsolete -- which makes VDSL2 the first on the list.
Extends frequency range to a maximum of 30MHz to provide higher-speed uplink and dowlink connections than older VDSL and ADSL systems

100 Mbit/s on very short loops

Cuts out interference between lines in a telephony cable to improve VDSL2 performance but loses effectiveness over long distances

1 Gbit/s on very short loops

Uses very high frequencies (106MHz in the first version and 212MHz in the second) to support ultra-fast broadband connections

300Mbit/s at up to 250m (Alcatel-Lucent)

Billed by different suppliers as supervectoring and Vplus, it increases the frequency range of older VDSL2 systems to 35MHz, using the same 'tone spacing' as the widely deployed 17a standard
So on this and the following pages in this report, we will look at the capabilities, market potential and pitfalls of the technologies cited in teh table above, starting with VDSL2.
VDSL2
Now widely deployed in many European markets, VDSL2 (the VDSL standing for very high bit rate digital subscriber line) is typically used in conjunction with a fiber-to-the-cabinet (FTTC) deployment, with fiber rolled out to the street cabinet and copper wiring used for the final connection to the premise. It comes in a number of different flavors, with successive iterations extending the range of frequencies over which the broadband signals travel and boosting connection speeds for customers accordingly.
Bandwidth claims for VDSL2 vary dramatically, but few vendors trumpet headline speeds of more than 100 Mbit/s on either the downlink or uplink. Even with the latest 30a profile (ratified by the International Telecommunication Union (ITU) as far back as 2006), which uses up to 30MHz of spectrum, service providers are unlikely to be able to support 100Mbit/s connections because of 'crosstalk' -- interference between copper lines in a telephony cable -- and attenuation, which causes signals to lose their intensity over longer distances.
According to Zhone Technologies Inc. (Nasdaq: ZHNE), a small equipment company based in California, the lower-frequency VDSL2 profiles (from 8a to 12b) perform much better over longer loops, even if they fall short of the higher-frequency versions on connection speeds. The 17a and 30a profiles, by contrast, have been used in instances where fiber has been deployed much closer to the customer premise.
VDSL has proven controversial from a regulatory perspective in some European markets. In the ADSL era, asset-light service providers were able to install equipment in an incumbent's local exchange and take control of last-mile connections (so-called local loop unbundling). With VDSL, this unbundling needs to happen at a point that is much closer to the customer premise. Yet sub-loop unbundling -- as it is known -- has not taken off, largely because the economics of deploying equipment in a bigger number of facilities, each catering to a smaller area than an exchange, have been unfavorable. That has driven alternative operators back towards bitstream-based wholesale products, making service differentiation more difficult. (See Europe's Broadband Hangover.)
Next page: VDSL vectoring
VDSL2 vectoring
Sometimes described as a 'noise reduction' system, vectoring is designed to cut out the aforementioned crosstalk that can have such a deleterious effect on the performance of VDSL2. The general idea is to help VDSL2 realize its full potential by getting rid of the interference.
Source: Zhone Technologies
Unfortunately, vectoring cannot solve the problem of attenuation, meaning it is most effective when used over shorter loops. Even then, few of the operators investing in the technology claim it will support 100Mbit/s services. Belgacom SA (Euronext: BELG) has previously indicated that vectoring boosts average connection speeds from 30 Mbit/s to 70 Mbit/s, while Telekom Austria AG (NYSE: TKA; Vienna: TKA) said that speeds of 100 Mbit/s would be impossible on loop lengths of more than 300 meters when announcing its launch of vectoring back in January 2012. UK fixed-line incumbent BT Group plc (NYSE: BT; London: BTA) has described the technology as a speed enabler rather than a speed booster. (See Vectoring: Some Va-Va-Voom for VDSL.)
The rollout of Gigabit broadband access networks is spreading. Find out what's happening where in our dedicated Gigabit Cities content channel here on Light Reading.
Perhaps the biggest supporter of vectoring is Germany's Deutsche Telekom AG (NYSE: DT), which has made the use of the technology an integral part of its fixed broadband strategy. But while vectoring has allowed Deutsche Telekom to address some of VDSL2's original constraints, it has not provided the German incumbent with an answer to cable competitors, some of which are now touting services of up to 400 Mbit/s. (See Tele Columbus to Launch 400Mbit/s Service and Speed Battle Rages in Germany.)
Vectoring has also gone down badly with some of Deutsche Telekom's smaller telecom rivals. To be fully effective, the operator deploying vectoring must have control over all the lines in a cable, prohibiting the use of sub-loop unbundling. As previously noted, many alternative operators would rather rely on bitstream-based wholesale offerings than sub-loop unbundling, but German authorities have still had a tough time keeping all the country's broadband stakeholders happy.
Next page: G.fast
G.fast
A copper-fortifying technology that is increasingly in vogue, G.fast is currently getting a huge boost from BT, which has put the emerging standard at the very heart of its ultra-fast broadband strategy. Earlier this year, the UK's former state-owned monopoly said it would use G.fast to provide 500Mbit/s services to most homes and businesses in the country by 2025. Since then, the operator has set a new target of covering 10 million premises (there are approximately 26 million homes in the UK) with G.fast-based 300-500Mbit/s services by 2020. (See BT Puts G.fast at Heart of Ultra-Fast Broadband Plans.)


Like the higher-frequency VDSL2 profiles, G.fast further extends the frequency range to support even zippier services for broadband customers. While basic VDSL2 tops out at 30MHz, the first version of G.fast is designed to work on 106MHz and a future tweak will double this capability to 212MHz. China's Huawei Technologies Co. Ltd. claimed as far back as 2011 to have delivered 1 Gbit/s over G.fast technology during laboratory tests.
Target downstream and upstream rate
Even more than vectoring, however, G.fast loses its potency as the loop length increases. Huawei's 2011 trial was carried out over a distance of just 100 meters. Over longer distances, the higher frequencies used with G.fast cause signal strength to fade badly. For that reason, it is most effective when fiber has been rolled out as far as a distribution point close to the customer premise (a so-called fiber-to-the-distribution-point, or FTTdp, architecture). France's Alcatel-Lucent (NYSE: ALU) has previously suggested that vectoring may be preferable to G.fast in certain settings (although they can be used together). And while Deutsche Telekom believes G.fast has potential in some of its European markets, it appears skeptical the technology will pass muster in Germany, where homes are often located far away from the facilities housing broadband equipment. (See G.fast: The Dawn of Gigabit Copper?.)
The business case for deploying G.fast with FTTdp also looks dubious. Sckipio Technologies , an Israeli semiconductor company, puts the cost per home passed of an FTTdp rollout using G.fast "over the last 200 meters" at just one fifth that of deploying a fiber-to-the-home (FTTH) network. Yet this remains eye-wateringly expensive when there are millions of distribution points. Indeed, BT thinks G.fast would be untenable if it had to equip all 4 million of its UK distribution points with the necessary electronics.
Instead, the UK incumbent hopes to be able to introduce the technology at many of its 90,000 street cabinets, expressing growing confidence that improvements to the standard will allow it to be used effectively over much longer distances. "There has been a breakthrough on G.fast in the last quarter and we now see a way to deliver it from street cabinets rather than just distribution points," said BT CEO Gavin Patterson as far back as January. "That means we can build on existing investments."
Recent trials have shored up BT's confidence in G.fast, according to Peter Bell, the chief information officer of BT's Openreach access business, and some vendors are also sounding an upbeat tone about the prospect of using G.fast from the street cabinet. "Six months ago I would have said it was on a wish list but things have advanced quickly and chipset vendors are stepping up their efforts," said Adtran's Kelly during Light Reading's Gigabit Europe event in Munich earlier this month. (See BT Gets G.fast Confidence Boost From Trials and BT Updates on G.fast Plans.)
But not all suppliers share Kelly's rosy assessment. Iskratel d.o.o. , an equipment maker headquartered in Slovenia and serving a number of markets in eastern Europe, reckons G.fast will first and foremost remain a technology for the "last 100 meters" where the cost of installing fiber is prohibitive. "We do not see that much interest in G.fast yet," said Janez Ori, Iskratel's director of strategy and marketing, when discussing the broadband outlook in eastern Europe during the Gigabit Europe event. According to Ori, operators in this region eager to squeeze even more capability out of copper are instead looking at VDSL2 profile 35b.
Next page: VDSL2 profile 35b
VDSL2 profile 35b
Called supervectoring by Huawei, super-vectoring by Adtran and Vplus by Alcatel-Lucent, VDSL2 profile 35b is the latest technology that promises to boost connection speeds without forcing operators to replace their copper loops.


Despite the supervectoring label, profile 35b does not reduce crosstalk more effectively than vectoring but extends the frequency range of VDSL2 17a systems to 35MHz. When used in conjunction with vectoring, this allows operators to provide services of around 200 Mbit/s at distances of up to 500 meters, according to Alcatel-Lucent, with speeds rising to 300 Mbit/s when loops are shorter than 250 meters.
Adtran similarly claims the technology will support 200 Mbit/s over about 400 meters of copper wiring, while Deutsche Telekom thinks it could boost headline speeds in Germany to 250 Mbit/s from the 100 Mbit/s that is currently possible (in ideal circumstances). (See DT Expands Its Vectoring Commitments.)
Figure 2: xDSL Technology Sweet Spots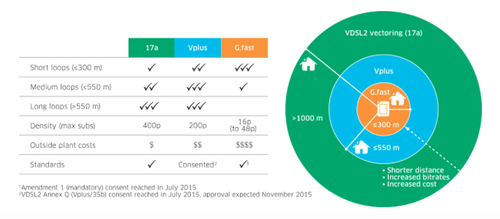 Source: Alcatel-Lucent
Although it is not yet a standard, profile 35b is being driven through the standardization process at some pace and will see deployment as soon as the first quarter of 2016, according to Adtran's Kelly. Given its earlier declarations of interest in supervectoring, Deutsche Telekom is likely to be an early adopter. Another could be the UK's BT, which sowed the seeds of profile 35b by goading vendors to develop technologies that use more spectrum, says Kelly.
As noted previously, Iskratel is a major supporter and reckons profile 35b could hold enormous appeal in eastern European markets where the falling price of oil has upset the investment case for FTTH. "We have deployed many street cabinets with VDSL and we believe 35b has more potential and looks more affordable than G.fast in these locations," says Ori.
Other vendors prefer to pitch 35b as a stepping-stone to G.fast, rather than an alternative to it. But it will certainly appear more attractive than the much older 30a standard to service providers that have been using 17a, which is arguably the most widely deployed of the VDSL2 variants. As Alcatel-Lucent points out in its marketing literature on Vplus, the "tone spacing" of 30a differs from that of 17a, "preventing cancellation of crosstalk between 17a and 30a lines." Profile 35b, on the other hand, uses the same tone spacing as 17a, allowing 17a operators to upgrade to the emerging technology without having to replace their customer premises equipment at considerable expense.
Spectrum-related constraints also make profile 35b a better option than 30a for operators planning to use G.fast in future, according to Adtran. "If I were going to deploy G.fast and it had to co-exist with 30a, I would carve out such a large chunk of valuable spectrum for that G.fast signal that it would not be worth deploying [30a]," says Kelly.
— Iain Morris,

, News Editor, Light Reading
Subscribe and receive the latest news from the industry.
Join 62,000+ members. Yes it's completely free.
You May Also Like
---