8:00 AM -- BARCELONA -- LTE World Summit -- It was bright and sunny in Barcelona, but Spain's economic turmoil cast a shadow over this year's LTE World Summit.

The annual international LTE fest opened on Wednesday with a stark reality check from Orange Spain 's CTO Eduardo Duato, who claimed that the business case for deploying LTE networks could not be made unless operators shared their radio access networks. (See Orange: Operators Must Share LTE Networks .)

Also, Spain's Secretary of State for Telecommunications, Victor Calvo Sotelo, was unable to attend in person on Wednesday morning, which probably had something to do with a rather more important meeting of the European Union's leaders on the same day about the political and economic crisis across the continent, including an examination of which countries might risk the same financial fate as Greece (with Spain one of the countries under scrutiny).

Sotelo sent a message to the LTE conference attendees, noting that "Our country is suffering a great stress, but with the right focus, I'm sure we'll grow again."

A final reminder of Spain's troubles struck at Barcelona Airport on Thursday, where some of the cleaning staff staged a messy protest. Click on the photo below to see those scenes.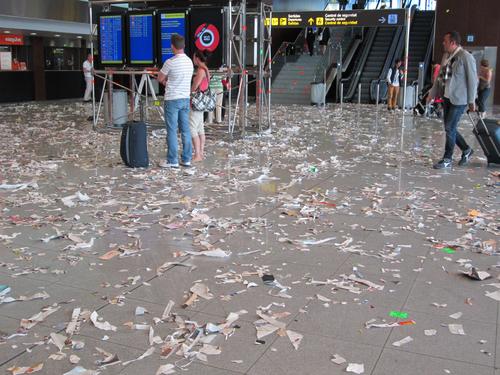 But it wasn't all doom and gloom at the LTE event. Indeed, innovation is clearly alive and well in networking technology as well as services. In fact, one of the most intriguing new mobile services comes from Spain's very own Telefónica SA (NYSE: TEF) -- that is, the Tu Me over-the-top unified communication app for smartphones, which was developed by operator's Digital division [Ed note: the cool part of the telco]. (See Telefónica Digital Gets Smart.)

So it was refreshing to hear from Shay Cohen, VP of R&D at Jajah Inc. , which is part of Telefónica Digital. He told the conference: "We want to embrace OTT and be part of the game and not be left out. It's about delighting the user … giving subscribers what they're looking for."

If Telefónica can deliver on that vision and users are attracted to the offer, then that's a bright spot indeed not just for the Spanish telco, but for all mobile operators.

— Michelle Donegan, European Editor, Light Reading Mobile