Outsmart Thinks Orange
Fixed/mobile convergence startup
Outsmart Ltd.
has scored a new CEO and its first commercial win at
Orange Israel
, on the back of a recent $17 million cash injection.
Founded in 2001, the Israel-headquartered company is targeting fixed and wireless carriers with its SmartFMC convergence kit.
"We integrate SIP-based telephony into the mobile core network, allowing fixed-line phones to appear to the mobile network as mobile phones," Daniela Bendor, head of marketing and business development, tells
Unstrung
. "We are a switch within the mobile network, imitating the MSC [Mobile Switching Center]... We support interoperability with all standard SIP-compliant media gateways and support any SIP-compliant terminal device."
The company has partnership agreements with the likes of
Comverse Ltd.
,
IBM Corp.
(NYSE: IBM), and
Nortel Networks Ltd.
(NYSE/Toronto: NT). This little chart from Outsmart's Website gives the, er, big picture: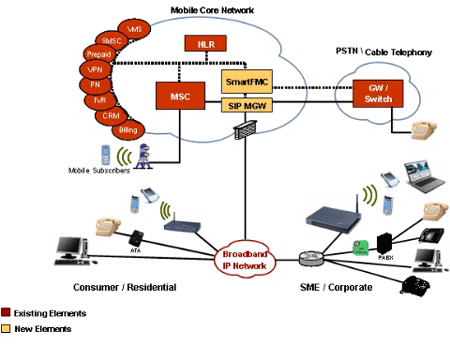 Earlier this month the vendor announced it had secured $17 million in VC funding from
Accel Partners
,
Gemini Israel Fund
, and
Magnum Communications Fund
(see
Outsmart Raises $17M
). The investment follows a previous round of $2.5 million in July 2004, when the company was still known as its original incarnation, Smart-SS7 (see
Smart-SS7 Lands $2.5M
).
"It was too technical a name," admits Bendor.
The name change seems to be having the desired effect. Although the vendor states, in true startup fashion, that it is in trials with "several major European operators," Outsmart has now scored its first commercial win. "Orange Israel is going to be launched in a month," says Bendor. "It's going to be the first-ever commercial FMC service worldwide."
Such a deal is likely to have been fostered with the help of Outsmart's new CEO, Menahem Tirosh. Tirosh, who joins Outsmart only seven months after taking the same role at OSS vendor
TTI Telecom International Ltd.
(Nasdaq: TTIL), is also a former CTO of Orange Israel.
— Justin Springham, Senior Editor, Europe,
Unstrung
UPCOMING LIVE EVENTS
June 6-8, 2023, Digital Symposium
June 21, 2023, Digital Symposium
December 6-7, 2023, New York City
All Upcoming Live Events
PARTNER PERSPECTIVES
- content from our sponsors