Verizon's other network buildout focuses on location tech

Comment (0)
Verizon is in the early stages of a three-year, $10 billion buildout of midband spectrum for its 5G network. The effort will undoubtedly improve the download speeds available to its smartphone customers.
But that's not the only network Verizon is in the process of constructing.
The operator this week announced it's now offering "Hyper Precise Location," or HPL, across roughly 100 major US markets. The offering dramatically improves the accuracy of the operator's location capabilities. With standard GPS signals, Verizon's network can locate phones and other devices within three to nine meters. With HPL, that improves to around 1 centimeter.
Verizon's HPL service relies on several dozen Real Time Kinematics (RTK) reference stations the operator constructed across the US.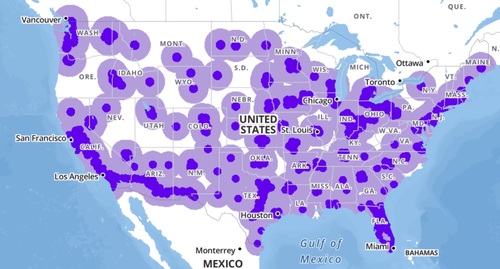 Verizon's RTK reference stations collect GPS information and other data and then send them to Verizon's computers for processing. After crunching the numbers, Verizon's system then distributes that correction data to actual customer devices. And then those RTK-capable devices use that correction data "to help determine their location with up to centimeter-level accuracy, in near real time," according to the carrier.

The value of such data is clear. After all, an autonomous delivery drone that accidentally lands in your neighbor's backyard isn't nearly as valuable as one that lands in your backyard. Moreover, the system can provide both horizontal (latitude and longitude) data as well as vertical data – such information might be important among the skyscrapers in a city like New York.
Verizon is initially touting the technology for autonomous vehicles. The company is already testing a variety of driverless services with automakers like Honda, mapping providers like Here Technologies and automotive software companies like Renovo.
"Hyper Precise Location stands to boost or enable next-gen technologies across industries, from intelligent-driving to drone delivery to highly automated operations within construction, agriculture and much more," TJ Fox, an SVP in Verizon Business, said in a release. "HPL's fast expanding coverage area, API friendliness, privacy protection and use of open-delivery standards make it ideal for developers and customers demanding precision and flexibility."
Verizon's business division is selling HPL through the operator's ThingSpace platform for Internet of Things services.
Importantly, though, Verizon is touting the technology as part of its broader sales pitch to enterprises and other business users. The company said the combination of 5G, edge computing and HPL could unlock new opportunities. Time will tell if that's true, but it certainly does represent a new element in the operator's overall mobile network story.
Related posts:

— Mike Dano, Editorial Director, 5G & Mobile Strategies, Light Reading | @mikeddano
EDUCATIONAL RESOURCES

PARTNER PERSPECTIVES
- content from our sponsors
GUEST PERSPECTIVES
- curated contributions