BT's McRae: Vendors Need to Support Automation or They're Out

Comment (0)
LONDON -- Software Defined Operations & the Autonomous Network -- If technology suppliers want to play a role in BT's next-generation network they will need to show how they will help the UK national operator embrace process and operational automation, BT's Managing Director and Chief Architect Neil McRae told a packed keynote room here in London this morning.
McRae made it very clear that introducing automated processes is unquestionably required for the future development and delivery of communications services. "Customer expectations are changing, and to meet those expectations, automation is required," he noted.
"Automation is not a choice, it's a freakin' necessity," he said, leaving the audience in little doubt where telco networks are heading. "Even if you have all the [capex] in the world, you can't avoid automation."
He added that part of the mission of his team at BT Group plc (NYSE: BT; London: BTA) was to help inform the rest of the organization there is no choice but to automate if we want to be successful for our customers.
And to achieve that, BT needs products from its technology partners, in particular the ability to deliver real-time telemetry capabilities, that will help McRae and his team to increasingly automate network operations.
And he notes that the tech suppliers are reacting. "Increasingly the vendors are responding to our needs for technologies that can play a role in an automated network. Cisco, Nokia, Juniper, Huawei… ADVA has done a phenomenal job in this regard. Basically, if we can't see a path to automation [from a product], we won't buy it."
That's pretty clear, right?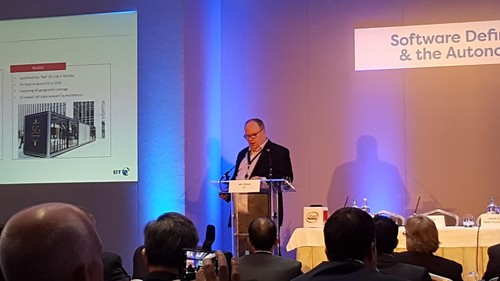 Key to enabling automation is the ability to gather and analyse data in real time, not at intervals using SNMP (simple network management protocol) polling tools, which is the way data has traditionally been collected from networks.
Again, McRae left his audience in no doubt about his views: Anyone who thinks that network operators can rely on SNMP for their telemetry in the future is "deluded... We are heading for a world where milliseconds of delay will kill certain products [services]," such as augmented reality, "so you need real-time operations and huge automation, and for this you need real-time telemetry," not SNMP polling of the network, noted McRae.
---
Now entering its fifth year, the 2020 Vision Executive Summit is an exclusive meeting of global CSP executives focused on navigating the disruptive forces at work in telecom today. Join us in Lisbon on December 4-6 to meet with fellow experts as we define the future of next-gen communications and how to make it profitable.
---
McRae described a 5G critical services trial that BT had conducted with Verizon Communications Inc. (NYSE: VZ), where a drone flying over London (which could be providing vital information to the emergency services, for example) was controlled by a Verizon team in Basking Ridge, N.J. The drone had to talk to the mobile network scheduler, "and that's very challenging," noted McRae. "This all needs to be done in real time. You can't run that type of service [remote drone management] using the tools and processes that are used in current networks -- we need automation and real-time telemetry" so that BT can provide service teams, customers, possibly even partners, with "a network weather report."
— Ray Le Maistre, Editor-in-Chief, Light Reading
PARTNER PERSPECTIVES
- content from our sponsors
GUEST PERSPECTIVES
- curated contributions