Neos Networks spends almost seven times as much as some rivals to "unbundle" one of BT's exchanges. That upfront investment is worth it, says CEO Colin Sempill, because it means Neos can sell higher-speed services that others would struggle to provide cost-effectively. It also points to the current enthusiasm surrounding the fiber investment opportunity in the UK market.
Sempill's firm is one of dozens participating in the UK fiber rush – a race to crisscross the tunnels beneath your feet and air above your head with the infrastructure needed for high-speed broadband connectivity. A joint venture between energy giant SSE and private-equity firm Infracapital, which agreed to pay £380 million (US$504 million) for its 50% stake in 2019, Neos is staying away from the crowded residential sector and instead going after the business customer. Sales have risen a fifth in 2021 and an even higher rate of growth is achievable next year, according to Sempill.
That would take revenues to about £160 million ($212 million) for the current fiscal year and clearly puts the small operator on a much sharper sales trajectory than BT, which saw its revenues dip 3% year-on-year for the six months ending in September, to about £10.3 billion ($13.7 billion). Much like other fiber investors, Neos is nipping away at a broadband market BT once had almost to itself as the incumbent wobbles.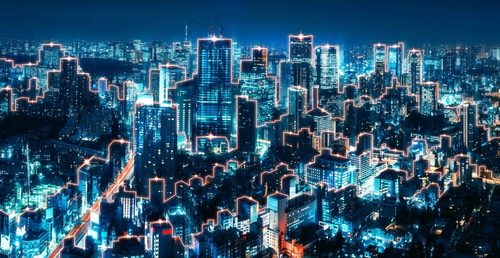 A sense that the UK fiber business is up for grabs, combined with the long-term view of Neos owners, explains why investors are prepared to spend. Large utilities like SSE typically plan for the next 40 years, says Sempill, while infrastructure funds like Infracapital (a subsidiary of M&G Investment) would look at a time horizon of ten to 15 years. It makes for a "nice combination," he told reporters at a recent press conference.
But the full scale of the current investment plans is not being disclosed. What's clear is that kitting out BT exchanges with its own equipment (the unbundling process) will not come cheap. Neos spends about £100,000 ($132,600) per exchange, according to Sempill, and has already unbundled 550. It is targeting another 200 in the next few years. All told, that equals an outlay of roughly £75 million ($99 million) on unbundling alone.
Anchored safely
The first 550, though, were done with Three UK as an anchor tenant prepared to compensate Neos handsomely for its efforts. "They were on pay-as-you-use with BT and said unless we get our own network we are screwed," says Sempill. The switch to a commercial arrangement with Neos essentially connects unbundled BT exchanges to some 20 data centers dotted around the UK. It gives the mobile operator a "nine-terabit-capacity" aggregation network and much-improved economics, according to Neos executives.
Besides unbundling additional exchanges, Neos is plowing funds into metro access networks aimed at business customers. Early next year it will switch on a commercial service for organizations in Liverpool. Networks in Birmingham and Manchester will follow in mid-2022 before one in the City of London goes live in February 2023. The four-city rollout will give Neos an addressable market of 10,000 businesses outside London and another 23,000 inside the capital.
Even more work for Three could also lie ahead. Besides investing in exchanges and data centers, the mobile operator is trying to "fiber up" its radio access network (RAN), running high-speed connections between mobile sites and aggregation points. Contracts for two-thirds of Three's RAN sites are on the table, says Sempill, with Neos expected to face competition for this business from other fiber investors such as CityFibre.
---
Want to know more about 5G? Check out our dedicated 5G content channel here on Light Reading.
---
One of the main dangers for Neos is that fiber competition forces prices down to a point where the upfront investment looks extravagant. It is evidently betting on a sizable appetite for more advanced 10-gigabit and even 100-gigabit services. "There are five or six key network providers and three or four haven't done this yet," says Sempill. This should make Neos one of the only options for advanced connectivity in some areas.
Neos is also picking markets that may be less ripe for consolidation than the heaving residential sector, where merger activity led by a mid-sized firm such as CityFibre looks overdue. It is determined, where possible, not to "overbuild," a word that basically means two or more fiber investors have deployed networks to the same premises.
Tricky moves
This avoidance of the risk that its infrastructure will go unused does not make it inactive in served communities, however. Through a web portal called Livequote, Neos provides details of third-party network offers to customers, and it is already collaborating with a few rivals on specific projects. In Oxfordshire, it has landed a deal with local authorities to work as the systems integrator for a rural deployment that will eventually connect more than 200 public-service sites.
Sempill admits to Light Reading that one of his biggest challenges is pricing. If Neos sets fees too low, it could permanently damage its own market after spending heavily to compete. If it charges too much, it could fast lose out on contracts. Getting the balance exactly right will be a tricky move to pull off.
The road to profitability could be long and difficult, even if sales grow at the rate Sempill is targeting. For its last fiscal year (ending March 2021), when revenues dipped £3.3 million ($4.4 million), to £133.2 million ($176.6 million), Neos racked up a £31.8 million ($42.2 million) net loss, after barely breaking even the year before. Depreciation charges and other operating costs have risen sharply to support spending plans. Investors may need to be in it for the long haul.
Related posts:
— Iain Morris, International Editor, Light Reading