Super Mike

Comment (0)
12:40 PM -- At
Global Connect 2008
,
Nortel Networks Ltd.
CEO Mike Zafirovski took the stage to greet the company's enterprise customers, and the message was familiar: We've come a long way in our recovery, but we're not done yet.
"Our earnings are not where we want to have them, but our trajectory is better than anyone else in the industry," Zafirovski said.
Zafirovski didn't introduce any new material here, but his relaxed tone and presence spoke volumes. He was at ease with his message and exuding the kind of confidence we've not seen from a Nortel CEO in years -- at least not one that we could trust.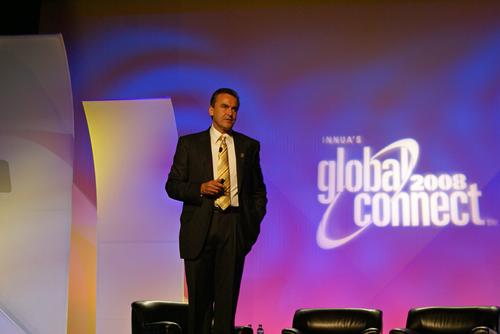 He spent the first part of his keynote address looking back to a little more than two years ago when he first took the helm at Nortel. The mess he inherited prompted enterprise customers at the time to ask: "When will Nortel recapture its technology edge?"
That edge, Zafirovski says, will come from Nortel's work in infrastructure and its investments in developing software and applications for the networks it has helped build. He reaffirmed Nortel's commitment to
Provider Backbone Transport (PBT)
and 40- and 100-Gigabit optical networks. He also reminded the audience of Comcast's
100-gig trial
, announced earlier this year.
Two years ago, folks were questioning whether Nortel even belonged in the enterprise networking business. Now, Zafirovski says it's an obvious market for the company to stay in. "The needs of a large, sophisticated enterprise are not very different than the needs of a CIO or CTO of a carrier," he says.
The health of Nortel, overall, has improved, and, though the crowd assembled Tuesday morning barely filled the front part of the hotel ballroom, the attendees were optimisitic.
But Mike Z.'s job is still a tough gig. "We believe CEO Mike Zafirovski is one of the true industry leaders in the communications equipment space," wrote
Argus Research Co.
analyst Jim Kelleher in a note to clients last month. That said, Kelleher added, the challenges facing the Canadian company would be daunting for Superman in the current environment.
Nortel may never again be a Wall Street darling, but it's harder and harder to bet against the company these days. Still, I can confirm that even though Zafirovski, relaxed as ever, took off his suit jacket down during his talk and laid it on the chair behind him, he did not, in fact, replace the jacket with a red cape.
Maybe he only wears it on the weekends.
— Phil Harvey, Editor,
Light Reading