Former JDSU Exec Rediscovers His Optical Drive
AMSTERDAM --
ECOC 2012
-- Four years after vacating the CTO chair at
JDSU
(Nasdaq: JDSU; Toronto: JDU) (which was never subsequently filled), Stan Lumish is back in a full-time position in the optical sector but this time as a chairman and CEO.
His new company, which he
joined in August
, is quite a bit smaller than JDSU, though.
He is employee No. 3 (that's the total head count) at Irish startup
Pilot Photonics
, which, using technology developed by research teams at Dublin City University, has designed optical comb source subsystems -- lasers that emit 10 wavelengths instead of 1 -- for use by research and development labs (independent or systems-vendor facilities). (See
Pilot Photonics Demos Comb Sources
.)
According to Lumish and his CTO, Pilot founder Frank Smyth, these products, available from October, are needed in the development of optical transport systems beyond 100Gbit/s. The lasers enable a lot more data to be sent down a fiber by cutting down the space between the wavelengths so that more can be packed into the space currently taken up by a single wavelength. Smyth points out that the spacing is fixed between the multiple wavelengths emitted by Pilot's optical comb sources and this allows the channels effectively to be transmitted right up against each other.
It's the ability to fix those spaces, using a technique known as
gain switching
that's at the heart of Pilot's secret sauce.
The aim is to sell these products to labs that are testing, evaluating or developing superchannel optical transport systems operating at 400Gbit/s and beyond. Lumish, with his extensive contacts book and industry reputation, is on board to open doors, provide advice and help develop the company from its humble beginnings (with the help of a small amount of angel funding from private and public institutions).
So what are R&D teams using at the moment as their optical comb sources? Well, many labs have tried to build their own, but, claims Lumish (predictably), with limited success. Others have sourced products from specialist suppliers
Time-Bandwidth Products Inc.
, a Swiss company that has been around since 1994, or Japanese outfit
Optical Comb Inc.
Now Lumish is on a mission to make Pilot the primary source for these specialist products. There's still work to be done -- the company currently has three separate products that it wants to condense into one -- and ultimately the aim is to expand the functionality and features while shrinking the physical products' size and cost.
That's a lot of work for Smyth and his other colleague, a Spanish intern, to be getting on with. In the meantime, Lumish will be out and about, seeking customers and channel partners while also working on his Irish accent (which, if truth be told, currently needs the kind of nurturing that only long nights loitering in the Temple Bar hostelries of the Irish capital can provide).
Which brings us back to the question -- how has Lumish ended up at Pilot? Well, prior to signing up as the company's figurehead he was an independent consultant, helping out various companies in need of industry experience. Lumish says he's had a relationship with the Science Foundation of Ireland for about six years and "a friend there suggested I took a look at this company." Lumish worked with the Pilot team at OFC earlier this year and, with the previous CEO looking to hand over the reins, he stepped up to the plate.
That, in turn, brought Lumish to Amsterdam and ECOC, where he and Smyth holed up in a meeting room with their optical combs at hand (see below). The next steps? Find employee number four and work on saying "pint of Guinness" like a true Dubliner.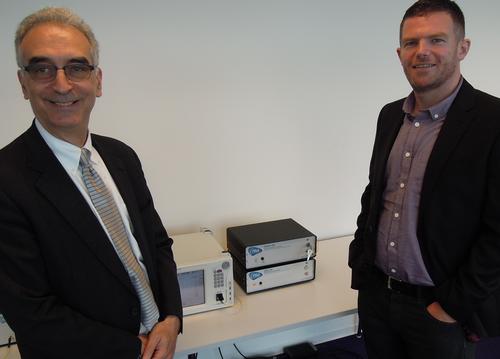 — Ray Le Maistre, International Managing Editor,
Light Reading
PARTNER PERSPECTIVES
- content from our sponsors