Sedona Boasts Multilayer Network Orchestrator
Sedona Boasts Multilayer Network Orchestrator
Israeli startup bases bold claims of capex savings for telcos on software that unifies management of the optical and IP planes. Sedona Systems, an Israeli startup, claims it can improve the efficiency of carrier transport networks, and help cut capex spending significantly, by consolidating the management of optical and IP equipment from multiple vendors using a single orchestrator.
Sedona, backed to the tune of $6 million by Bessemer Venture Partners , claims its ability to view, plan and automatically configure and optimize multivendor optical and IP networks (layer 0 through Layer 3) is an industry first.
Its "secret sauce" is in software that can gather information from multiple sources -- network management tools including Cisco's MATE, abstraction tools such as Infinera's Open Transport Switch and Ciena's Agility Multilayer WAN Controller -- and use that information to optimize the network configuration in a way that cuts out the practice of adding unnecessary capacity. (See Key SDN, Metro Steps for Infinera.)
Telefónica SA (NYSE: TEF) will help Sedona gain some visibility at OFC 2015 in Los Angeles this week. The two companies are displaying a proof-of-concept project, hosted in Telefónica's R&D labs in Spain, that shows how Sedona's Multi-Layer Optimization software can help optimize a multi-layer network comprising Cisco Systems Inc. (Nasdaq: CSCO) and Juniper Networks Inc. (NYSE: JNPR) routers and optical network elements in four "domains" -- Infinera Corp. (Nasdaq: INFN) and Cisco gear installed locally and Ciena Corp. (NYSE: CIEN) and Huawei Technologies Co. Ltd. elements residing remotely.
Sedona's focus is multi-layer, multivendor core and metro network management, says CEO Yossi Wellingstein. Carriers typically use platforms from multiple vendors -- for example, routers and switches from Cisco, Juniper, Huawei and Alcatel-Lucent (NYSE: ALU), and optical gear from the likes of Ciena Corp. (NYSE: CIEN), Infinera, Huawei, Alcatel-Lucent and ADVA Optical Networking , for example.
Figure 1: Sedona's Pitch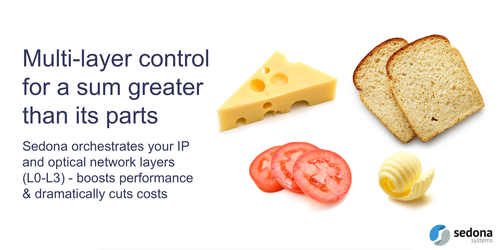 Network management was never so delicious.
"The IP layer and optical layer are run like two separate kingdoms," Wellingstein says. "Two separate kings manage the IP and optical networks. There is barely any resource alignment between them. The result of this is that the networks are heavily underutilized," or, from an alternative perspective, "they are heavily over-provisioned."
Without a single tool to manage the two networks together, carriers typically add more capacity to achieve greater resilience, redundancy and failover, Wellingstein says.
By coordinating the IP layer and optical layer, and not managing each separately, carriers can double the traffic a network can handle without affecting the level of services, according to Wellingstein. The company claims to be able to reduce capex spending by up to 80% over a five-year period, though that would appear to be under rather exceptional circumstances (and hypothetical).
Sedona's Multi-Layer Optimization software, which has Netconf at its heart, provides a 3D interface showing the IP layer, the optical layer and connections between them.
Sedona is in discussions with one carrier that has traffic growing 30% annually and which is investing about $60 million in its transport network infrastructure to keep pace. Sedona's software will, it claims, enable the carrier to freeze its infrastructure investments yet still cope with that the same level of traffic growth, saving the operator nearly $150 million and then enabling the operator to slow its investments in subsequent years while continuing to keep up with demand.
"We are replacing manual processes being done every few months by IP and optical engineers sitting together and trying to build a clear picture of how the two networks are working and adding more capacity to avoid failures," Wellingstein says.
Sedona's software is made possible through the emergence of SDN and other programmable networking tools and standardized northbound interfaces. "I don't need to talk to every network element any more," Wellingstein says. "I don't have to muster all these command line interfaces to work on so much equipment. I'm working on the abstracted format."
Want to know more about optical? This will be just one of the many topics covered at Light Reading's second Big Telecom Event on June 9-10 in Chicago. Get yourself registered today or get left behind!
But is Sedona justified in its claim to be the first company to coordinate the management of the IP and optical layers? Possibly, says Infonetics Research Inc. analyst Michael Howard.
"As far as I can tell, from talking with vendors and talking with service providers, Sedona is the only company tackling this difficult problem," Howard says. "Some vendors might be working on it in their back room labs, but no one has been talking about it."
However, Sedona isn't the only company claiming to be able to effectively double network capacity through smart management. Saisei is taking a different approach to the same end, claiming its FlowCommand software can improve network efficiency by enforcing traffic management policies based on uptime, geolocation, users, hosts or applications. (See Saisei Boldly Claims to Double Net Capacity.)
More OFC2015 news:
— Mitch Wagner,

, West Coast Bureau Chief, Light Reading. Got a tip about SDN or NFV? Send it to [email protected].
Subscribe and receive the latest news from the industry.
Join 62,000+ members. Yes it's completely free.
You May Also Like
---