Ciena stock rebounds on cloud demand and market-share gains
Ciena stock rebounds on cloud demand and market-share gains
Concern about the Ciena backlog seems to have faded thanks partly to an uptick in orders by the hyperscalers.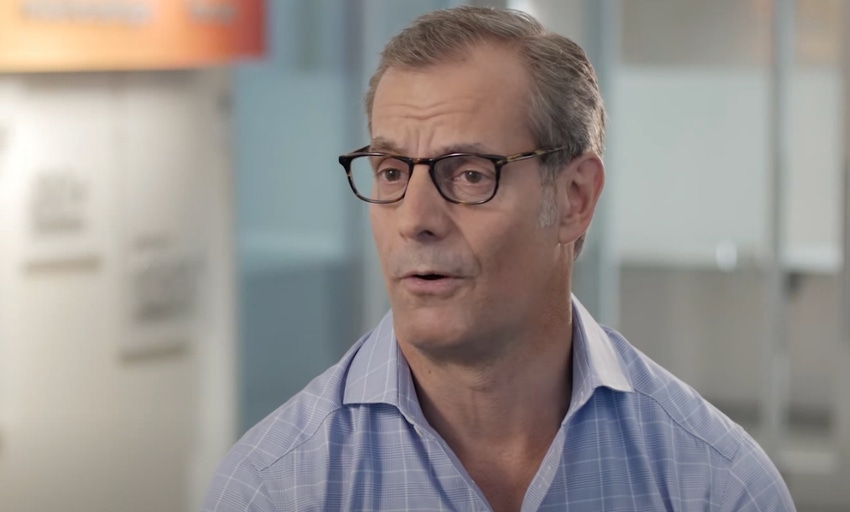 Ciena CEO Gary Smith, currently batting sixes for his company.
(Source: YouTube, Ciena)
Gary Smith's sports analogy would have left a few American analysts perplexed. "We are just on the first day of the five-day, sparkling cricket match," said the Ciena boss, quizzed about the outlook in India during the company's third-quarter earnings outlook. If Americans would have preferred talk of home runs, Smith could also claim to have hit the ball out of the park.
The chart for Ciena's share price over the last three months is effectively U-shaped. In June, when the optical equipment maker reported second-quarter figures, it tumbled a tenth on concern about the backlog of orders and a downward revision to guidance. Today, it rose 13% when the New York Stock Exchange opened after Smith boasted of market-share gains and strong demand for Ciena's collection of products. India, where Ciena is benefiting from anti-Huawei sentiment and a major 5G rollout, supplies just one reason to applaud.
Last time round, analysts seemed unable to decide if the order backlog had dropped because supply-chain constraints had eased or if this was an indicator of weakening demand. Just $1.2 billion before the pandemic, it had soared to roughly $4.2 billion at the start of this year. By June, this was down to $3.5 billion. It now stands at $3.1 billion and Ciena expects to be at $2.7 billion by the end of the year.
Yet the earlier concerns about demand seem to have dissipated. As Smith explained on today's call, the easing of supply chain constraints has recently led to a rapid compression of lead times, meaning customers have less need to order in advance. The result is that order flow has been well below revenues for the last six months, and Smith expects that to continue for another two quarters.
Quadruple century

Despite all this, Ciena's backlog remains larger than that of any rival in both relative and absolute terms, according to Smith. "As we turn this backlog into revenue, it is translating into significant market share gains, which so far this year have been in approximately the mid-single digits." It's no wonder the stock is up. An increase in market share of about five percentage points in just nine months would be the equivalent in cricket of hitting a quadruple century.
Viewed in isolation, the order flow is a poor reflection of underlying demand, as far as Ciena's boss is concerned. Nevertheless, he now sees it improving. "We are starting to see an uptick in new orders led by cloud providers," Smith told analysts. "Importantly, we believe this recent uptick in orders from cloud customers is a leading indicator of a rebalancing of supply and demand, which we believe will begin to flow through to our service provider customers in the coming quarters."
Ciena's share price ($)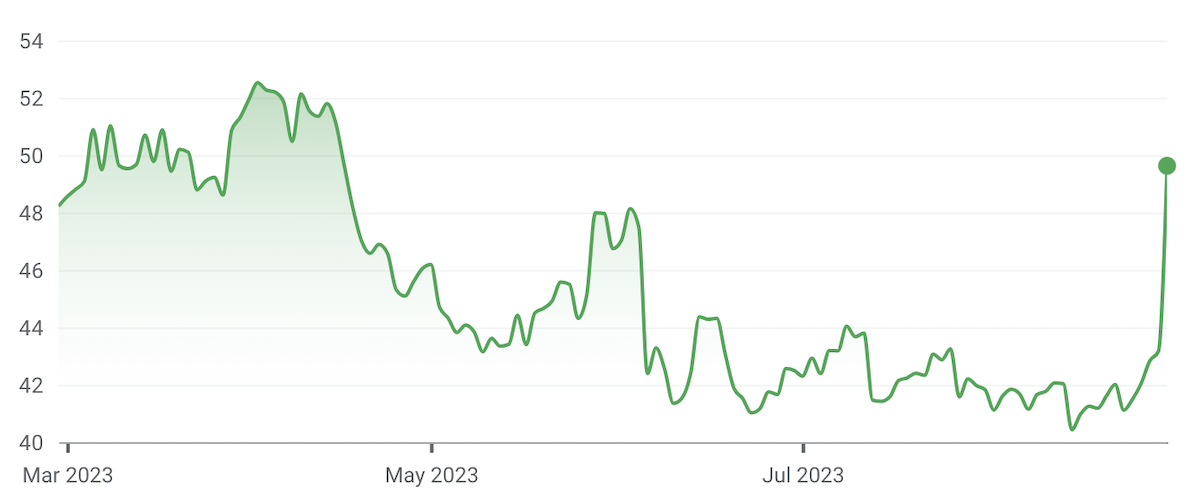 (Source: Google Finance)
What all this meant in terms of recent financial performance was, firstly, revenue growth of 23%, to about $1.07 billion, compared with the year-earlier period. Ciena's adjusted gross margin gained 2.7 percentage points, to hit 42.7%, while its operating margin added 3.5 points, reaching 12%. Net income nearly trebled, to about $29.7 million. That was despite a substantial increase in research-and-development (R&D) spending – up 26%, to more than $189 million – as Ciena pumped money into routing and switching.
"We intend to invest through this cycle," said Jim Moylan, Ciena's chief financial officer. "We have the leading position in optical technology, and we will continue to invest there, but we are a challenger in the routing and switching space, and it's important that we increase our investment in that space. That is where the increase in R&D has come."
Where hyperscalers go, service providers follow

The commentary about the order uptick driven by cloud providers was seized on by some analysts who monitor Ciena. "In short, Ciena seems to be signaling that the industry may have reached the bottom," said Dave Kang of B Riley Securities in a research note issued shortly after the earnings call. "Although demand from major NA SPs [North American service providers] could remain muted over the next two quarters, strong demand from cloud operators is more than offsetting SP weakness."
Smith's broad rationale is that cloud players have always being a good signpost of what's to come in the service provider market. "Traffic growth in the cloud generally flows through to service providers a couple of quarters later," he said. What's driving it, precisely? "The specific things that we're seeing for Q4 [the fourth quarter], which are new orders to be shipped in Q4 in addition to their existing backlog we've got, were driven by the need to start preparing for machine learning and AI traffic coming out of the data center."
Long-term financial guidance is still for sales growth of between 10% and 12% between 2022 and 2025, with Moylan expecting revenues of between $1.06 billion and $1.14 billion for the fourth quarter. At the midpoint of that, Ciena's full-year sales would be a fifth more than it made in 2022. "Ciena shares are currently up 13%, mainly due to a surprisingly strong guide (flat to up Q/Q) and upbeat comments," noted Kang. Investors, to use another cricket analogy, were apparently bowled over.
Related posts:
— Iain Morris, International Editor, Light Reading
Subscribe and receive the latest news from the industry.
Join 62,000+ members. Yes it's completely free.
You May Also Like
---