Ciena lowers outlook as investors fret about $3.5B backlog
Ciena lowers outlook as investors fret about $3.5B backlog
Analysts are unsure if the company's backlog, much bigger than usual, is shrinking because of economic problems or supply chain improvements.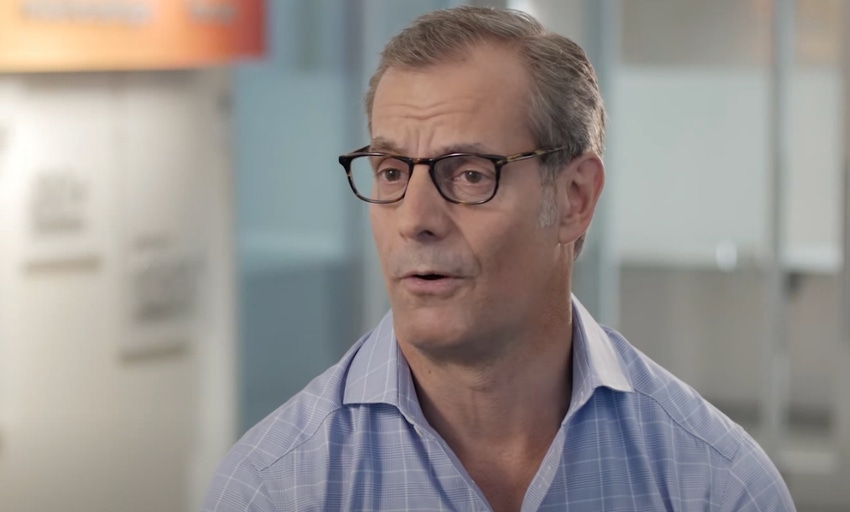 Ciena CEO Gary Smith insists customers are not canceling orders.
(Source: YouTube, Ciena)
Just a few months ago, Ciena's operation was starting to resemble a pub running low on beer in a town of thirsty locals, an analogy that British-born CEO Gary Smith can probably appreciate. Amid industry-wide component shortages, a long queue of customers had formed outside the optical equipment maker's front door. Ciena's backlog of orders had soared from about $1.2 billion before the pandemic to roughly $4.2 billion at the start of this year. After Ciena refilled the barrels and satisfied some pent-up demand, it has now dropped to around $3.5 billion. But the queue is also disappearing.
It's the latest twist for Ciena, which warned analysts on a call this week that customers are being more prudent. "[To] be really clear, customers are not canceling orders," said Smith. "They are pushing some existing orders into subsequent quarters to better align with their budgets and scheduling capabilities." He expects Ciena to finish the year with a backlog at least double the normal amount. At the lower end of the latest revenue guidance, that implies the current figure of $3.5 billion will drop to about $2.8 billion.
Smith's latest update came as Ciena reported a 19% increase in sales for its February-to-April quarter (the second in its fiscal year), to about $1.13 billion, compared with the same period a year before. Margins were juicier this time round and net profit was up 48%, to nearly $57.7 million. These are the sorts of numbers that would typically spark a rise in a company's share price, unless it had previously come out with some ludicrous forecasts. Yet Ciena's had fallen a tenth on the Nasdaq by the time the market had closed on June 6.
Management's outlook for the year looks squarely to blame. Having previously guided for sales growth of between 20% and 22% this year, Ciena has now lowered the bottom of that range to 18% to reflect "a wider range of potential outcomes," in the words of James Moylan, Ciena's chief financial officer.
Backlog conundrum

Analysts are ruffled. In a research note, Dave Kang of B Riley Securities reckoned orders fell to $533 million in the second quarter, from $950 million in the first, and described the revenue outlook as "especially disappointing" given that executives were reaffirming the original guidance just two months ago.
"While the current slowdown is due to delayed shipments to customers as a result of reduced lead times, we believe there could be a more severe downturn if the economy enters into a prolonged recession like the one in 2008," he wrote. "This was the reason we preferred to own those with strong backlog such as Ciena at the beginning of 2023, but the rapidly declining backlog takes us aback."
Ciena's share price ($)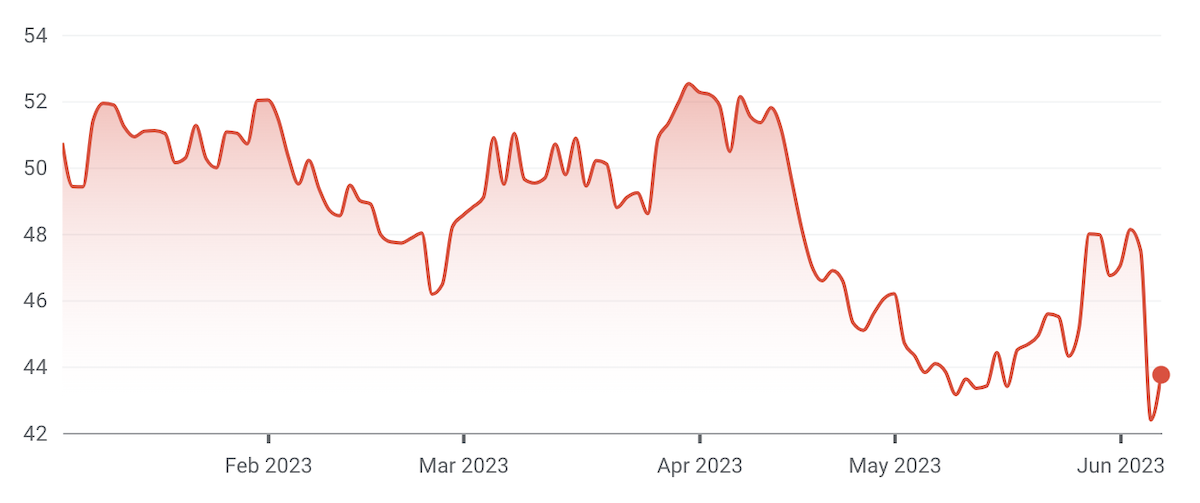 (Source: Google Finance)
Ciena's backlog seems to have become an industry obsession in recent months, and there is no consensus on what the figure should be. Pushed for specifics, Moylan wavered. Usually, the backlog is about one third of next year's revenues, he said (hence the likelihood the backlog will be $2.8 billion at the end of this year if Ciena makes about $4.3 billion in sales and its backlog is double the normal amount).
More recently, however, the backlog has been tracking at 65% of expected revenues for 2022 and 90% of sales for 2023, said Moylan. As lead times drop and advance orders dry up, the backlog should reduce. "But it might not go all the way down, because our lead times might not be quite as short as they were in the past and customers may choose to give us advance orders," said Moylan.
The fluctuations have prompted head-scratching among analysts, unsure if the backlog is adjusting because the supply chain looks better oiled than it did only a few months ago or if it's a sign of an economic slowdown, as Kang fears. Michael Genovese, another analyst with Rosenblatt Securities, said in his own research note that he thinks "some of what is going on is also related to weaker macro and pressure on US Tier 1s to reduce capex and protect cash flow."
He remains quite bullish on the stock, though, maintaining his buy rating and arguing that the second quarter was "the bottom for orders." Despite all the concern about those order books, Ciena continues to offer some of the most cutting-edge optical products on the market. And while there is worry about levels of spending in the US, the opportunities in India, where a big 5G rollout is underway, and in Europe, which looks increasingly likely to ban Chinese products, are considerable. Landlord Smith needs to ensure the refreshments keep flowing.
Related posts:
— Iain Morris, International Editor, Light Reading
Subscribe and receive the latest news from the industry.
Join 62,000+ members. Yes it's completely free.
You May Also Like
---